Thinking about getting a backpack weed sprayer? If your looking at upgrading… then this post is just for you. We're going to go over the pros and cons, check out the main key features of each to help you out in deciding which one is the best for you.
If you're in a hurry and just want our top choice as the best backpack sprayer for you and all of your gardening needs… we recommend the Sprayers Plus 105Ex Backpack Sprayer.
I've been using one of these on the job for quite a while now and I'm more than happy with the performance and reliability.
Best Professional Backpack Sprayer:
Field King 190328 Backpack Sprayer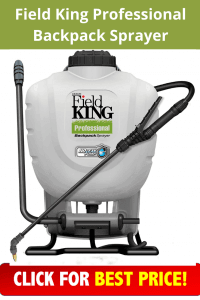 If you're looking for a high-pressure backpack sprayer the Field King 190328 is the sprayer for you.
Peaking out at around 150 PSI you'll be able to deliver a smaller droplet size, broader coverage of spray, and have a further reach.
Another feature I like is the built-in agitator. The internal paddles keep everything all mixed when in use as every time you pump the system you are also mixing your solution stopping it from settling.
The agitator can handle liquids, powders, and water-soluble solutions.
If there's nothing I hate more with a sprayer apart from it not working is when the shut off doesn't shut off straight away or dribbles afterward.
With Field King, they use premium brass components, lockable shutoff and the highest quality Viton seals.
Best Backpack Sprayer For Herbicides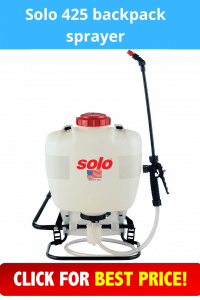 The higher the pressure your tank delivers the smaller the droplet size you'll get. Using a piston action back sprayer will give you a higher PSI delivery over a diaphragm pump.
Smaller the droplet size is important when using contact herbicides or other products that require smaller droplets, spot spraying or disease control on animals.
The Solo 425 4-Gallon Professional Piston Backpack Sprayer is a great option. It doesn't have the same high rated PSI as the Field King but for the average user that won't be a problem either.
The Solo 425 includes a 28" unbreakable wand, (hmmm the jury's out on that one, stay tuned) which connects to a 48-inch nylon-reinforced high-pressure hose for an extended reach.
The pack comes with 4 inter-changeable spray nozzles and coupled with a commercial shutoff valve that securely locks in either the on or off position to help with hand fatigue for those long sprays applications.
I like how the pump handle is interchangeable from left to right and its solid as frame, ergonomically designed for comfort and the user in mind.
Best Portable:
YT25E Battery Sprayer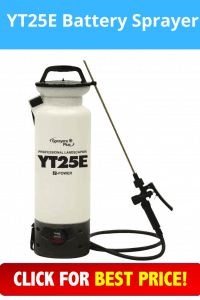 This sprayer the YT25E Battery Sprayer is perfect if you've got small property or planning on spraying certain areas of your yard.
Even tho it doesn't have a backpack frame, you can wear it on your back by slinging over your shoulder much like slinging a bow and arrow bow.
If you going to do beds or insect treatment then this will be an ideal sprayer to use but if you're going to do a very large yard, this one might be a little bit too small.
The sprayer holds around 2 gallons and can be slung over the shoulder and worn like a bow, or light enough to carry around with the handle on the lid.
The sprayer runs on a 12v battery and fully charged you'll get a good amount of tanks out before she's flat. Using the stream setting you'll get around 18 tank fulls and when misting you'll get around 15, which isn't too shabby for a little 12v 2.2Ah battery.
Best Backpack For Lawn Care
Depending on the size of the area and lawn your caring for will decide on type of sprayer really.
I mean if you've got an area that takes longer to set up and get mowing with a battery-powered mower than it takes to mow the area, ya not going to spend a ton on the latest and fanciest sprayer on the market, right.
So for battery-powered we recommend Sprayers Plus YT25e, its small enough to carry around by the handle or use the carry strap and sling it over the shoulder and big enough for most homeowners lawns.
It can be a little on the expensive side if that's is the case then Scotts 190567 Lithium-Ion Battery Powered Pump might be a better option. It holds 2 gallons and gets up to 12 full tanks in a single charge.
As for going with a hand pump, this Chapin 20541 1 gallon pump is perfect for spot spraying, blanket spraying small areas, insecticides over hedges or spraying liquid fertilizer out.
The Chapin and Scotts aren't so-called a backpack sprayer but they come with a should strap to sling over the should.
Best Backpack Sprayer For Bleach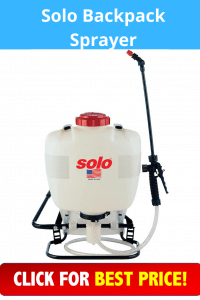 If you're looking for a backpack for spraying bleach you'll want to go with a diaphragm pump style over piston or battery-operated sprayers.
Diaphragm sprayers are a lot more durable and are designed to handle harsh or abrasive chemicals like bleach. So we recommend that you use a diaphragm type backpack sprayer.
If you've already got a battery or piston style sprayer just make sure you clean it out thoroughly with clean water once you've finished the job.
The Solo 475 backpack sprayer is another great option for a bleach sprayer. The high-performance diaphragm pump will deliver around 60 PSI, designed for wettable powders, liquid, and bleach.
To give you years of untroubled use Solo uses Tivilon, in all their diaphragms which is a top-quality material that outstands the harshness of chemicals like bleach.
I like how the handle is interchangeable to cater to both left and right-handers and the wide open mouth for quick fills and fewer spillages.
Comparison Table: 15 Best Backpack Sprayers For 2023
Battery Vs Hand Pump
Pretty much you've got 3 different classes of sprayers, gas, battery and manual and knowing which one is the best sprayer for your situation can save you time and a ton of money as well.
In this overview, we're only going to be taking a look at the backpack pump sprayers and battery powered backpack sprayers.
When dropping some coin down on a sprayer you don't want to overbuy nor you don't want to underbuy either. I'm also going to talk about why we recommend an electric backpack sprayer over the hand pump type sprayer.
Most think buying a battery operated backpack sprayer is a bit extravagant and a waste of money. Maybe you're thinking it's just for the super lazy, but regardless let's look now why you really should consider one of these sprayers.
First off when you use a battery-powered sprayer you're gonna get consistent pressure in the sprayer, which means the same amount of product from start to finish.
Another reason is you're going to have less fatigue which is great on your arm but again tributes back to having that continuous pressure.
You'll be able to go faster but the biggest reason why you want to grab a battery powered sprayer is for accuracy and consistency.
These sprayers will deliver the exact same amount of product from beginning to end and that's the main reason you want to get a battery-powered backpack sprayer.
Piston Vs Diaphragm Pump Sprayer
Known the difference between piston and diaphragm pump sprayers is gonna make it easier for you to choose which will be the better for you.
To keep it pretty simple as I can, a piston-type action will give you a higher maximum working pressure of average 90 PSI even up to 150 PSI.
A diaphragm backpack pump will max out at around 60 PSI.
Some chemicals you use like marker dye, wettable powders or bleach solutions can crystallize inside the piston type sprayers and cause an abrasive action causing premature wear on the sides of the cylinder.
So it's imperative when using piston-type sprayers to flush them out with good clean water.
Diaphragm action pumps don't have this problem. They are equipped to handle the abrasiveness of chemicals and we recommend using this style of pump if you are going to use these types of chemicals.
Because there is no contact with a cylinder wall, as with piston pumps, diaphragm pumps tend to be more durable.
So if you need high pressure and more using contact herbicides or other products that require smaller droplets a piston-type might be your best choice.
If using more systemic herbicides or other products that require larger droplets for less drift or just want a more durable, hardy wearing less looking after sprayer then the diaphragm would be my choice.
Another benefit of diaphragm pumps is that they can be used with wettable powders, abrasives or even bleach solutions. So that's the difference between piston pumps and diaphragm pumps.
Rounding It Up
With a ton of different applications, a sprayer can do from spraying herbicide, insecticides, round-up, bleach soap suds for pre-wetting the truck down before washing.
Our overall choice is the Sprayers Plus 105E for its universal applications, design and reliability.
Designed for professionals, DIYers this sprayer will give you years of worry-free trouble, providing you take care of it, like all things.
For hand pumping and professional use and want higher PSI Field King sprayers or Solo using piston-type pump action will be your best bet
Hope this has helped you out and to make sure to check out the homepage for our latest tips and reviews.