If you want to improve your lawn or take better care of your yard I highly recommend getting yourself a battery-powered sprayer. They work well, they're very consistent and you'll never get tired from using it.
But the problem was in the past they were very expensive or just poor quality built, but in this post, I'm going to show you a new model that's going to change all that.
Pros
Lightweight at only 9.6 lbs
Stainless steel construction guaranteed for longer life span
Highest quality housing in its class, 50% thicker than other leading products and can take a beating
Quick fill with wide mouth open and screw-on lid
Cons
No jet agitation
Little expensive compared to other sprayers
Click on the button below and see what others are saying about the 105Ex sprayer
$199.99
$249.99
in stock
2 new from $199.99
as of August 31, 2023 12:37 pm
Last updated on August 31, 2023 12:37 pm
Sprayers Plus 105Ex Effortless Backpack Sprayer Review
Another thing what I like about this sprayer is that you don't have to just use it in your yard. You can also use it for insecticides, herbicides, used as a pre soak for washing your truck and much more.
The biggest reason is consistency because when you spray you going to get a nice even result.
Even the best pump sprayer, when you pumping them up and down and even if it does have a regulator, you just not going to get the same consistent results as you will with a battery-operated backpack sprayer.
Things to consider before buying a Sprayers Plus 105Ex
Straight up, if you've got a small lawn or yard to take care of, then this sprayer wouldn't be your best choice. It will be such an overkill and you would be better off with the YT25E Effortless Hand-Held Sprayer.
Even tho the Y25E doesn't have a backpack frame as this one doe, you can still sling it like a bow over the shoulder if you don't want to carry it.
This sprayer is better suited if you've got a larger size yard, professional landscaper or just simply want this size sprayer that's electric and will last the distance and tuff.
Main Features
Run Time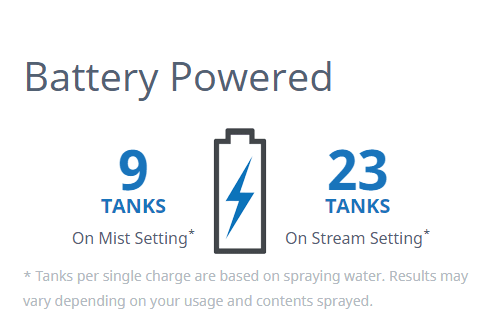 The sprayer uses a 20v lithium-ion battery delivering you a consistent 40 PSI spray regardless if your stream spraying or using the mist setting.
You'll get you around 23 tanks when running the sprayer in the stream setting and 9 tanks on the mist spray setting per fully charged battery.
With just a press of a button, a LED light display will light up showing how much charge is left in the battery to help plan out your spraying schedule.
Electronics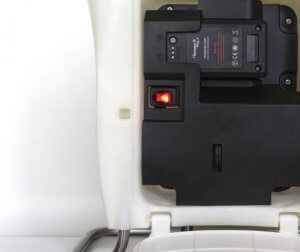 Hey we all know crap happens at times, we all have hiccups or a bad day, and no matter what it is, water and electronics just don't mix.
So what Sprayer Plus has done with the 105Ex sprayer is incorporated its own enclosure. This is a very smart idea and to me an important feature to look for when looking at electric backpack sprayers.
Keeping the main electronics of the unit fully protected is a necessity as if you've fried the brain or start corroding up you've pretty much got a sprayer that's worth nothing.
So protecting the electronics is a pretty smart idea the way they've designed the sprayer.
Design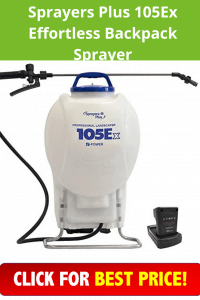 The sprayer is lightweight weighing in at just 9.6 lbs dry weight. At 9.6lbs this makes it around 20% lighter than other leading backpack brands. It doesn't sound like much but add the weight of 4 gallons on that and it starts to add up.
The mouth opening at 5.24″ is designed to take in quick fills and helps to reduce any spills saving you a ton of time getting your tank filled.
For a 100% perfect seal, every time Sprayers Plus inner thread for the lid is designed using the latest machining technology.
The screw-on cap is so good that you can even carry a full sprayer by the cap handle and it is also designed to carry the nozzle.
The frame is ergonomically designed for comfort, made from high-grade stainless steel for maximum strength and giving you longevity. No more frames rusting or bending.
Another good feature this sprayer does is uses Viton seals. Viton seals are well known in the industry as being the highest quality and most trusted seal on the market today.
Tank
The tank is almost 50% thicker than other leading cylinders on the market, basically, you don't have to babysit it or wrap it up in cotton balls. Designed so that can be placed in the back of the truck and not have to worry about it cracking or leaking.
The tank has a high tolerance to UV and you can get up to 5 years of sun use without getting a crack.
On the side of the tank is an easy to read measurement molded into the tank for quick reference of how much is left in the tank.
Spray Range & Nozzles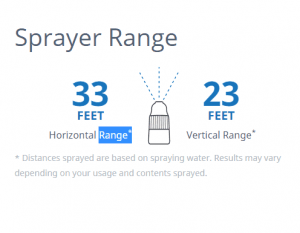 Included in the box is a variety of high-grade nozzles giving you a few options of sprays to get you up and running straight away, the most common ones are mist, fan or stream nozzles.
Got tall trees or vines to spray, no worries… when the tank is pressurized to its working pressure of 40 PSI, using the stream jet you'll get around 33 feet of reach across the deck and a height of 23 feet shooting straight up.
Try doing that with your old conventional pump-up sprayers.
The spray gun has its own filter in the handpiece, with a locking pin to lock the handle open saving the hand on fatigue on those long sprays.
The wand is 20″ in length made from powder-coated brass and the hose is 51″ premium flex rubber. The standard brass nozzle is adjustable and the plastic fan nozzle is 90°/110°.
Comfort
The new premium harness is designed with you in mind. The contoured shape, high density foam giving you more than ever before while reducing muscle fatigue.
Sternum Straps helps to pull the shoulder straps closer together, keeping them in place, and taking the strain off of your back and shoulders while the chest buckle keeps the straps perfectly situated.
What Do Customers Love About It?
After searching around the internet, reading other reviews and opinions from others who've purchased this product, the majority seemed to be rather positive.
Most of them comment on how easy it is to use and how much time and effort saving by changing over to battery operated sprayer.
There is a common fault in the design and I'm not overly impressed about and that is the lip just inside of the fill area.
The way the top of this unit is made, you are unable to fully dry out this sprayer. You will turn it upside down 100 times and shake it and still some liquid will stay.
In saying that, if you're using this sprayer as designed your sprayer will never be dry as to be always in use. Just make sure to clean the sprayer out right before mixing next and you won't have any cross-contamination.
If you are putting it away for a while, just hold the tank upside down and use a cloth or rag and dry any excess water out. Not hard or a game-changer really.
Click on the button below and check out what others are also saying about the Sprayer Plus 105Ex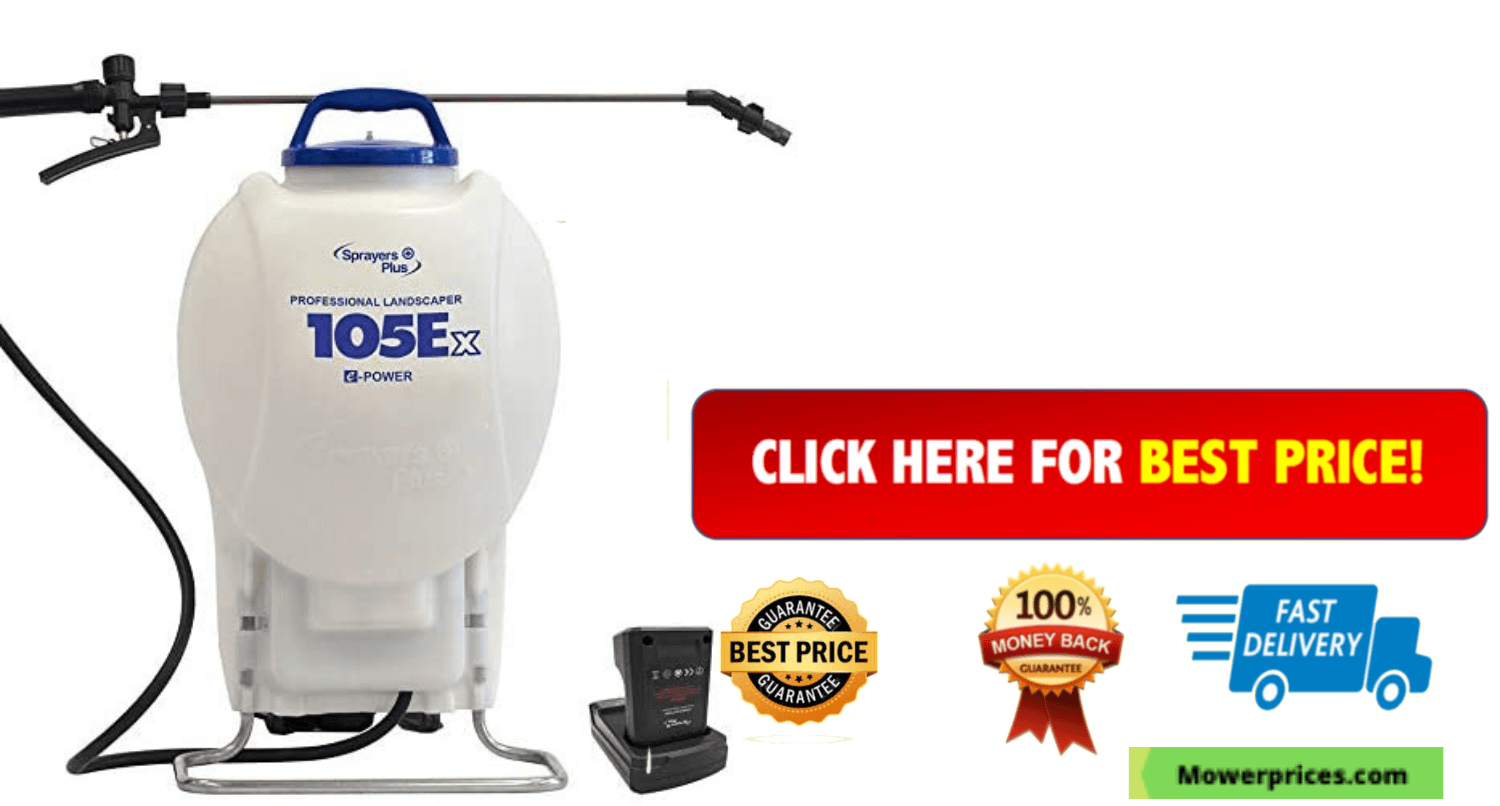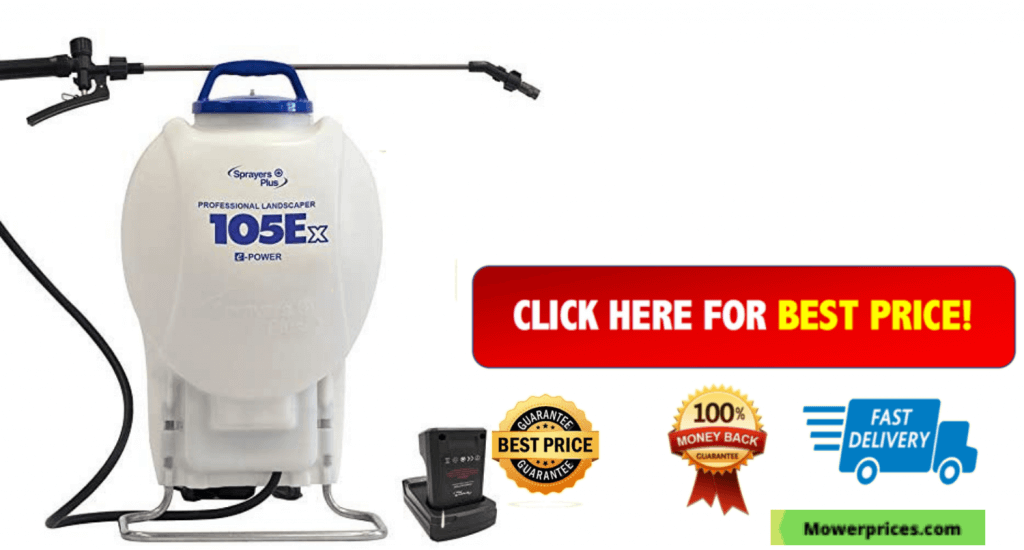 Alternatives
As I mentioned above this sprayer is more for the professionals or those with large working areas. Below are a few alternatives that might be a better option if the 105Ex sprayer isn't quite the right one for you and your needs.
YT25E Effortless Hand-Held Sprayer: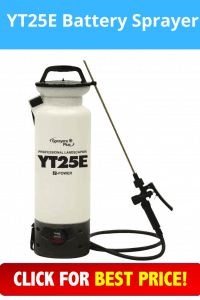 This sprayer is made by the same company Sprayers Plus so you already know it's made well using high-quality parts and materials.
The YT25e holds 2 gallons and runs on a 12v lithium-ion battery. On a single charge, you can get 18 tanks out on the jet setting and 15 on the mist setting.
Pushing out at 30 PSI and will give you a reach of 33 feet on the horizontal and 23 feet on the vertical.
The sprayer weighs in at 6.5lbs and runs with a shoulder strap system instead of a harness but you can sling it over the shoulder.
Comes standard with 20″ powder-coated brass wand, 51″ flex rubber hose and brass adjustable nozzle.
For more, make sure to click on the button below for more details.
Field King Professional 190328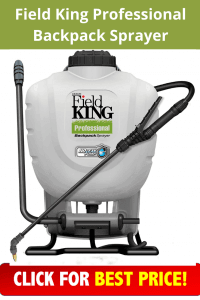 If you are looking for a high-pressure sprayer then the Field King Professional 190328 might be the right one for you.
This piston driven sprayer is able to deliver up to 150 PSI because the more pressure you have equals smaller droplet sizes and this is important if you're using a contact herbicide or other products that require smaller droplets.
The downside of piston sprayers like this one is not recommended to use with wettable powders, abrasive solutions or bleach solutions to which can cause premature wear and pump failure.
The sprayer comes with a 21″ poly wand and to maintain the quality this sprayer offers, all the seals are Viton, who are the world leader in seals and rubbers.
Solo 425 4-Gallon Professional Piston Backpack Sprayer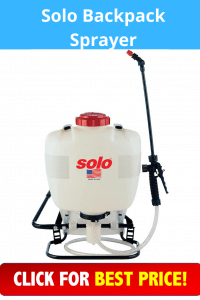 Solo 425 backpack sprayer uses a piston-type action that will give you higher PSI over battery powered pumps of those with a diaphragm system.
If you need a sprayer to deliver smaller droplets or need that bit extra reach in your spray going with the Solo 425 or even the Field King 190328 as its design is similar to this pump being piston driven.
Solo backpacks are made in the USA and have been bringing you quality sprayers, pumps and spreaders since 1948, located in Newport News, VA and with countless amounts of positive reviews about their products, they aren't packing up shop and going anywhere soon.
The Solo 425 is their #1 best selling sprayer in the 4-gallon category. In the box the sprayer comes with 4 different interchangeable nozzles, an easily reversible left or right-handed pump handle, a 28-inch unbreakable wand that joins to the 48-inch nylon-reinforced high-pressure hose.
Rounding It Up
If you're looking for a great backpack sprayer its hard to go past the 105Ex.
Quality build this sprayer will give you years of trouble-free use and with a warranty of defects from workmanship and materials for one year of commercial/residential use, you can see why it's a no-brainer.
If you want to get a consistent spray its time to ditch the hand pump and invest in a sprayer much like this one but if you find this isn't the right sprayer for you, make sure to check out some of the others in our best backpack sprayer reviews.