Welcome to our review of the Field King 190328 backpack sprayer! Our goal here is to start with an overview of the product and then tell you more about all the features you need to know. The Field King backpack sprayer brand is one of the best, and this review will show you why.
You can expect quality, value, and ease of use from their products, as evidenced by their near-perfect product reviews. They are owned by the Fountainhead Group, which makes many of our favorite brands when it comes to outdoor care like Scott's and Smith.
They first came about in 1888 with a compressed air sprayer. Since then, they've made lots of progress and offer hundreds of great products.
Our (Mini) Review: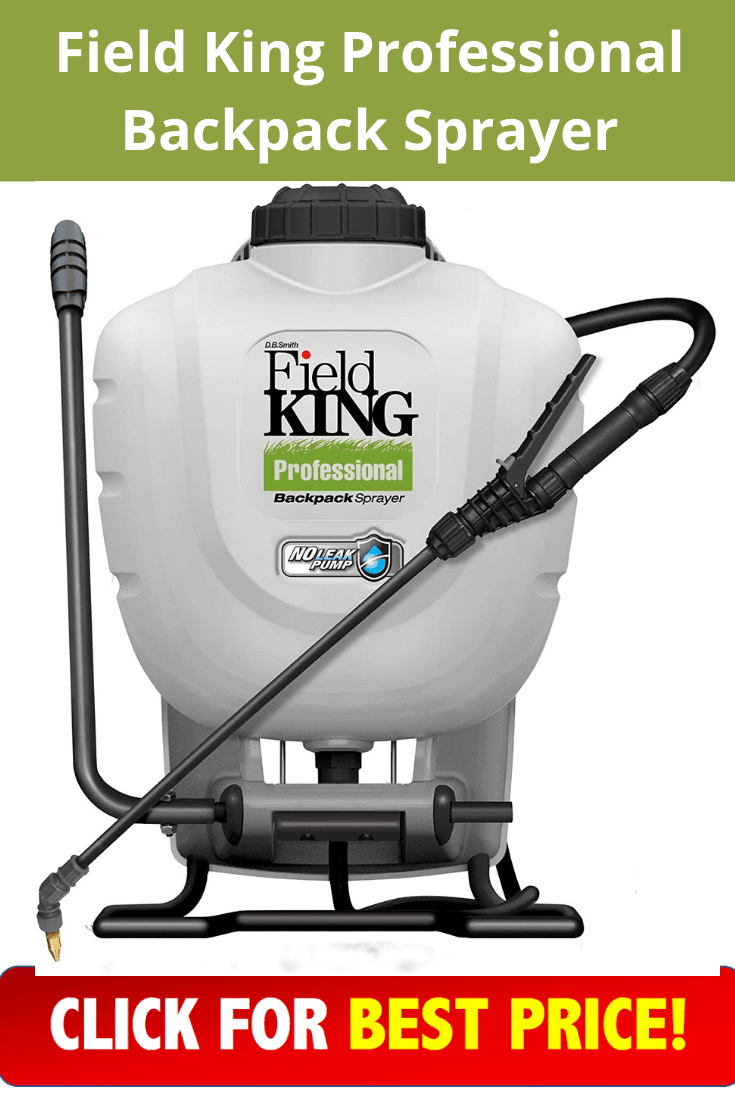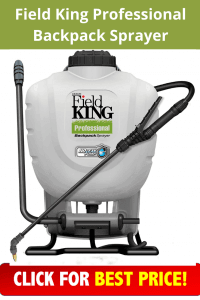 The Field King 190328 backpack sprayer offers you the best backpack sprayer for money.
But why is this? Let's answer it fast:
It is sold at a fair price and can be bought in multipacks for professional use.
It can be used to apply a wide variety of pesticides, herbicides, or fertilizers thanks to the included nozzles.
It is easy to learn how to use and can be repaired/operated by just about anyone.
We will discuss the features at length in just a bit, but if your time is short, here's why our team recommends the Field King 190328 backpack sprayer:
The agitator inside can handle all sorts of powders, liquids, and solutions that are water-soluble. The internal paddles are pump-action, and they will stay mixed and ready to be sprayed.
It takes just minutes to repair your pump should damage occur. You don't even need tools. We recommend this, especially if you plan on buying sprayers for commercial or landscaping use- it keeps your team working with fewer interruptions.
The pump handle may be reversed, so it is easier to use for left-handed or right-handed operation. It is a small detail, but ergonomics matters on the job- and you as a left-handed person can more efficiently get the job done.
The threaded bolt handle attachment is a winner. It has no slack, which is far better than the usual cotter pins you find on these tools in similar products.
Here's the pros and cons of the Field King 190328 backpack sprayer:
Pros
The wand is made using Viton seals and can be used with wettable powders or liquids
Comes with four nozzles
Seals can be changed with no tools
150 PSI delivered by internal piston
Cons
Tank holds a lot, but far too heavy to carry once fully loaded
Sprayer head will clog if non-soluble fertilizers are used.
So now you know that this Field King 190328 backpack sprayer is a great choice if you're in the market for such a tool. But what should you actually consider before buying one of these? Let's find out.
What to Consider Before Buying a Backpack Sprayer
What Nozzles Are Included: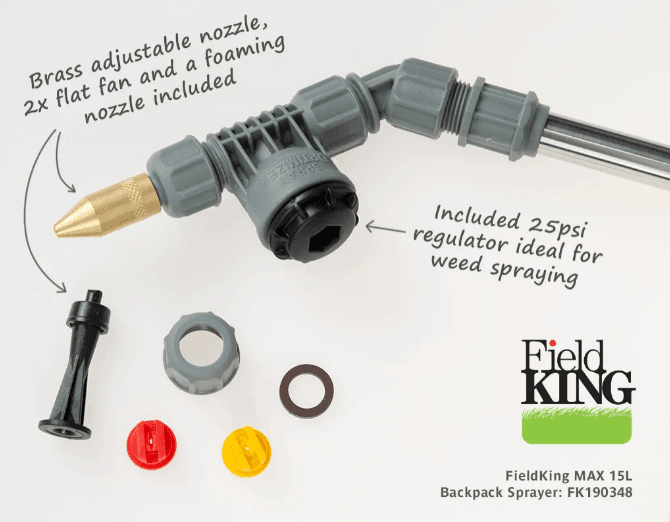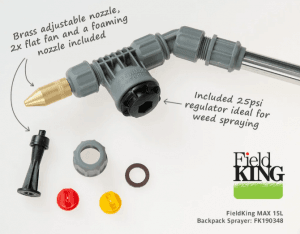 For this particular sprayer, four nozzles are included. These let you stream in a fan, a cone, or in a wide format.
This is great because you are going to encounter many different types of flowers or weeds that need tending to.
You can spray wide if you need to kill a bunch of weeds, or you can spray in a cone to reach a specific patch of flowers before moving onto the next row in your garden.
If you're dealing with an acid that must be applied, the brass nozzle will come in handy.
Unlike the plastic nozzles, it can stand up to the harshness of the chemical. If acids are something you will be using, make sure whichever sprayer you choose has a brass nozzle included.
What Size Do I Need This For?
Some of you will be spraying at your homes- you are gardening for a hobby or as a way to feed your family.
Some of you own small businesses that just need weeds removed from the sidewalk and the sides of the building and generally need just some basic landscaping.
Others will be in the market because they have a big landscaping job to handle, whether it is their own property or they work for a landscaping business.
Guess what- this backpack can handle all three. Multipacks are available for those of you with an enterprise. For those of you with just a small piece of land to care for, one of these backpacks will suit you well.
Understand the variations between different sprayers.
We decided to review this Field King 190328 because we felt it was best in class. If you choose to look elsewhere or feel this backpack sprayer is not for you, keep this in mind as you shop:
Some backpack sprayers are for dry sprays only.
Nozzles and wands will vary in terms of design, spray volume, and spray pattern
Some backpacks are made of metal, others plastic
Some are misters which are made for use in vineyards, orchards, and greenhouses, which require fine particles for optimal plant covering
Piston pumps and diaphragm pumps are offered- which do you like better?
As you can see, there is a lot to think about when shopping for backpack sprayers. Make a list of the ones you like and research them individually. Don't forget to read product reviews like ours for more insight.
Features and Benefits
Earlier, we mentioned we'd talk more at length about why this backpack sprayer is the best. Here is a roundup of our favorite features regarding the Field King 190328 backpack sprayer.
Main Features
The nozzles of this particular backpack sprayer are great. Included are two flat fan nozzles, and a brass adjustable nozzle, followed up by a foaming nozzle. These will help you handle a variety of applications.
Next, the wand is a huge selling point. This wand is 21 inches long and will easily help you reach those high spots, plus those hard to reach parts of your garden. Viton is the brand behind the seals of the wand. They've been in the business of providing chemical resistant equipment since 1957. So, you can expect this to handle all your solutions, even if they are wettable powders- without clogging it up or otherwise holding your work up.
Inner Components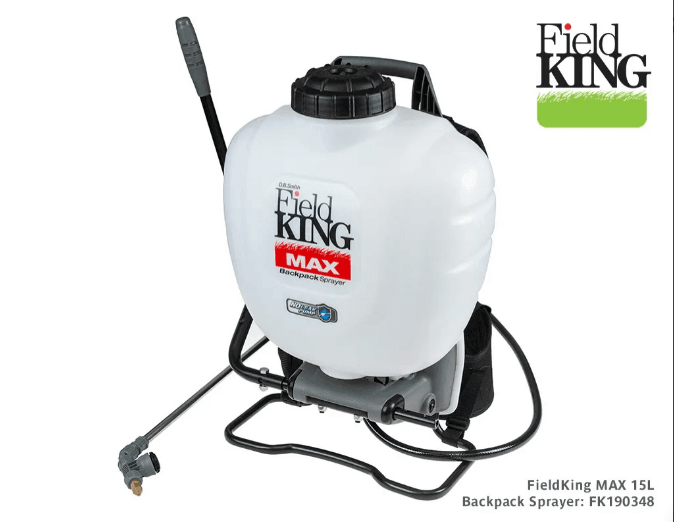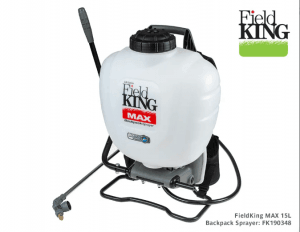 The internal pressure chamber was first to catch our eye, as it lets users reach 150 PSI. This is higher than competing products- by 65%, in fact. It will be easier for you to get to those hard to reach areas and be more precise in your application.
The internal paddle of this backpack is one that is built to handle liquids, solutions, powders, and any other water-soluble solutions. You do have to pump the internal paddles, so your arms might feel tired after, but it works- everything stays mixed up, and you can spray at the drop of a hat.
The company themselves tested a million cycles on this sprayer using wettable powder. The failure rate? Zero!
Lastly, repair on the inner workings of the backpack will be easy to perform. The pump inside is made of minimal wear parts and can be repaired with no tools. It is unlikely to fail anyway, but if it does, rest assured you will be back to work in no time.
Other Small but Great Features
The main selling points of this sprayer have already been covered, but let's talk about the small things we love about this sprayer.
The filtration basket is first. It offers a large tank opening and will keep debris out of the tank as you fill it.
The superior shut off is made of brass parts that never stop working. It also makes use of an inline filter.
Chances are you've heard of an inline filter when you bought your refrigerator or installed your water filtration system. These filters remove lead, sediment, rust, and dirt. This ensures debris and large particles won't land on your plants- but instead will be caught by the filter.
Ergonomics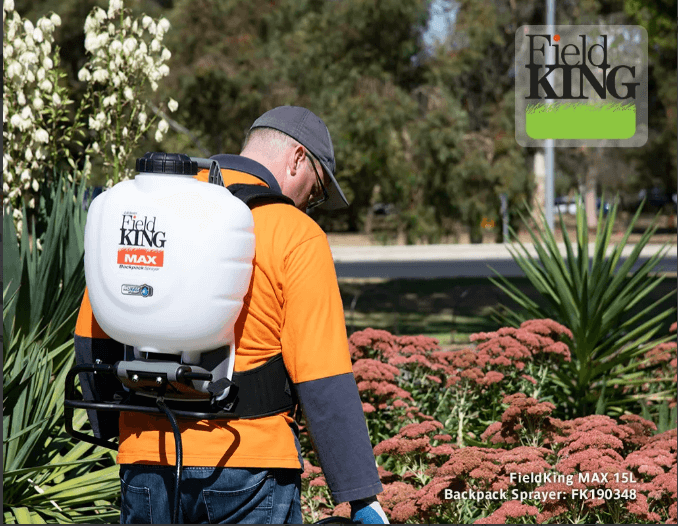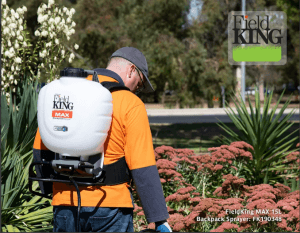 These backpacks aren't exactly the most comfortable thing to wear. However, this one is as good as it gets when it comes to your comfort as you walk around.
The pump handle can be reversed to suit whether you are a right-handed or left-handed person.
After that, the one-way valve is a nice touch. Yes, there will be people who try to pick up and overturn the backpack in an attempt to empty it. Or, it will accidentally get knocked over. Either way, spills are prevented in the event of an inversion of the backpack.
And the wand storage? Very user friendly. It lets you put the want up when you get done using the sprayer, attaching it right to the top of the backpack. This prevents it from being stepped on or otherwise damaged while it is being stored.
Buyer's Guide
Regardless of whether you choose Field King or another brand, here's what to watch out for as you buy a pump backpack sprayer.
How to choose the best pump backpack sprayer.
Start by figuring out what you are using it for. If this is for home use, you can get by with fewer features and a small tank. However, landscapers and commercial users are going to want a larger tank and comfortable harness construction, so that work can be completed comfortably and quickly.
What are the advantages/benefits of a pump backpack sprayer?
You can reach those hard to get to spots with your spray wand.
It's great for washing surfaces, too – the wands help you reach high up spots that you can rinse off and clean with ease.
It saves your back. Instead of crawling on hands and knees to pull weeds, you can eliminate them using this helpful sprayer.
Things to look for when buying
Diaphragm or Piston sprayer? The piston style backpack sprayers are cheaper than diaphragm ones. Piston style sprayers are also not as powerful when it comes to using dry herbicides. Diaphragm sprayers are known to be easier to fix and keep up.
On that note, you will want to look for a tank that promises an easy fix. Tool-free sprayers are the best choice here. If the sprayer messes up and you are far away from your tool bench or box, make sure you can fix it right there and get back to work fast.
What's the best way to use a pump backpack sprayer?
Put safety first and always wear your PPE, gloves, and waterproof clothing when using.
Make sure the backpack puts as little strain as possible on your back.
Follow all manufacturer instructions before using them. If you don't understand something, check YouTube or email us.
Cautions for using Pump Backpack Sprayers
Be sure you understand all material in the owner's manual before using.
Never spray at animals/people.
Keep sprayers out of direct sunlight.
Inspect tank before using to ensure parts are clean and in good working order. Do not use the sprayer if the tank is damaged in any way.
Bend at the knees if you must bend down to reach something.
What Others Thought
You may be wondering why we care so much about reviewing this Field King 190328 backpack sprayer. Well, it's because it really works! Below, you will find some other people who found this sprayer to be a huge help for them in their quest to care for their yards, gardens, and lawns.
Keith M. found that the sprayer felt good on his back and enjoyed the metal nozzles.
Well, maybe noted that the wand and tube were long, and the nozzles were adequate in their selection, and also stated the harness was well padded. However, they felt the tool was too noisy.
Chauncey noted the great chest harness, short assembly time, and the ease of use of the hand pump.
Conclusion
Thank you for taking the time to read our Field King 190328 review. Of all the backpack sprayers our team has looked at, this one is by far our favorite when it comes to hand pump sprayer backpacks.
It's the best of the best because it was tested for a million cycles and never failed. It can handle four gallons of liquid, which will cover a large amount of ground and still leave some leftover.
It is ergonomic and user friendly, able to be fixed on the go.
For these reasons, we absolutely recommend you consider the Field King 190328 for your next backpack sprayer purchase or check out our runner up: Field King 190348– It's got all the same features but is more suited for professional work. Make your yard work easier with either choice!