Lawn mowers have come a long way from when we only had a few options on the market to the current display of some of the best battery powered mowers from self-propelled, zero-turn and walk-behind lanw mowers. You probably had a push mower when growing up – but it did its job – and now the zero-radius babies have changed the game completely!
One of the other notables when it comes to mowing is that you can now choose a gas-operated self-propelling mower as opposed to the older models that required lots of energy to push. Gasoline and electricity are other options too, and we can all agree variety is a great thing!
Why Choose Battery-Operated Mowers?
Battery-powered mowers have several benefits, among them their lack of pollution. They are less noisy too when compared to their gas-powered counterparts, and you don't need lengthy cords to keep them connected to power.
Because they use no fossil fuel, they smoke less too and so you don't have to worry about pollution. While you still have to take care not to leave them out in the rain, you will have less power-related issues to concern yourself with.
There are so many benefits to a battery-powered mowers, including impact on the environment.
Environmental Impact
You may not think of it the same way you think of car that uses gasoline, but a mower acts the same way. It emits the same way too no matter how few times you use it per season.
A battery-powered mower, on the other hand, emits nothing, and so you will be doing your bit to save the world by switching to it. They are also less noisy, giving you the freedom to work at night without upsetting your neighbor.
Light and Cordless
Most of these are quite light, which is also boosted by the fact that they are self-propelled. You will be doing little to no pushing, and this makes them ideal for just about anyone.
The lack of a cord makes these mowers even better as you will not be restricted to the far you can go. The only thing you have to do is ensure your battery is fully charged before taking off.
Better Battery Power
With more advanced lithium-ion battery technology, battery-powered mowers have more power and are able to handle larger lawns in less time. If you buy your battery from a reliable source, it will serve you long and it could even be covered on warranty.
Some of the models we have covered have dual batteries that work even better.
Planning on investing in a reliable riding mower?
Here are some of the considerations you should make.
Weight of the Mower
As much as it is self-propelled, you will still be doing some pushing, which is why you shouldn't go for one that makes you feel like you are pushing the weight off the world with your bare hands, unless you plan to make mowing your cardio activity.
Anything between 35 and 50 lbs will do as most of the best ones are in this range.
Battery Type
You want to familiarize yourself with battery type so you know which one is ideal for your mower, and eventually one that can get the job done without too many recharge breaks. You want one that uses Li-ion batteries as they are the most advanced for extended work hours.
You also want to know the voltage – essentially the amount of power a battery has – and amp-hours to know how much charge the battery can store. A 4.0 Ah battery will last two hours, which is long enough to clear your average size of lawn.
Size of the Deck
You want to think about the width of deck as it will determine the amount of grass your mower can handle. If your lawn is half an acre, then you don't need such a large deck as you don't need too many passes to be done.
Here, you may want to make a compromise between deck width and weight because you can't have them both – a mower with a large deck and a large deck.
Other Features
Other factors to think of when choosing the right self-propelled mower include how it starts. If you have to pull some cords to start it, it could be troublesome, especially if your hands are not as strong as they used to be.
Get a Seamless Mowing Experience with these east to start mowers.
These days you have options that start at the push of a button, which is great for anyone of any age. Automatic brakes are also handy as they prevent a mower from starting when it should be on standby, while headlights are beneficial when mowing in the dark.
An auto-throttle is great too as it adjusts the power coming from your engine. Hilly terrains and thick grass require more output, and so the mower will be powered as it needs throughout the exercise.
Best Battery Powered Mowers Compared
Last updated on November 18, 2023 1:26 am
Greenworks 20-Inch 40V Twin Force Cordless Lawn Mower
Greenworks makes and sells some of the best self-propelled mowers, and this 17-incher is no different. It comes with dual 40V Li-Ion batteries whose fuel capacity is 4aH and 2aH respectively.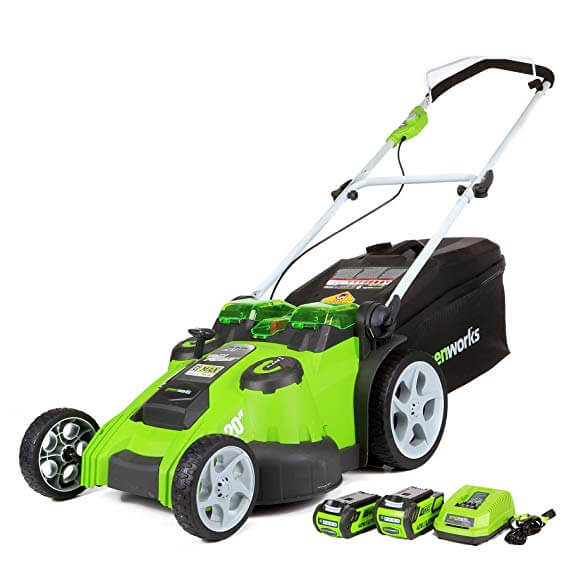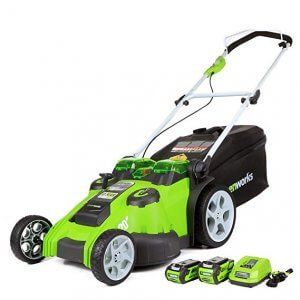 You are covered as these two will not run out before covering 2 acres of land.
These batteries have a 60-minute runtime.
It is quite light at 36.2lbs, and when you add its self-propelled quality to this you realize you have very little pushing to do.
This makes it ideal for the elderly as well as the younger ones.
A 20-inch cutting deck makes this mower even more interesting as it enables you to work faster with fewer passes on grass. With its dual blades, it will cut, mulch, and bag, while indicating how much power is left on its dual batteries.
This mower self-adjusts to suit the height of grass as you move, and so you don't have to stop and change the settings when you get to a grassier patch.
It adjusts to 5 cutting positions, which are ideal for most home users. It starts at the push of a button, and its headlights make it possible to work at night in the dark.
For maneuverability, this mower is idea as its 7-inch front wheels make it easy to advance while its 10-inch rear ones make it stable. You can even make quick turns without worrying about losing control.
While it will set you back a pretty penny, this mower will serve you well for long.
Pros
Headlights so you can work at night.
Lightweight an agile.
Starts at the push of a button.
Dual batteries for extended power.
2. Greenworks 17-Inch 40V Cordless Lawn Mower
If a 20-inch cutting deck is too large for your needs, you can try Greenworks' 17-inch mower.
It has a single blade that cuts effectively, and an ergonomic handle that collapses within the mower when you are done and want to store it.
From the looks, you can tell this mower is sturdy as the maker uses steel on the body, but that does not make it waterproof.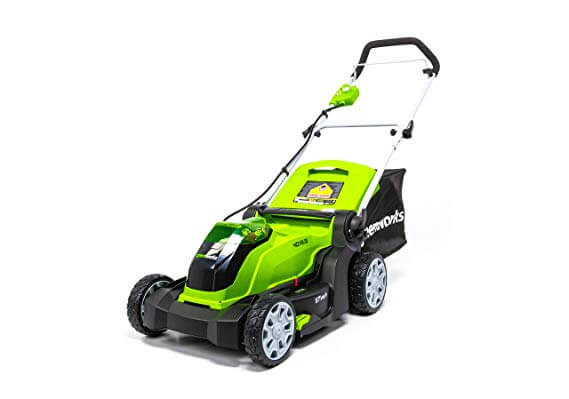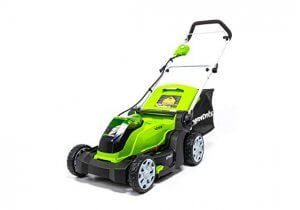 The cutting deck is much smaller, but it allows for clean cuts.
The front wheels are smooth with an easy tread that won't prevent them from moving forward easily while the rear ones are thicker with a defined tread that stabilizes the mower.
Being as it only weighs 36lbs, it is easy to push through any terrain for people of any active age.
It uses a single 40V lithium battery that runs for up to 45 minutes depending on thickness of grass and terrain, and it can be recharged at any time, but not for less than 1 hour.
The cutting deck can be adjusted to 5 different positions, from 1-1/4 to 3-3/8 inches. Because the lever is automatic, the deck adjusts itself to suit the level of grass without your intervention.
Pros
Cordless, so quite convenient.
Adjusts depending on level of grass.
Collapsible handle for easy storage.
3. Sun Joe MJ401C-PRO 14-Inch 28-Volt Cordless Push Lawn Mower
If you are looking for a mower with a detachable grass catcher and that doesn't weigh a ton, then Sun Joe is a good choice.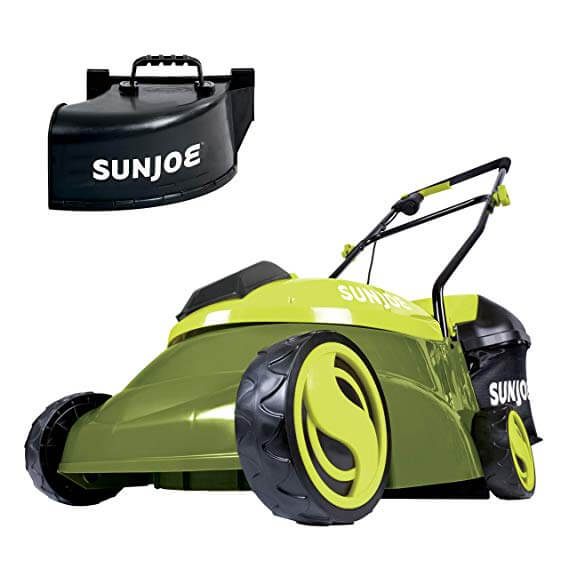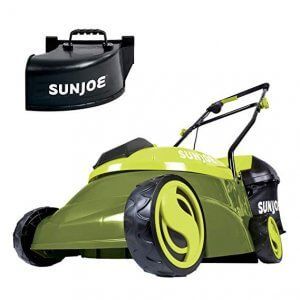 It uses a 28 V 4 Ah rechargeable lithium-ion battery that at the manufacturer says will work a quarter of an acre, but that also depends on other factors such as terrain and nature/texture of grass.
This mower is not only compact, but it also has a collapsible handle that takes up minimal storage.
It also allows for three position adjustments, but you would have to do this manually.
It adjusts between 1.18 in. and 2.52 in. As we mentioned, a 10.6-gal mulch bag comes with each purchase, making it easy to dispose of grass while you work.
For safety, this mower has a removable key to prevent accidental starts. We should add here that it starts as soon as you key it in, and so there is no pulling of cords.
The wheels are designed for easy movement and stability, with a tread that allows you to steer the mower at various angles.
Being cordless, you will never have to worry about power ports, and the battery capacity allows you to mow a small to medium lawn without stopping for a recharge. It also won't break the bank.
Pros
Height-adjustment to three heights.
Removable key that prevents accidents.
Starts easily.
A 14-inch cutting deck.
Cons
Manual height adjustment.
Single battery.
EGO Power+ LM2000-S 20-Inch 56-Volt Lithium-ion Cordless Walk Behind Lawn Mower
If you prefer to mow at night when the sun has settled and the activities of the day have quietened, then EGO Power LM2000 is a good choice.
Being battery-powered, it makes less noise as compared to gas-powered mowers, and the headlights really come out to play at night.
It uses a 4.0Ah 56V lithium-ion battery that the manufacturer says charges in 30 minutes and keeps going for 45 minutes.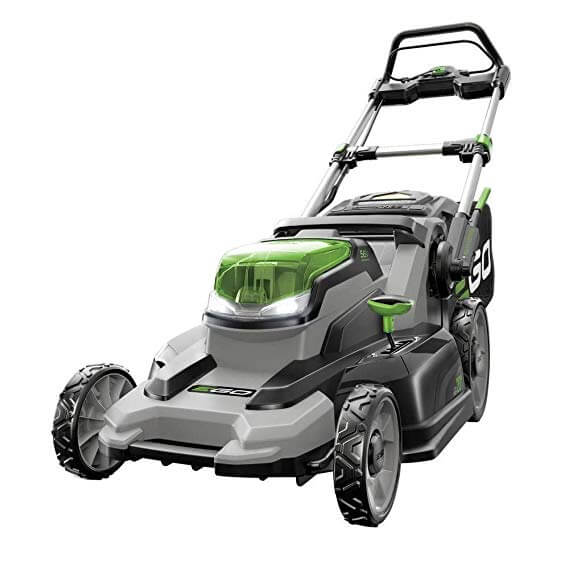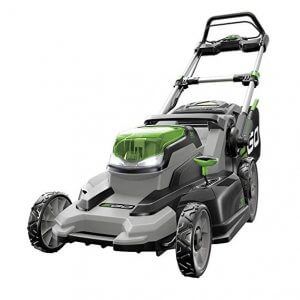 It has a 600W high-torque magnetic motor that is quite powerful for different grass textures, and its weather-resistant ipx4 construction makes it ideal for any part of the country, but that is not to say you should leave it out on the open.
We like the 20-inch deck as it carries some powerful blades that cut your grass precisely, and it also helps that the maker throws in a 5-year warranty for the entire unit.
The batter unit is covered for 3 years too.
This mower's performance is quite admirable as it maneuvers any terrain even with its single battery. It pays to have another fully charged at hand to take the place of your used one especially when working a tough terrain.
While the EGO may be a little heavier at 56lbs, it still moves swiftly as it is self-propelled. This weight accommodates its larger deck while allowing the blades to move at your preferred speed.
It has mulching and bagging capabilities too, but the accessories are bought separately.
Pros
3-in1 mower.
Large 20-inch deck for clean cuts.
Has a bailout lever that shuts it down automatically when it senses something is amiss.
Cons
Single battery.
Quite costly.
WORX WG960 20-inch 40V(5.0Ah) WG751 Cordless Lawn Mower
How does double battery power sound? Because that is what WORX gives you to ensure you work as fast as you wish, regardless of terrain and grass thickness.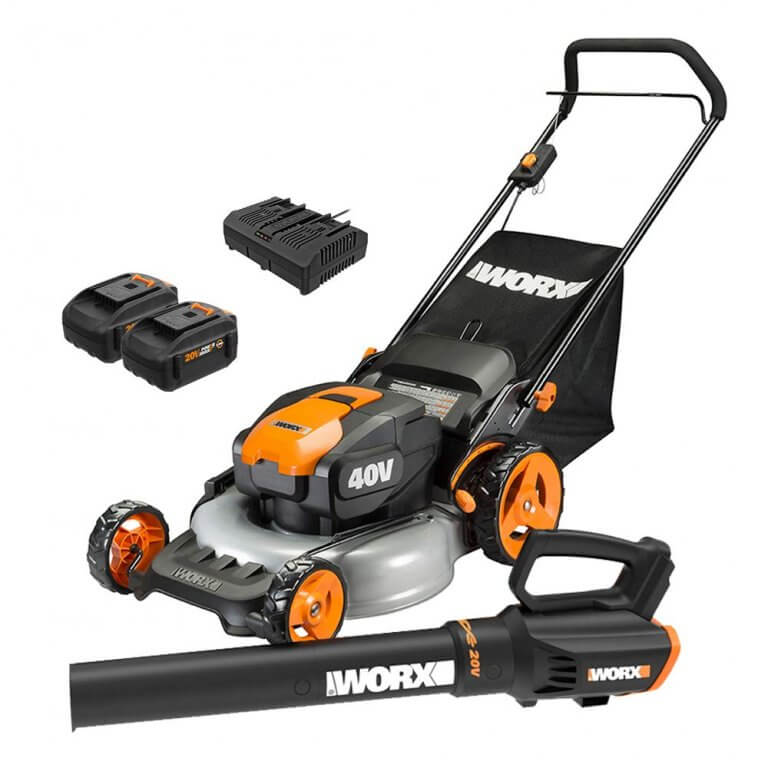 Each of these 20V 5.0Ah Li-ion batteries give equal output to double the amount of power and time you have for mowing.
They recharge quite fast too – in 80-120 minutes.
This mower has a 20" deck that allows for swift, clean cuts from its twin blades.
It has mulching and bagging capabilities, and on the side is a powerful blower at no extra cost.
It has a lever to adjust cutting lengths and intelligent internal tech to enable you save battery power.
WORX WG960 weighs 58lbs, which is a little heavier than some, but it is self-propelled and so only needs a little energy to push. Its handle is collapsible to enable stand-up storage.
The body and deck are made of steel for longevity, and the blades are sharp for a precise cut. It has an adjustable handle that won't limit people of different heights.
Pros
Cutting length adjustments.
Comes with a turbine leaf blower
Double batteries for more power.
Cutting, mulching, and bagging capabilities.
BLACK+DECKER 40V MAX Cordless Lawn Mower
The Black & Decker CM2040 is quiet effective at cutting grass of various lengths since its 20-inch deck is adjustable, and the blades are sharp and sturdy.
Being cordless, you don't have to attach it to any charging port, but it would benefit you to have a stand-by battery as the one in it runs out in 30-45 minutes depending on thickness of grass and terrain.
It takes no less than an hour to recharge too.
This mower uses a 40-volt Lithium battery, and it is designed to use only one at a time – no dual capacity.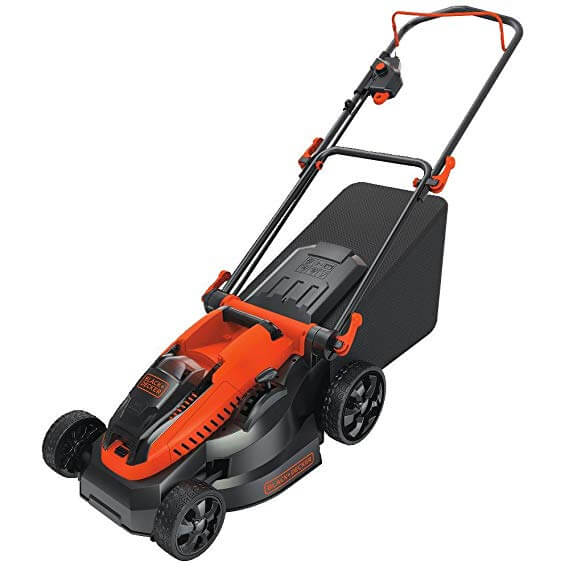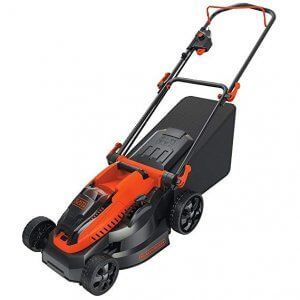 Its battery kit is backed by a 5-year warranty while the rest of the mower has a 3-year warranty.
It starts quite fast at the push of a button, which makes it easy for anyone to use. It also has a removable key that acts as a safety measure to prevent any accidental starts.
Its AutoSense technology makes this mower the ideal package for those mowing uneven terrain of varying grass thickness. The cutting deck also features 6 height adjustments ranging from 1.5 to 4 inches for varying lengths of grass.
The handle has four lever releases to adjust height – to accommodate taller folks – and also to make it easy to fold when keeping away.
The manufacturer is silent on its waterproof quality, and so we assume you shouldn't leave it outside. It folds easily for stand-up storage too.
The battery doesn't last long enough, but the mower has space for a spare one that will take the place of the exhausted one. It is also quite cheap, and so makes the ideal buy for homeowners on a budget.
Pros
3-in-1 capabilities to mow, mulch, and bag.
Auto-sense technology that senses when to increase power.
You can adjust the cutting deck to suit level of grass.
Cons
The battery runs out quite fast.
Recharges take a while.
Snapper XD 82V MAX Cordless 21-Inch Lawnmower
Snapper has been making some of the best self-propelled mowers for the longest time, and so it is no surprise that one of theirs made the list.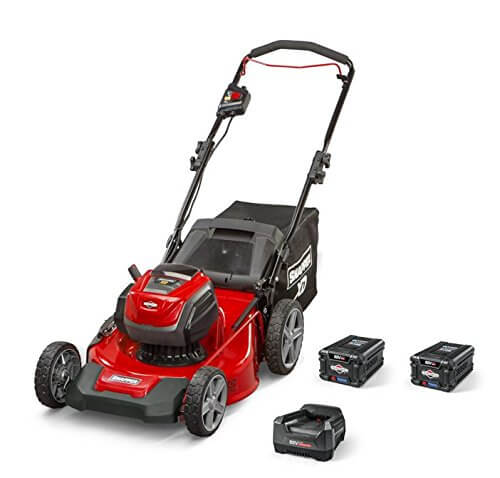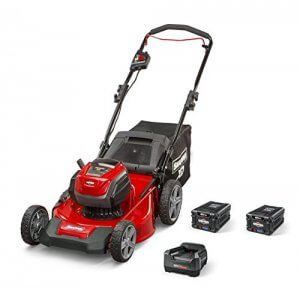 One of the main highlights of this mower is its StepSense technology that matches your steps to your mowing speed.
This technology is a first among self-propelled mowers.
Battery power is also extended as this mower uses an 82-volt battery that will take it through a hilly ½ acre without the need for a recharge.

The machine is designed with internal intelligence that reduces the amount of power used in less tasking parts of a lawn while increasing power in thicker and rougher terrains.
It does not slow down as battery power is depleted, and it also lets you know how much time you have left till the next charge. Ideally, a new battery will need about 10 hours of charge, but consequent charges will only need 180 minutes.
Snapper has a 5-year warranty on the entire mower while the battery is covered for 2 years.
You won't have to adjust the cutting level as it automatically senses where the grass is longer and responds accordingly. It has an ergonomic handle to adjust as per your height and later fold to store the mower safely in minimal space.
Pros
7 cutting levels with auto-adjustment.
Powerful battery.
StepSense technology
Cons
Battery takes long to recharge
Earthwise 60420 20-Inch 40-Volt Lithium Ion Cordless Lawn Mower
What can you do with two 40V Li-Ion batteries in on mower? Cover lots of grounds, which is exactly what Earthwise had in mind when they designed this self-propelled mower.
Then you combine 4aH and 2aH, you double your power and are able to mow ½ acre of property without recharging your batteries.
This is just as well since these batteries take a while to recharge. Being cordless, you enjoy more freedom and are able to move further.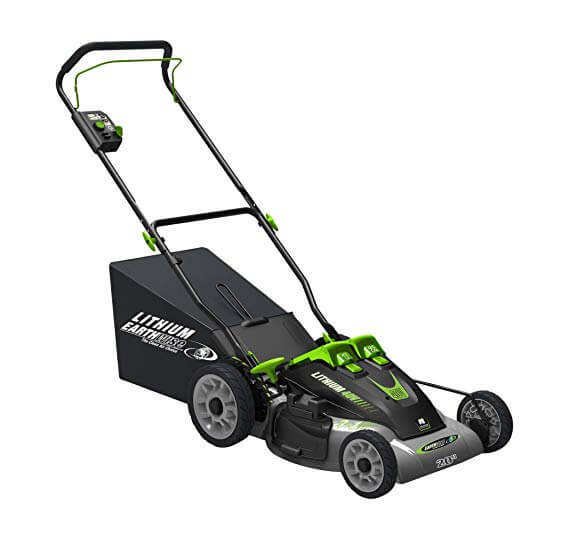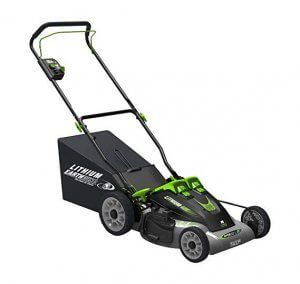 You also don't have to worry about polluting the environment as you would with a gas-powered mower, since batteries emit less.
This mower is self-propelled, and so you will only do minimal pushing, and it makes little noise to enable you to work at night without getting that dirty look from your neighbors.
It cuts, bags your grass and even clips it to mulch. The handle has three points that you can manipulate to accommodate your height, while the 20-inch cutting deck adjusts between 1.5″ and 4″ for a range of cutting options.
The front wheels – 7 inches – are narrower for fast movements, while the rear ones – 9.5 inches – are thicker for stability.
This mower is quite expensive, but then again that is what you get for a sturdy steel deck and several cutting positions. It also comes with a 5-year warranty.
Pros
3-in-1 – mulching, cutting, and bagging.
7-position cutting height adjustment.
Deck made of steel for longevity.
Cons
Quite expensive.
Quite heavy.
Final Words
These mowers are some of the best self-propelled battery-operated mowers on the market, and they are designed for residential use. While they may not turn at 180-degrees, they do a great job without ruining the environment.
Have you tried battery-powered mowing? Do you only need a mower for a small yard?