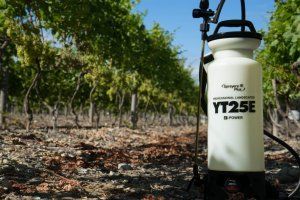 If you want to improve the look of your lawn or do a better job at taking care of your yard… if hand pumping isn't your thing… then I highly recommend you grab yourself a battery-powered sprayer.
Battery operated sprayers come in all different sizes and styles. So today we're going to take a good look at one of my favorites, the Sprayers Plus YT25e battery sprayer.
Sprayers Plus YT25E Effortless Hand-Held Sprayer
The YT25e is a 2-gallon battery-powered sprayer is the little brother of the 105Ex, made from the same quality materials.
This 2-gallon sprayer uses a 12v Lithium-ion battery which is the most stable and rechargeable battery of its time. With more voltage capacity and a lower self-discharge rate, you'll get a longer hassle-free lifespan for this sprayer.
Sprayers Plus have been in the industry for over 30 years. They strive to develop and manufacture products to become the market leader in home and commercial power sprayers.
Pros
Battery operated 12v with battery and charger included
Consistent 30 PSI delivery pressure
Lightweight and portable for all your variants of spraying
Offers a durable wand with Viton seals
Can handle sanitization solutions
Cons
No jet agitation
Maximum pressure is 30 PSI
What to Consider Before Buying YT25e Battery Sprayer
You don't have to just use sprayers in the yard, they can be also be used for cleaning, spraying outdoor furniture even pre-soaking the truck before washing her down.
The main reason where battery-powered sprayers excel over hand pumping is the consistency of the spray and when you have that you'll get a nice even result.
If this isn't a worry to you about, putting out a more consistent even blanket spray or you need a sprayer to deliver smaller droplets than this sprayer probably not best suited for you.
In that case, you'd be better off with a piston-type sprayer with a higher PSI similar to these sprayers and at a cheaper price for what you want.
But if you hate pumping the sprayer you've got now, feeling tired, fatigued from it or you can't just operate a manual pump battery powered is the way to go.
Main Features
Straight out of the box there are 2 things you've got to do.
One is to attach the wand to the shutoff valve which took like seconds to do, was just a matter of placing in position, and tighten up the locking nut.
Most important: Before you go filling your sprayer there is an orange looking plug thing that's jammed inside of the unit at the bottom of the tank.
This plug needs to be removed or no liquid will flow to the pump and causing it not to spray. It does come with a screen to replace it with.
You will require to charge the battery as well since it is battery operated. Talking about batteries.
Sprayer Plus uses the latest Lithium-ion battery technology where many other similar type sprayers don't run Lithium-ion and are permanently attached.
So unlike other sprayers when the battery flattens, all your works and spraying has to stop too. With the YT25e you can have extra batteries so when the one in the sprayer goes flat just swap it out with a charged one and your off and running again.
Sprayers like the Jacto PJB-16 or the Scotts 190567 you've got to plug the cord directly into the unit which to me is a right pain in the ass.
With this sprayer, you can charge the battery using the desktop charger that it comes with while it's charging you can keep on using it with the other battery. The charge even has a LED readout so you can see how far along the charge is.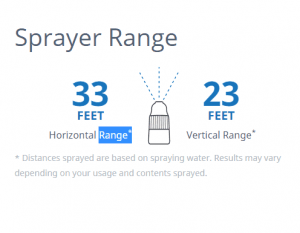 Included in the box are a few different options in nozzles. The main nozzle is adjustable mist, stream or fan.
You can tell it made well from the weight and solidness of the nozzle being brass and all, and the wand its attached to is powder-coated brass for long durability.
The hose is pretty well made feeling quite solid and industrial in the hand.
Using this premium flex rubber hose, it feels like the hose was built for the sprayer and not just some other hose they've adapted to it.
It happens and at times we get foreign matter in our sprayers from using tank water for fills etc, so to help with nozzle blocks, they've installed a fine mesh screen inside the handle.
This eliminates 99% of any issues of your nozzle blocking up.
I like how the spray gun has a trigger lock, so if you want to lock the trigger in the on position for those duration sprays this saves you holding the lever in and getting tired or sore hands.
Sprayers Plus use Viton seals so their pretty high quality and well known in the industry for having the best rubber seals.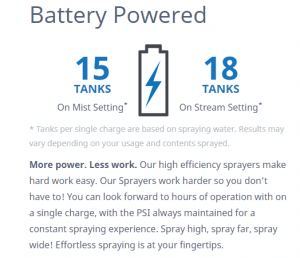 For quick fills and fewer spills, the mouth opening is 6.25″ wide and check this out, the lid is designed to be able to lift a full sprayer tank for a lifetime.
The old does have a snap-in position wand holder on top of the lid, and for me, I've never really liked how they sit on top, to me it kinda feels awkward but if your carrying it around it might make it easier.
It does have a side wand carrier too which too me is pretty well laid and thought of. You can really hear the sprayer snap-in when you do lock it into position.
For a small pump that drives this sprayer on stream and running at max 30 PSI you'll get around 33 feet on the plain and up around 23 feet spraying vertically.
And with a fully charged battery using the stream setting somewhere around 18 tank fulls on a single charge and 15 if you are mist spraying, not bad for a little pump and 12v 2.2Ah battery.
What Do Customers Love About It
Do a Google search and you'll find a plethora of customer reviews and testimonials with the majority of them being positive.
Most consumers love how easy to set up and use, and the battery life that you get is amazing for the size.
Also many commented on how effortless it is to spray now where before it had become a chore, and one elderly gent said he can spray all day now and not get sore in the arm and shoulder from pumping.
And it's not just these few below…
Of course, not everything is perfect and there are always going to be products that suffer from Monday or Fridayitis. Some have had battery issues and most other faults is leaking seals.
With a 4.5 star rating out of 5 stars and well over 400 paying customer reviews we researched on and Sprayers Plus 1 year warranty, click on the button below, read all the reviews so you can make your own mind up.
For me for the price of these sprayers, the quality and performance, and going by what's on the market today, it'll be hard-pressed to find something similar in this range.
Click on the button below to check out all the customer's reviews and see what people are saying about the Sprayers Plus YT25e battery sprayer
Alternative
Best Battery Backpack Sprayer 2023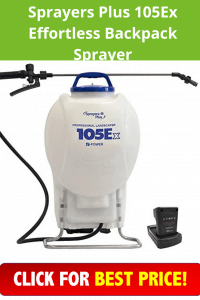 If you're looking for a larger sprayer the bigger brother of the YT25E is another great battery sprayer made by Sprayers Plus. The 105Ex Effortless Backpack Sprayer holds 4-gallon and uses a larger 20v Lithium-ion battery.
Build with similar quality the 105Ex will give you 23 tankfuls of spray on the steam setting out of a single charge and pushing out 40 PSI of delivery pressure giving you farther reach and wider.
Using the same quality Viton seals and wide mouth for fast filling making ideal for professional and homeowner use.
Best Budget Sprayer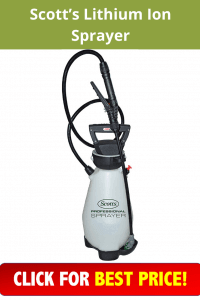 The Scotts Lithium-ion 190567 2-gallon sprayer is a perfect battery pump for weed spraying, insect spraying around the home.
Its simple design works even with a bleach/water mix because it also uses Viton seals.
Included in the kit is a lockable shut-off valve coupled on an extra-long 21″ heavy-duty non-corrosive wand with an adjustable 3 settings plastic nozzle.
The manual estimates you'll get around 12 tanks out on a single charge, the battery isn't removable on this sprayer so make sure you start off with a fully charged battery before hooking in and making a mix.
For the price and what they are, if ya not looking to spend a fortune this sprayer is certainly worth checking out.
Conclusion
Having a battery-powered sprayer will give you a more consistent spray, even the top of the range pump sprayers, when your pumping those things up and down, even if it has a regulator you're still not going to get that same consistent result as you will from a battery-powered unit.
If you want a consistent even spray across the board from blanket spraying, spraying insects around the eaves, or throwing out some liquid fertilizer and you want to do it without the hard work then this battery sprayer from Sprayers Plus is our favorite sprayer in this size and price range.
Not quite the sprayer for you… we have more options on our best backpack sprayer reviews for 2023 here
And if the results are anything to go by, the YT25E battery sprayer will be staying among the best for a long time. And at this price, which is the lowest its ever been for quite some time, you'll save a ton of money. Just make sure to click the link below for the best savings