Riding lawn mowers don't come with baggers, and so these attachments have to be bought separately.
Some of the best riding lawn mowers with baggers accept universal baggers, meaning they dint have to be made by the same manufacturer as that of the mower, whole others are quite specific.
This table summarizes the products we will review.
Our Favorite Picks
---
Last updated on November 24, 2023 9:27 am
Ferris 2018 F400Z Zero Turn Mower
Ferris 2018 F400Z is a powerfully built machine that has become quite popular with commercial users. Its powerful engine and steel-build make it one of the best on the market.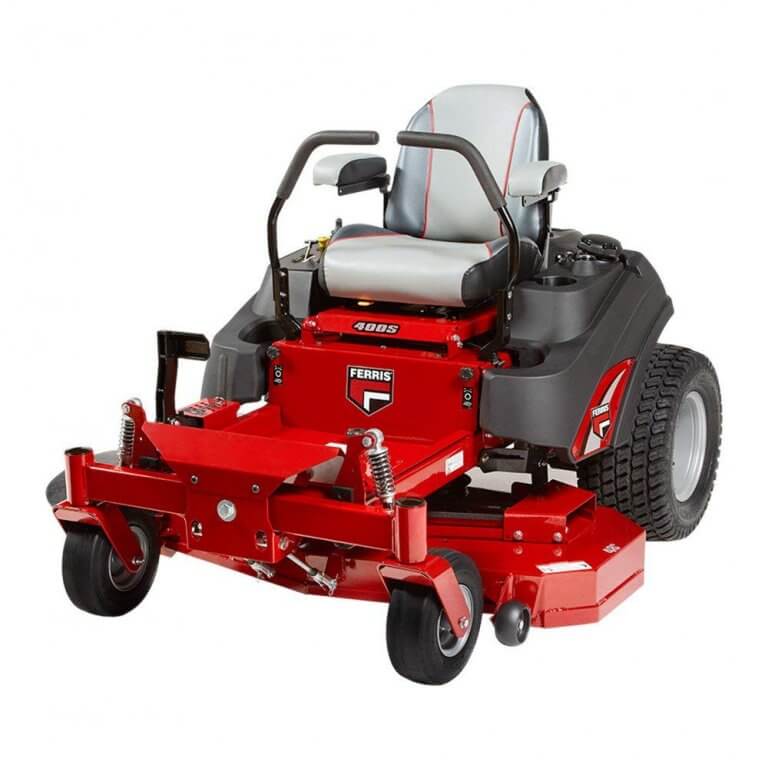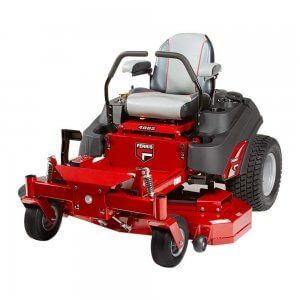 This mower is fitted with a Briggs & Stratton® Commercial Series engine that gives it the power to cut through thick grass and move effortlessly through hilly terrain.
Being a zero-turn also removes the need to think about overlapping ideally so you can come up with clean cuts.
It not only gets the job done fast, but it also emits less than regular gas-powered mowers.
The 5.5 gallon fuel tank on this mower is generous by several standards, as not very many have them in that size.
This enables you to mow your lawn without worrying about fuel running out on you, and the attached gauge only makes this easier.
You will also find a fuel cup for convenient fueling.
They thought everything through with this model.
Ferris is a powerful machine, and so it makes some noise that will make it impossible to use this at night if you live in close proximity with other residents. If you don't, then the headlights at the front will be your guide.
The cutting deck on this machine is fabricated and steel-made for longevity and protection of your engine.
It is covered under the 3-year limited warranty that is for the rest of the machine expect suspension-related components that are covered for unlimited hours and a maximum 5 years.
Ferris F400Z's hydro-gear makes it possible for this mower to move forward at 8mph and to reverse at 4mph.
It has steering levers with comfort grip for steering and treaded rear wheels for stability and control. It has bagger capacity but you would have to buy the accessories separately.
Its high-back seat is adjustable to accommodate varying lengths.
Pros
11 X 4-5 pneumatic caster tires.
Cutting height ranges from 1.5 – 4.5.
A generous 5.5-gallon fuel capacity.
Ariens 915223 IKON-X
The new series of Ariens is lightweight with the same superior qualities of previous models.
It features a powerful 23hp Kawasaki FR691 engine series, has a wide 52 inches cutting deck, and is covered by a 3-year warranty.
As you will see, it is bagger enabled, but those accessories are not part of the package as is the norm with most brands.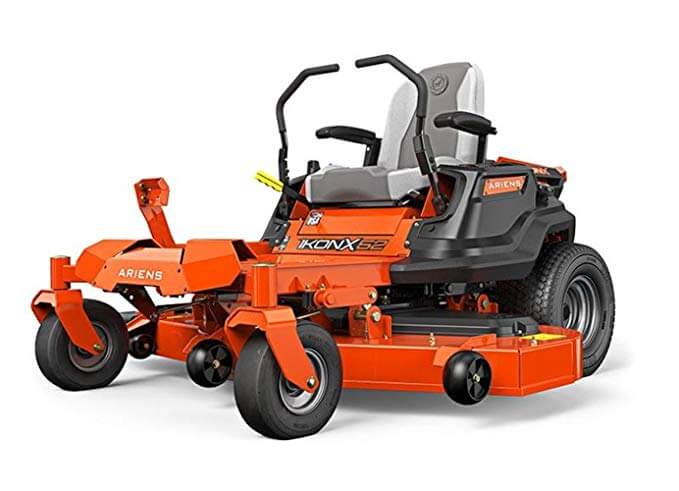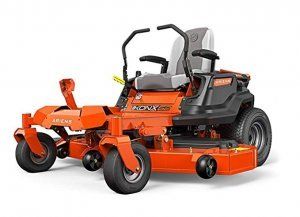 Starting with the external look, you can tell this machine is sturdy by the way it stands.
The 52-inch deck is made of commercial grade steel for longevity and so it can cover the engine perfectly. It holds the three long blades that are responsible for clean cuts seen when this machine is put to work.
The engine, from a reputable maker, has a 3.5-gallon fuel capacity that ensures you clear over an acre of lawn without refueling.
This mower has a fuel gauge that tells you the state of your power.
It starts fast, thanks to its keyless start, and the Hydro-gear EZT sends enough power into all the components to reduce the time you would take to work on any terrain. The deck is foot operated to free your hands when steering.
For comfort, the mower is fitted with a comfortable high-back seat that is padded and adjustable.
It has springs for bounce and armrests, though you will notice the occasional turbulence when mowing rough terrains.
This mower moves forward at 7 mph and reverses at 3 mph, which is good enough for mowers its size. For residential use, it is covered for a period of 3 years.
Pros
A powerful 23hp engine.
Comfortable high-back adjustable seat.
Hydro-gear EZT for power.
Husqvarna Z254
Husqvarna is one of the biggest names in garden care, and so it is no surprise that the Husqvarna Z254 makes the list. It features a 26 HP Kohler engine, 45 inches cutting deck, mulching kit and bagger attachments sold separately, and impressive forward speed – 6mph.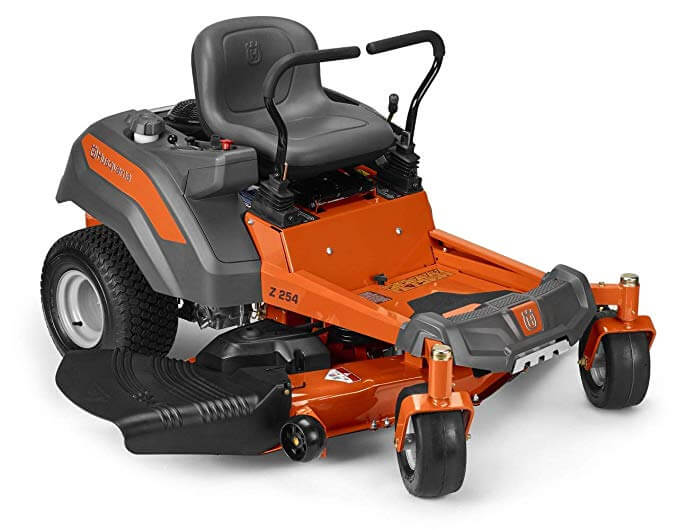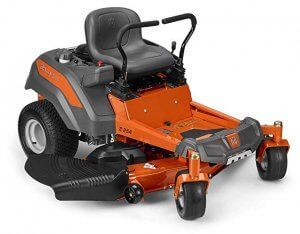 With dimensions of 72 x 61.49 x 34.48 in and 549lbs for weight, this mower is quite powerful even from the looks.
It is Gasoline-Powered, and so emissions are to be expected but not so high to warrant a ban in greener states such as California.
It has optional LED lights on the bumper, though it is also quite noisy and so may not be ideal for night rides in the suburban areas.
The engine, made by Kohler, is powerful at 26 HP, and so you can expect enough power in all the components of the mower. The coolers here ensure enough air supply to keep your engine working in perfect condition.
This mower has a maintenance-free transmission that also frees your hands so you can steer with both of them.
The steers have ergonomic grips to protect your hands while working and so make them sensitive to the vibrations that help with control.
This mower features a spring-assisted deck lift system for your convenience. It also turns at 180-degrees being as it is a zero-turn mower, and so you don't have to think too much about overlapping.
It features a removable foot pan for easy cleaning and fly adjustments as well as access to pulleys and spindles. Its mega-sized welded steel frame keeps the wheels grounded to improve the riding experience. It has bagger and mulching attachments.
Pros
Has 15″ high back seat for lumbar support.
Choke and throttle are easy to access.
Automatic parking brakes for safety.
Troy-Bilt 540cc Riding Mower
Powered by a reliable and powerful 19 HP/540cc Briggs & Stratton Intek engine, this mower gives you the impression of sturdiness at first glance. It is aesthetically pleasing, with a wide deck and warranty to cover to boot.
The maker says it can clear a quarter-acre lawn in around 20 minutes depending on terrain, and the fuel tank is able to hold enough to sustain it for this long.
It even works uphill and on overgrown grass, but you can expect it to consume more fuel to be able to perform this task.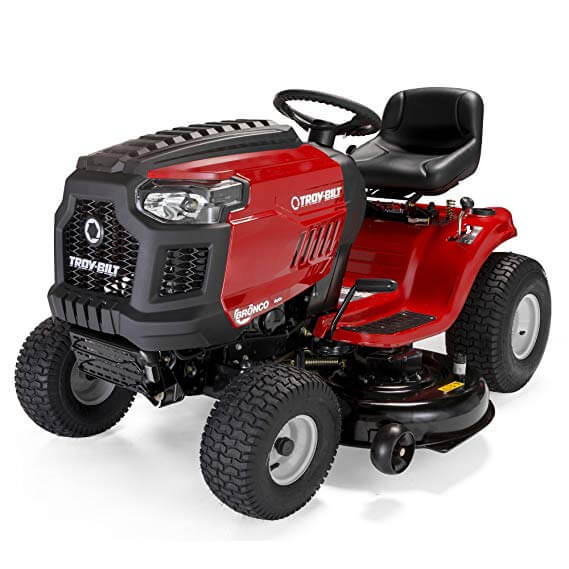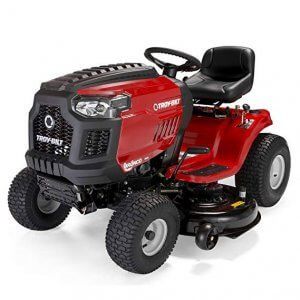 It is easy to use and care for, as first it makes use of steering wheels instead of twin steers that take a while to master. It comes with oil already, but you would have to keep checking the levels.
Its gasoline tank is right beneath the hood. The dashboard is within reach and intuitive, and you will be impressed with its smooth maneuverability even though it is not a zero-turn mower.
It has a shorter learning curve as most of its features are like those of a car.
You can adjust the 46-inch cutting deck using a 5-position hand lever for precise cuts. This ensures you work well with both long and short grass.
You have the optional Rider bagger and mulching kit that makes your work even easier, and you also have the option for a snow plow, even though all these are not part of the mower.
They are additional parts that you buy separately.
It is quite easy to maintain.
After every 10 hours of use, clean the hood and dash louvers, battery terminals, and lube the moving parts. After 25 hours of use, lube the front axles, clean cooling fins, and change the oil.
The maker added a parking brake for safety, a gas pedal for efficiency, and headlights for night mowing.
Pros
A 46-inch cutting deck that you can move 5 positions.
Powerful 19 HP/540cc Briggs & Stratton engine.
Easy start.
Cons
Quite noisy.
Fuel capacity limited.
Poulan Pro P46ZX Riding Mower
In Poulan's new Pro line of mowers is the P46ZX, which is easy to control, a joy to ride, and one of the most reasonably priced mowers of its size and make.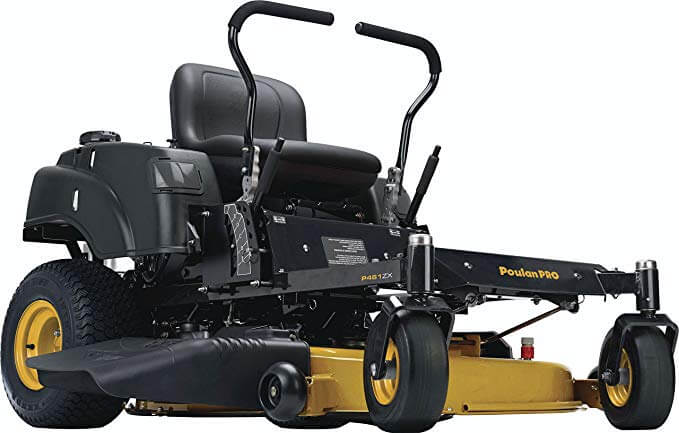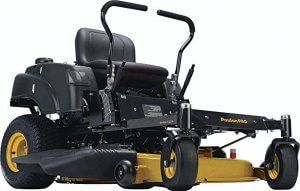 Its cutting deck is relatively small at 46 inches, but the manufacturer says it can handle up to 2.4 acres per hour. This will, of course be determined by terrain and the condition of weather.
Instead of a steering wheel, it features two levers that control its speed and rotation.
Now, many beginners say they are quite difficult to use at first, but it all gets easier over time.
The steers have an ergonomic grip that vibrates when you make any move to help you control the mower better.
Being a zero-turn, this mower delivers clean cuts because you no longer have to worry about overlapping.
The mowing blades are sharp and will cleanly cut grass at different lengths because the deck can be adjusted to 5 different positions.
Its maximum forward speed is 6 MPH, which is slower when compared to larger mowers, but it still gets work done efficiently. This mower is certainly best for residential work.
We noted that it doesn't do very well on steep terrain, as going uphill is quite the task.
It start fast and has a parking brake for safety. The dashboard is intuitive while the foot pedal frees your hands for best control of the levers. It has a 3.5-gallon fuel tank and an electric clutch.
Pros
Effective zero turning radius
Reasonably priced.
Can tow objects, thanks to the engine power.
Cons
Max speed is only 6 MPH.
Not great for riding uphill.
Husqvarna MZ61 Riding Mower
Sturdy, functional, and smooth steering are some of the things this mower delivers.
It is backed by a powerful engine, a large deck, and blades that deliver quality cuts. It goes uphill without any difficulties, and its zero-radius turning capabilities make it the ideal mower for commercial use.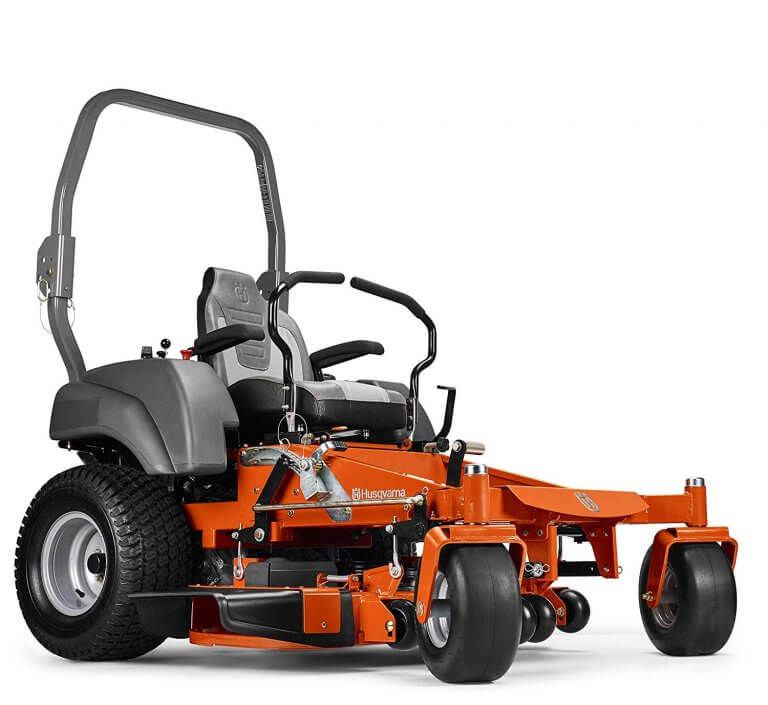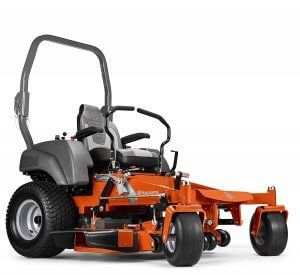 The Briggs & Stratton engine delivers 27hp of power to the various components of this mower so that is moves at 8.5 mph and reverses at 5mph.
Because it turns like a dream, it moves past obstacles easily and can cut thicker grass even from a steeper slope than most of lower horsepower.

The maker says it can clear 3 acres of flat lawn in an hour regardless of grass thickness.
It boasts a 61-inch cutting deck, which supplies enough air to enable lifting of grass for the three internally hidden blades to clear. This also means it works at a pace that most would not because each rotation sends the blades quite far.
You can adjust this deck to various positions to cut varying lengths of grass.
Steel is what the deck is made of and you can tell how strong it is by looking at it. The high-back padded seat ensures you are not thrown off the mower while working while the foot pedal gives you better control of the twin levers.
Pros
Large deck.
Powerful engine.
Easy to maintain and operate.
Has safety controls and is zero-turn.
RedMax New RZT48 Riding Mower
RedMax is popular among residential and commercial lawn mower users and this is why; a powerful 23Hp Kawasaki Engine, a 48-inch cutting deck, bagger attachment, 3.5 gallons fuel capacity.
It has a sturdy build that you notice just from looking at it and the safety features in it make it an even more attractive investment.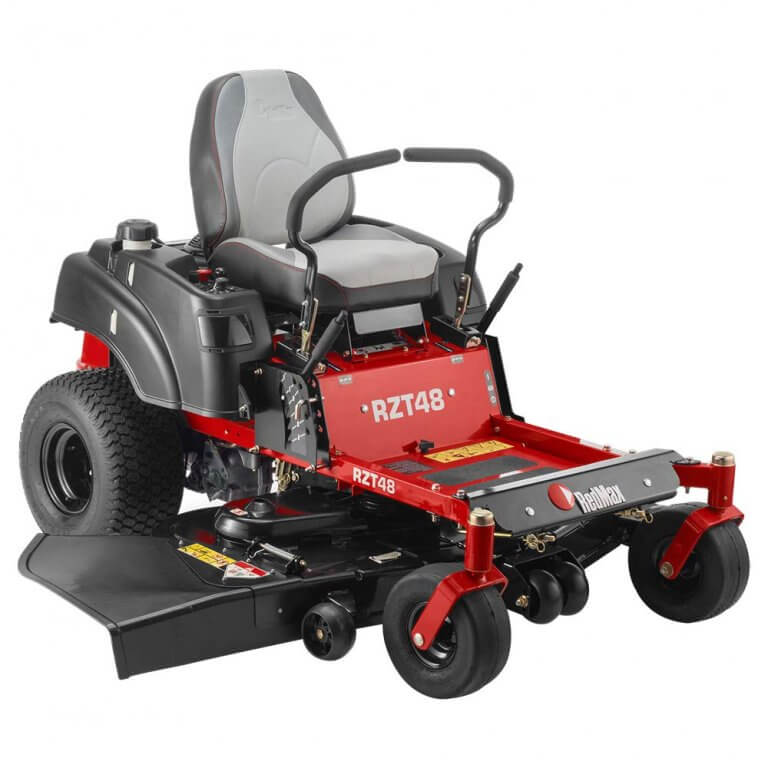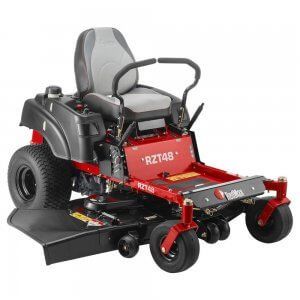 RedMax New RZT48 is still relatively new, but it is already causing a stir among lawn users.
It has mulching and bagging capacity, but you have to buy those attachments separately, and its deck is adjustable to enable you cut longer and thinker grass.
It features steers with an ergonomic grip that will take a little patience to learn to use properly. The 18" high-back seat is not only padded for comfort, but it also adjusts to suit different heights.
The controls on the dashboard are intuitive, and its safety measures ensure you can only start it when seated.
The 10 gauge fabricated deck is sturdy and the perfect place to hide the blades that rotate to deliver quality cuts. Being 48 inches wide, it enables you to finish your mowing quite fast and the results are quite impressive.
The Zero-turn steering system allows the mower to rotate on its own axis s you don't overlap at all, and its power makes it possible to mow uphill, albeit at a slower pace.
Its forward max speed is 6mph. The fuel tank located on the side of the mower has a 3.5-galon fuel capacity.
Pros
Powerful gear.
Bagger and mulching attachments.
Wide adjustable cutting deck.
Craftsman T150 Lawn Mower
Some of this mower's highlights include; 19 HP Briggs & Stratton, 46-Inch cutting deck, high-back seat, and bagger attachment sold separately. Backed by a 19 Horse Power Briggs & Stratton Gold engine, this mower has enough power to mow uphill even when working with thick grass.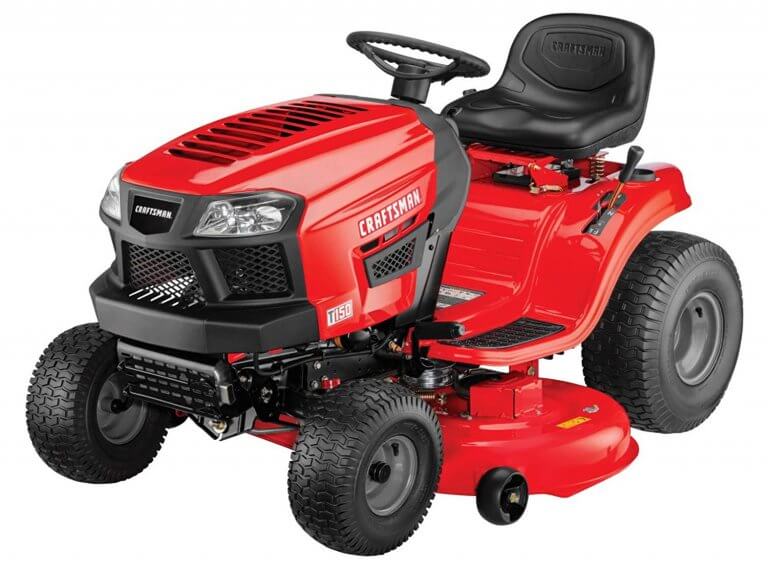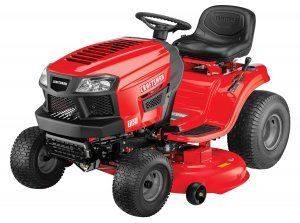 It has hydrostatic transmission so you can control it more easily than you would a manual mower, and the deck is made of steel for longevity.
It is also adjustable to 5 positions so you can cut various lengths of grass.
This mower moves forward at a maximum speed of 6mph, while it can reverse relatively fast at 3mph. It is easy to maintain and the controls are all located on the dashboards. It is not a zero-turn, but it still is easy to move without overlapping.
Under the deck are the three blades responsible for the clean delivery this mower shows.
The seat is designed with a sensitive pressure sensor that note when your posterior is not firmly on the back so that it stops as soon as it reaches that conclusion.
Pros
Easy turns to prevent overlaps.
Three blades.
Sturdy deck.
Cons
The seat's pressure sensor is a little too sensitive.
Things to Consider when Buying a Bagger for a Riding Mower
---
While planning to buy baggers, here are some crucial factors you should consider.
If your lawn is designed to accept any bagger regardless of the make, then you can buy any that fits.
If not, you will need to buy one from your lawn's manufacturer, and you could even get it a discount for buying them together. The upside of this is the assurance that your bagger will fit perfectly.
You will need to consider the size of your cutting deck before buying a bagger to be sure it will fit. They come in different sizes, and so you should look for the right range in inches – such as 42/46.
While at it you want to consider the size of your lawn too as you don't want to have to stop and empty the bagger before proceeding.
Most of them will have two bins that allow you to accumulate quite a lot of cuttings before emptying.
The weight shouldn't matter that much of an issue because most of these baggers weigh 25lbs, and you can roll yours to the dust bin.
Besides, hard plastic that is used in making baggers is quite heavy to last longer. You may want to check how much weight it can carry, though.
You want to check what the manufacturer has used for the bagger you are about to buy.
Hard plastic at the top is no only durable but it also withstands the elements, and so you won't have to worry about it after working with wet grass. It is also easy to clean with airflow and venting to prevent or reduce clogging.
It is one thing to be concerned about the size and fittings of your cutting deck and another about the bagger's capacity. You want to take a few matters to mind, such as the state of your lawn most of the times when you mow.
If it rains often in your area, wet grass is heavier and will definitely weigh your bagger down.
The ideal bagger should handle no less than 40lbs of cuttings. You also want one with two vented nylon bags inside to handle grass and so offer easy clean up later.
Other Factors
Is the bagger covered by a warranty? Most manufacturers give a year's worth, which is quite okay as the lifecycle of most of them is usually 3 years.
You also want to check that it is easy to mount at the rear of your mower so you don't waste several precious minutes working it. Most baggers are in black and being made of plastic, will not be ruined by rain.
Final Words
Before you buy a riding mower, read reviews to see whether it has bagging capacity, and also ask the manufacturer whether they sell the bagger as part of the package.
We do not have a personal favorite as the above reviewed are some of the best riding lawn mowers with bagger capacity.