In this Scag vs Exmark review, we are going to look at the Stag Cheetah series, and from the Exmark, we'll look at the Lazer Z series. Though they perform the same job, they are vastly different in their strong points and what makes them the go-to mowers.
In this article, we'll discuss the features of each mower, highlighting where their area of strength is. After we'll complete with a conclusion of what we think about these two machines.
Scag vs eXmark Zero-Turn Mower Review
The Scag Cheetah Reviews

The speed on the Scag Cheetah zero-turn mower goes up to 10.5 Mph. It features a coil-over shock suspension system making it remarkable when it comes to comfort.
There are also rubber iso-mounts that provide additional protection from shock as you ride around on the mower. According to the website, the entire system is referred to as Operator Suspension System.
The ZT-3400 transaxles are built to last long and also to deliver smooth drive performance.
Overall, the entire adjustable system soaks up the shocks from bumps and other items you run over, leaving you with only three moving parts in total. That is the front pivot, rear pivot, and shock.
The fuel capacity is 10 gallons fuel thanks to the dual tanks that this zero turn mower has. That means you'll be in the field for a long time cutting grass without having to worry about gas.
If you fuel in the morning, you'll be able to cut throughout the day. There are also varying high-power engine options that you can switch to.
There is an auxiliary canister air filter system which helps increase the duration between service and also give your engine a longer life. You can quickly clean the engines and filters thanks to their easy access.
You don't need tools to remove the rear hood and the access panels to get the job done.
Another aspect that stands out is the Tiger Eye Advanced Monitoring System that keeps an eye on all essential system functions. It happens in real-time, so you're able to know when your engine needs your attention.
That gives you the peace of mind that no issues will spring out on you unexpectedly.
The Scag Cheetah has side discharge cutter decks known as Tri-Plate Velocity Plus™.
You will also find that the ground speeds are fast, while as stated, giving you a smooth ride and cut. When you purchase this lawn tractor, you can expect to be productive.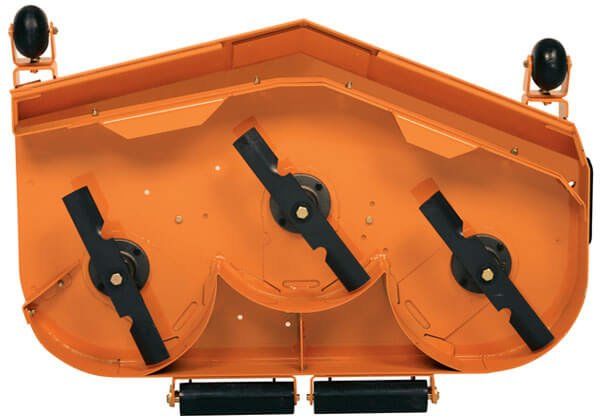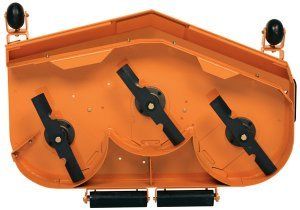 When it comes to steering, there is the Ogura GT 3.5 PTO clutch brake that controls the start and stops.
The seats on the Scag Cheetahs are bolstered, so they are super comfortable. They are also adjustable; you can move them forward or backward.
There are also armrests, and you can also tilt the seat back for the ultimate comfortable mowing experience. You don't have to worry about being tossed around in the chair.
That's because the rubber iso-mounts soak up all that movement.
We can't talk about lawn tractors and not mention the height-of-cut.
You can change the cut height in mere seconds by stepping on the cutting height adjustment that's foot-operated. There are three positions that you can change the foot pedal to.
When it comes to the tires, you don't have to worry about what happens when you're on rough terrain. The company has flat-free front caster tiers so you can remain productive in your mowing.
One thing to note is that the front caster extension can get replaced in the event it gets damaged during an impact.
In a nutshell
In general, the Operator Suspension System keeps you separated from the shocks of rough terrain. What you're left with is a smooth and comfortable ride all the while getting that quality cut.
You can get 48" or 52" Velocity Plus decks that also deliver a comprehensive and even discharge.
You also get monitoring where you're able to know how your engine or other functions are performing. With the dual tank, you're ready to mow a massive tack of land all day without stopping for gas.
Exmark Lazer Z series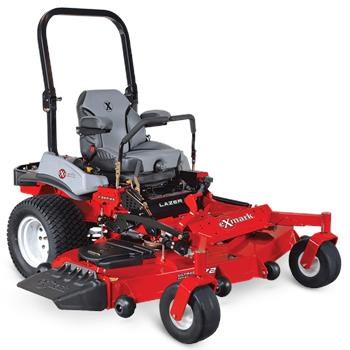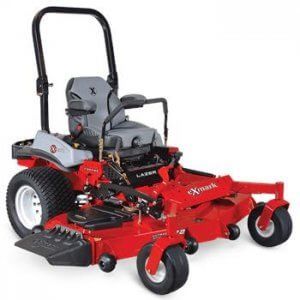 Before we get into the details of the Lazer Z series, we have to talk about what the company refers to as the Exmark Advantage. When it comes to making their machines, there is an excellent involvement with the customer experience.
The company gets into the field with the customer so that every nut and bolt gets made to meet their client's needs.
Additionally, their customer service department is always opened for feedback so that Exmark can build the best commercial-grade machines the industry has to offer.
Learn More About eXmark's Advantage
Something that guides the innovation taking place in the company is the trends and changing needs, there are when it comes to turf care. They also look into the future of the industry to ensure they are ahead of the industry.
It is all about revolutionizing your mowing and ownership experience.
When it comes to comfort, Exmark brags as being a company that has become an expert in that area.
The current models available are by far comfortable to use.
It means that professionals and homeowners can enjoy the mowing experience and be profitable and productive. With regard to the engine, Exmark is always innovating, something that is unparalleled in the industry.
In design and increasing the engine life, they are indeed ahead of the game.
What makes that happen is the RED Onboard Intelligence Platform, which powers communication between the critical systems of the mower. That results in reliability, efficiency, and durability.
Exmark is equally mindful of the environment.
They have increased fuel efficiency to decrease the environmental impact that their products have. Their ultra-efficient EFI engines boost fuel economy as compared to other engines prior and in the market in general.
In their Exmark Lazer Z X-Series mowers, the company has exclusively put RED Technology, so you're guaranteed better fuel efficiency.
There is also the propane option for further reducing the environmental impact.
The control panel is updated and features a sealed key switch as well as PTO connections.
There is also a new console-mounted LCD screen. You can now easily use the interface for more enhance monitoring of the vital functions the mower has.
You can also see the health of your engine and equally get reports of property stats and the operation in general.
Another aspect contributing to the perfect cut is the Exmark patented flow-control baffles accelerate airflow that is under the deck. What that does is it eases the movement of materials and also gives a more even discharge.
The blade-tip speed is also optimized so that you get the same discharge distance and it is all uniform.
These mowers have a rear discharge that delivers clipping control, and you can also trim on either side of the deck.
In the Lazer series, there is the Lazer Z Diesel which has a 96-inch flex wing mower deck that allows you to mow 9.5 acres per hour. That's quite significant, and the good thing is it doesn't sacrifice the cut quality.
Their spindles can equally withstand impact and moisture, and most of all, they are maintenance-free.
Overall, thanks to the Exmark hydro drive system, there are fewer pieces and parts which translate to reduced maintenance and an increase in durability.
In a nutshell
Exmark has created their mowers based on client needs and their feedback, thus giving them the Exmark Advantage. The company has also used innovation in the areas of comfort and the engine to provide the customer with the best experience they can have.
There are also fewer moving parts, meaning a mower owner has less to worry about when it comes to maintenance. The Lazer Z mowers and others the company makes have a rear discharge.
In monitoring, you're able to know how the machine is performing at all times.
Exmark Vs Scag
Let's look at the commonalities and how each fair on
Comfort
With both machines, the user is guaranteed comfort but Scag triumphs here.
That's because the users have more control of the chair. They can move it into the perfect position that won't tire them out as they go about mowing.
Fuel efficiency
The companies have taken different approaches when it comes to fuel consumption.
Scag has maximized efficiency by having two fuel tanks.
That means you can mow for much longer without needing a break. However, for Exmark, they have taken the environmental approach where they have embraced technology that allows their mower to run on led fuel.
Here, we'd call Exmark the winner because it is more environmentally friendly.
Monitoring
Scag and Exmark have poured in time and effort to ensure that you can monitor your machine as you mow.
You're able to know when there is something wrong (or right) thanks to the displays they have on their mowers. Here both companies are a tie because you're able to monitor your mower and have peace of mind.
Conclusion
Ultimately it is your preference that will dictate what mower to go for. So there you have my Scag vs Exmark review and I hope that it has helped you out and answered a few questions.