In this article, we look at what striping is and what are the best lawn mower blades for lawn striping for you to use to get that effect.
What is striping anyway?
Striping refers to the effects that you see on a lawn where one patch of grass looks darker and the other lighter. Together, these variations on the patches of grass form a stripe formation.
This effect is best seen on a playing field. It comes about thanks to light reflecting on the grass blades. When one part of the area has the grass bent toward you, it looks darker.
Those that get turned in the opposite direction look lighter.
That is because of how light bounces off the grass blades.
How you achieve a stripe is by mowing one way in a straight line, and then going in the opposite direction next to the pass you've made.
If you want something more pronounce, you can use a roller to go over the passes, rolling in the direction you mowed. Something else you can do is making a checkered design using the same stripe concept.
First, start striping from north to south, and once you're done, do the same thing on then from east to west or vice versa. It is best if you have long grass and want to cut it to be shorter still.
Lawn striping promotes healthy grass growth.
Why is Striping important?
When you indeed mow your lawn in one direction, you're more likely to have an uneven lawn. When that happens, shorter grass gets deprived of sunlight and ends up dying while the longer ones continue to grow.
However, when you use the stripe method, there is more uniformity, allow the grass to flourish. You're also less likely to notice slow growth spots, holes and the like because they get camouflaged with the striped look.
For you to get the full effect of grass facing different directions, don't cut the grass too short.
Since you'll use a roller to get the outcome, you want taller grass because the stripes will be more pronounced that way. If you're going to have that football or golf club look then have your grass between 2.5 and four inches.
If the grass is shorter than that, it won't bend, and the stripped aspect won't be as noticeable.
It's all about reflecting light, and that can only happen on tall grass.
To further promote the health of your grass, stripe the grass in different patterns. If you did north to south this time, do east to west the next.
You can even mow the lawn diagonally and still get a beautiful striped look.
You also want to increase the duration between mowing sessions as you don't want the grass to start growing bent.
Depending on the season, you can mow your lawn in alternating stripes between two to five weeks or on a needs basis.
Does it work for all grasses?
Unfortunately, stripping is not possible for all types of grasses.
If your lawn is long and fine, then you'll be able to see the striping effect better than if you have short stubby grass. The former grass is natural to bend using a lawn roller.
The latter type of grass is not as cooperative, so you'll find that they'll only keep the stripe effect for just a few days before going back to normal.
Now that we know what lawn striping is about let's get in the brands of blades that can help you achieve that look.
Best lawn mower blades for striping
Last updated on November 27, 2023 12:48 am
Let's get started!
1. Maxpower 561713 blade set
Here we have a 42-inch cut that acts as a replacement for multiple brands, Poulan, Husqvarna, and Craftsman included. These Maxpower blades come in a pair and are super easy to install.

Apart from striping, these blades are also ideal for bagging. The blades can go through the tall grass of about 12 inches and three to four feet of weeds with ease.
You can use them for a while before needing replacements.
You only need to be sure that you have the right model for them to fit and work correctly.
Another selling point of these Maxpower blades is that they get made in the USA.
2. MaxPower 561747 Blade Set
These blades come in three, and they have a 54-inch cut.
They are replacement specifically for Poulan, Husqvarna and Craftsman 187256 and 532187256 types.
The set of blades are a perfect fit for the models mentioned and do a good job mowing the lawn.
These Maxpower blades are also made in the US and are considered heavy duty due to the gauge steel they are made of.
The 54 inches are welcome particularly for people with mowers with a wide cutting deck.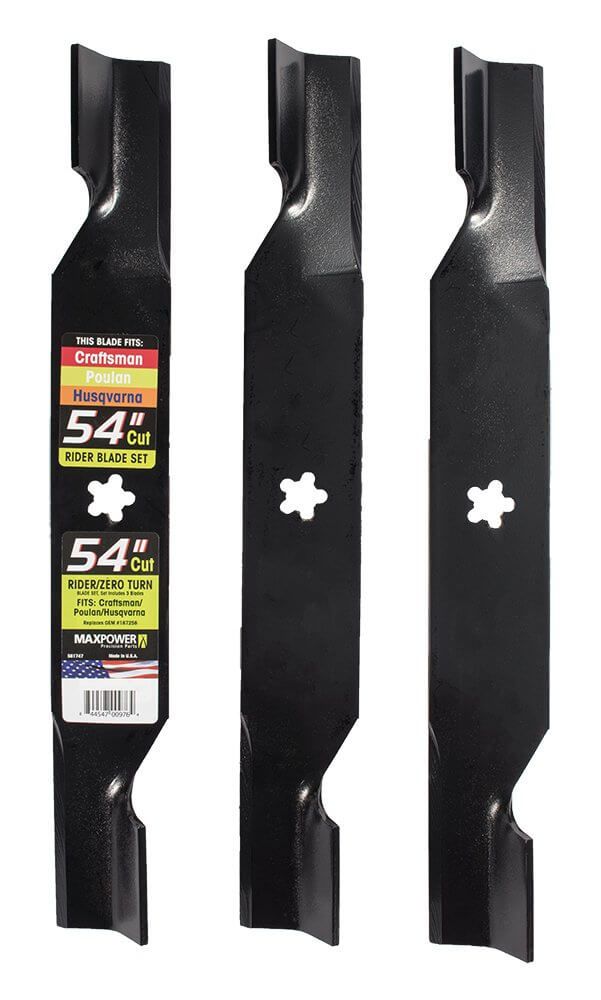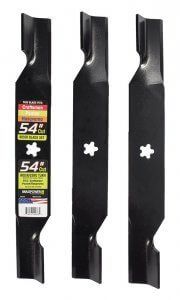 The installation also takes a few minutes, and you'll be on your way to mowing the lawn.
3. Rotary Blades
You can use these blades for several brands including Deck, Craftsman, Poula, and Husqvarna.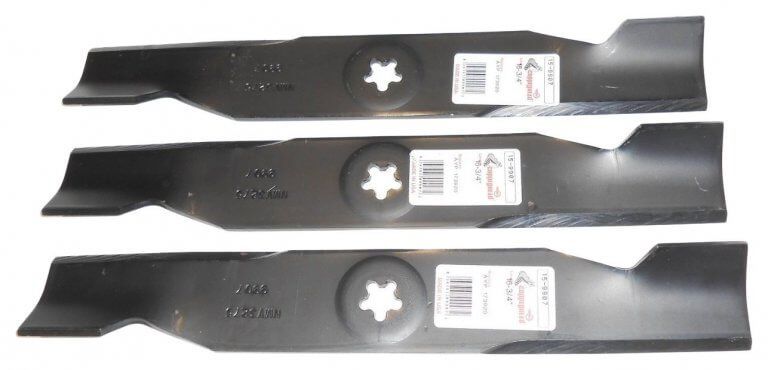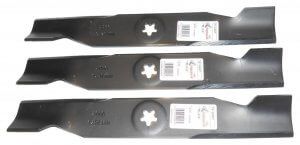 The sets come in three and replace #180054 or 173920. The three blades are high life blades meaning they throw clippings better and work with a bagger as well.
These Rotary blades are for a 48-inch cut.
They are also heavy and thick and can get used for a while before needing to be sharpened.
Something to note is that these blades are discharge blades, not mulching blades. That means there will be less clogging under the deck, but you will have to rake the lawn if you were cutting long grass.
4. John Deere Blades
These next blades also come in threes and are of OEM quality. It means they are heavy duty and sturdy so that they last longer than average blades.
The steel itself is better than some local brands and has a 48-inch cut.
These John Deere blades are also easy to install and also balance well on the mower's deck. Something a lot of reviewers have to say about the blades is they are priced just right.
When it comes to cutting, there are varying verdicts; that is dependent on the type of grass.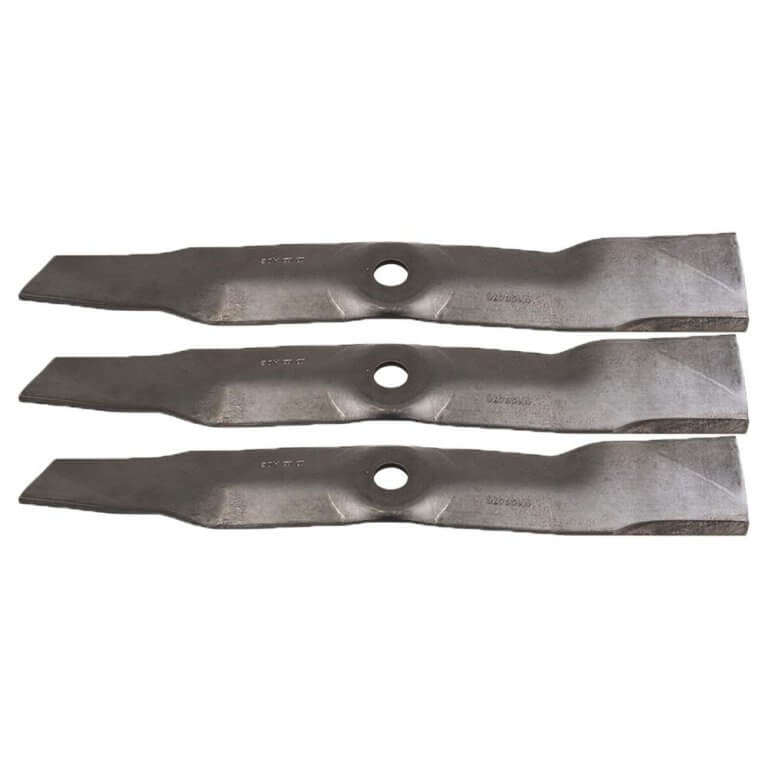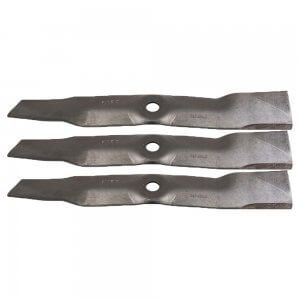 5. Husqvarna HU22054 Blades
The Husqvarna blades come in a pack of three. It has a 54-inch cut.

The blades are bright orange, making them stand out from other blades.
If you are looking for bagging or side discharge, then these are the blades to opt for.
The material is high-quality steel, and upon receiving the blades, one will find that they are sharp.
Reviews state that it is seamless in cutting grass and weed and does it with much ease. Installation is just as easy.
6. Ariens Zero Turn Blades
Here we have three OEM 52 inch blades that are meant for the brand Gravely 04771200 52 inches zero-turn lawnmower. It fits the other 52 models of Ariens lawnmowers.
Ensure that you purchase the blades for the models mentioned on the packaging and marketing material to avoid disappointment.
Even though you have a zero turn mower, make sure it falls under those listed. Used on the right model, installation is simple, and the cut on the blades is exceptional.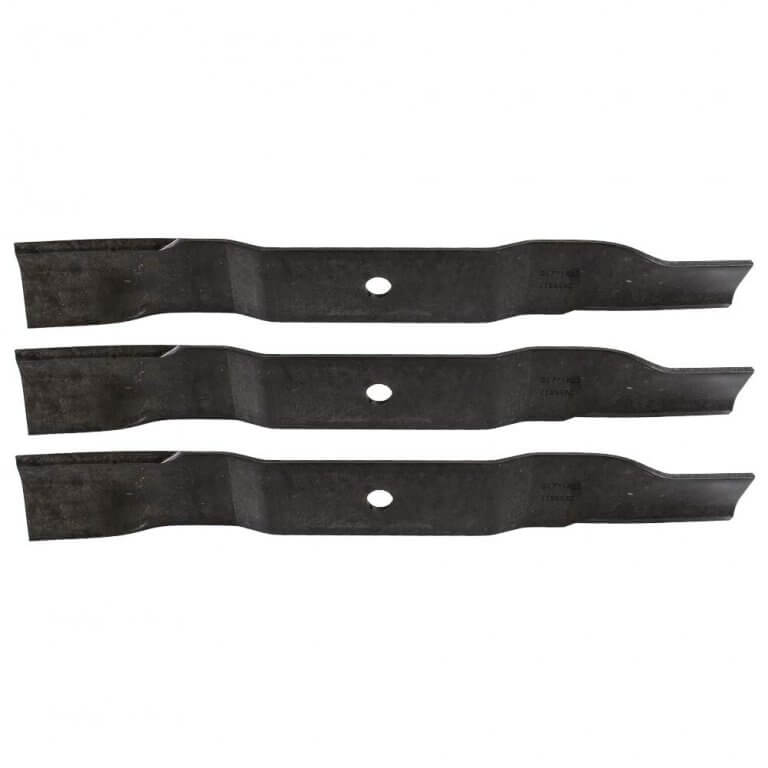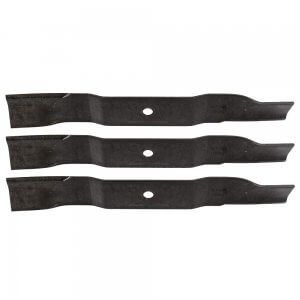 7. Poulan Pro Blade
The brand Poulan provides two 42 inch cut blades meant for mulching.

They are ideal replacement blades that will keep your lawnmower working at its best for a long time.
With care, you're able to enjoy these well-balanced blades.
One pass is enough for standard-sized grass and will do the cutting smoothly.
However, they are a tiny bit longer, but they are still able to fit the deck, making installation just as easy.
8. Greenworks blade
This blade is different from others in the list given it is a 20-inch cut blade.
It is made out of heat-treated steel and compatible with 20-inch Greenworks mower of the models 25022 and 25222. Installing them is just as easy as the rest.


The balance is also just right and doesn't case the lawnmower to vibrate when it is in use. You, therefore, don't have to give up on your mower yet, it could be needing replacement blades.
From the reviews, these Greenwork blades have your mower working as good as new.
9. EGO Power+ blade
This 20-inch cut blade is for the GO 20-Inch Lawn Mower LM2000, LM2000-S, LM2020, and the LM2020SP models. It is made of sharpened steel for an excellent cut.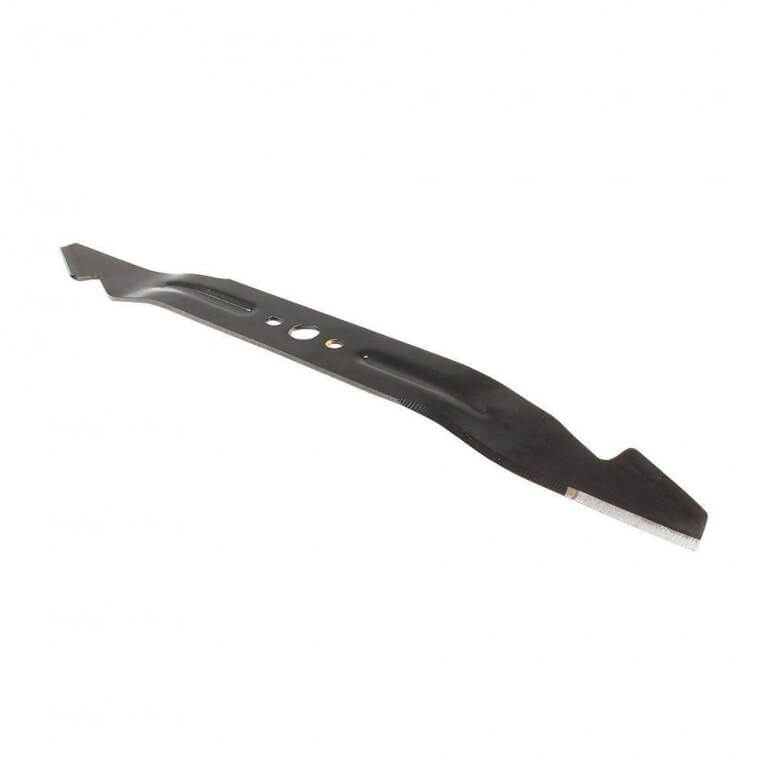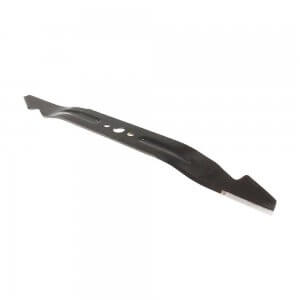 The marketing of it calls it a three on one blade.
That means you can use it for mulching, bagging and side discharging. The blade gives a clean cut and promotes lawn health as well.
The blades are also study compared to those that come with the mower straight from the factory. That guarantees usage for plenty of seasons.
10. Honda blade set
This last blade is a genuine OEM Honda part. The set comes with two 20.75 inch blades; one goes to the upper deck and the other on the lower deck.
It is made for Honda HR series, and they are the same as the original ones that come with the mower.
t fits perfectly with no issues. It is perfect at mulching, and thus promoting grass health.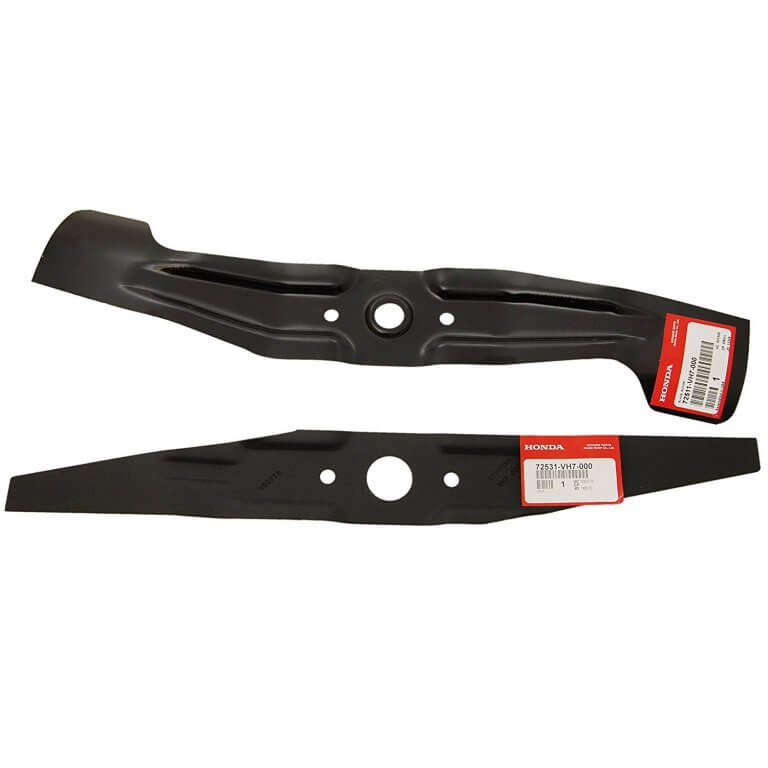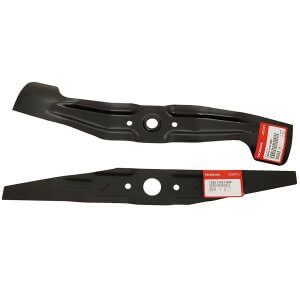 The mowers are also long-lasting so you can make a purchase and forget all about them.