Over 50 years ago, John Deere entered the market with a petrol-fueled model that had a 7 horsepower engine. The market received it well, which only encouraged the company to grow its products.
Over the years, the company remodeled its previous models and made major improvements to become the brand it is today. John Deere zero-turn mowers are for both residential and commercial users.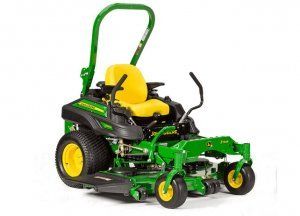 John Deere has its zero-turn mowers classified into series, according to their use.
The commercial series has: Z300 Series, Z500 Series, and Z700 Series. For residential use, we have the Z900 Series. They differ in their specs and abilities, but they are all superior in their own way.
John Deere Zero-turn Mowers: Here's What to Expect
If you are in the market for a commercial mower, then you can expect great speeds – over 8mp – and a sturdy mower that will powerfully grounded.
You can also expect it to serve you well after the warranty period has lapsed, and great customer care. The commercial series is made up of heavier and larger mowers than those in the residential section, and so they will naturally take up more space.
They have adjustable deck sizes to handle different grass levels too.
When buying a residential John Deere mower, you will notice they are more compact to take up less storage space, but they are just as effective as their commercial counterparts.
Being zero-turn, they turn at 180-degrees to leave the ground perfectly covered with no uncut patches.
A John Deere mower will come with a limited warranty covering the engine and deck, and you will get a detailed manual that tells you how to care for it so it can return its value.
Naturally, these mowers are durable as they are built of sturdy material and reputable engine brands.
Features
Motion Control on the Steers
These mowers don't have the regular steering wheel, and so they are fitted with ergonomic steers that will fit ideally in your hands and be comfortable to use throughout your mowing.
They have motion sensors too to make the learning process easier and for better control.
You want to be able to mow straight, and the on-the-go tracking adjustment ensures you do just that. While at it, note the auto-brake that makes it easy to stop at any time.
The wide treaded rear tires ensure stability especially when you make those effortless 180-degree turns. Parking brakes makes it an easy one to use mower for anyone, no matter their level of experience.
V-Twin Engine with a 22-24hp
The commercial series – Z300 SERIES / Z500 SERIES – boasts a twin-engine that is powerful enough to handle rough terrains and endure obstacles. The power ranges from 22 to 24 Hp, and fuel capacity is 4.5 gallons and above.
You get an alert when fuel is running dangerously low.
Because of the above engine capacity, this series runs at between 8.5mph and 9mph forward speed, and they reverse at 4mph on flat ground.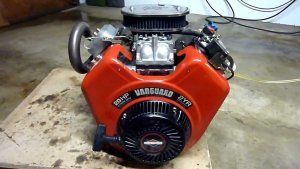 These mowers maneuver obstacles such as trees and roots efficiently because they have a zero-turn radius. This V-twin engine is fitted perfectly in the mower to make maintenance easy.
When mowing large spaces, you want to be as comfortable as possible, and so the seat plays a huge role.
The seat on a John Deere zero-turn is adjustable – without the need for tools – to cater to different heights, and it has shock absorbers that are perfect for when dealing with rough terrain.
The rigid construction of the mower makes it a little too powerful, and so you are likely to be rocked occasionally.
The air suspension comes in handy here, although you will still feel a few bumps of the terrain is too rough.
However, they won't be enough to hurt your back. On top of the seat being large, it has a cup holder so you can enjoy your lemonade as you mow. Oh, add an armrest to that and you have all you need in a mower seat.
A John Deere mower comes with a bumper-bumper 4-year warranty with a 500-hour limit.
The company expounds what is covered better in the warranty card, and you can still get more information on spare parts directly from them or one of their independent dealers.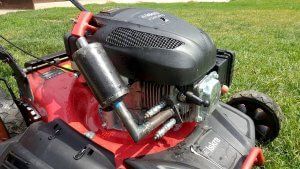 A powerful engine can be quite noisy, which is why Deere mowers have mufflers for noise reduction. This is the case for both commercial and residential series, and it makes them quite favorable on the market.
Another notable is the Edge Cutting System that prevents grass from building up and clumping.
This ensures a smooth flow so you don't have to stop midway to remove stuck debris.
The commercial series also has excellent mulch control so you can kill two birds with one stone. Any accessory that is not included in the price of the mower is available at the company's stores.
Cleaning these mowers couldn't be easier with a standard floor mats that also make the base comfortable.
Pros
Superior cuts.
Easy handling and maintenance.
Warranty and great after-sale customer care.
Solid construction.
Cons
No suspended seats, and so you will be bumped up and down a little.
Most of them have no fuel gauge.
John Deere Zero Turn Mower Prices
Prices vary extremely from mower to mower and it all depends on the extras you want or choosing just straight off the floor.
Starting off say like the John Deere zero turn 500 series Z525E ZTrak starts off at a cool $3899 and goes north from there.
Depending on the size of the mower you need will pretty much decide on the price.
Take the Z335E, it starts at $2599, it has a 42″ deck, 7 mph mowing speed a 2 year/120 hr warranty and holds just over 2 gallons of gas for less stopping and downtime.
Verdict JD Zero Turn Mower Reviews
John Deere commercial zero-turn mowers are not only sturdy-looking, but they are also durable and worth the price. We agree they may not be the cheapest, but then again you would expect nothing less of mowers of that quality.
They have been around long enough to prove themselves, and the glowing reviews online show why consumers still choose them all these years later.
If you are looking for John Deere Zero-turn Mowers for either business or residential use, John Deere is the name. That concludes my John Deere zero turn mower reviews… hope it has helped you out and answered some questions you might have had.