Scag was a late entrant in a market that was already dominated by bigger names, but the intention was clear from the get-go: to dominate no matter how many others there were… and in this scag mower review, we'll go over some of the reasons why they have the bigger names on edge.
The company's tagline, "There is no competition," says it all.
A little over 20 years since Scag made its first zero-turn, it has built its reputation a great deal.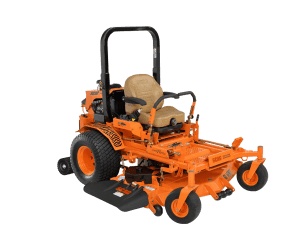 When designing its mowers, the company thought of everything even ensuring they can use either gas, diesel, or propane. You get to choose depending on what works for you.
This is not the practice in the industry which is why many regard Scag as one of the best for maintenance.
These mowers have a smooth learning curve, great features, and they are meant for both residential and commercial users.
Scag Mowers Reviews: Here's What to Expect
The company has four models of zero-turn lawn mowers; Freedom Z, Patriot, Tiger Cat II, Cheetah, and Turf Tiger II. Each of them is designed differently with different sizes and capabilities, but they all are fitted with engines from well-known companies.
You can expect great performance as the engines come in different capacities.
There is a Kubota Diesel, Kawasaki, Kohler, and a Briggs Vanguard, and they all have varying horsepower.
Scag intended to take care of both residential and commercial users, and so this selection only goes to show its commitment.
The prices are dependent on model and power, but they are not so different from what you would find on the market.
The company offers a reasonable extendable warranty, and spare parts are available either from the Scag or from any of its independent dealers.
The customer care department is quite robust, and so your questions or complaints will be addressed timely.
Having entered the market a little later and with lots of grounds to cover, Scag made it clear it wasn't competing with anyone but itself.
The results are clear. These mowers are a force to reckon with, and Scag is making remarkable moves.
Features
These are some of the main features of a Scag mower.
Freedom Z has a Kohler 7000 Series Pro engine, 22hp and 24hp, depending on the capacity you need.
Patriot has Kawasaki 22 and 23hp, while Tiger Cat II has a wider variety; Kawasaki FS 22-23hp and Kohler Command 23-26hp. These can be used both residentially and commercially.
For Cheetah, you have Kawasaki FX 22-31hp, and Kohler Command Pro 23-35hp.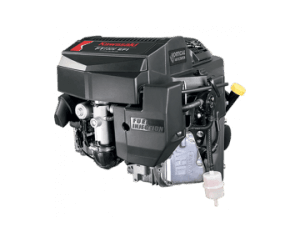 They are quite powerful as the horsepower suggests, and they are ideal for commercial use.
Turf Tiger II, which is the most powerful of all zero-turn mowers for Scag, is available in variations of Briggs Vanguard 35hp, Kawasaki 25hp, 26hp, and 31hp, and Kohler Command Pro 26hp.
The decks measure 52″, 61″, and 72″ to give clients a wide selection.
They also are 7-gauge, welded for stability and they are also fitted with 10-gauge reinforcement plates.
They are therefore sturdy enough to last for years even when used commercially. The deck drive for a Scag zero-turn is shaft driven.
While Freedom Z, and Patriot have standard-style decks, Tiger Cat, Cheetah, and Turf Tiger II have a Custom-Cut baffle system that allows for customization to meet required cutting sizes and other requirements.
The deck are adjusted using a foot pedal that has a self-locking for safety, and the increments for these adjustments range from a minimum of 1″ to a maximum 6″ across all the models. Each of them has 3 Marbain blades.
Each of these models comes with a seat that is air suspended for comfort, but most users note they are not the most comfortable especially when negotiating rough terrains.
There are still some bumps that the user will feel, but they have improved with the latest model – Tiger Tuff II.
Good thing, though, is the adjustability. You can manipulate it to fit your size since the seat is already quite large.
Freedom Z and Patriot both have their fuel tanks mounted above the wheel, and they each need 6.5 gallons of fuel to fill.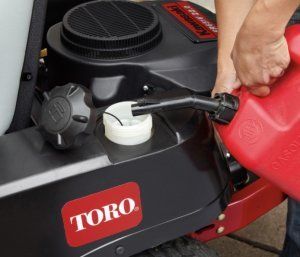 Tiger Cat II's dual tanks that are above the wheel can take up to 9 gallons of fuel while Cheetah's dual tanks are mounted to the lower the center-of-gravity for stability and will take in 10 to 15 gallons of fuel depending on deck size.
Turf Tiger II has a single 12-gallon tank mounted at the lower side of the mower. As we noted, these mowers use either gas, propane or diesel depending on the engine type.
Scag mowers have steers for control, and they are designed in a way that you can use your fingertips to steer.
They respond fast, which then reduces the time it takes to learn to steer one. The steers are ergonomically designed for comfort, and all the other controls you need, including the start key, are within reach while one is seated.
The company is not clear on warranties for the engine and other parts, but Tiger Cat, Cheetah, and Turf Tiger II have 3-year limited warranties on cutter deck spindles.
They also work with independent dealers that are knowledgeable on all matters pertaining to these mowers.
Other Features
Speed: Scag mowers move both forward and in reverse but at different paces. Freedom Z can go up to 8 MPH forward, 5 MPH in reverse, while Patriot does 8.5 MPH forward, 5 MPH reverse for the 52″ and 10 MPH forward, 5 MPH reverse for a 61″.
Tiger II does a maximum 12 MPH forward, 5 MPH reverse, while Cheetah has different speeds for different sizes.
48″ & 52″ deck mowers go at 10.5 MPH forward, 5 MPH reverse, while 61″ and 72″ move at a top speed of 16 MPH forward in high-range; 8 MPM reverse & Up to 12 MPH forward in low-range; 5 MPH reverse.
The Turf Tiger II does 12 MPH forward, 5 MPH reverse. They are quite fast as compared to the competition.
Pros
They come in varied sizes to cater to a wider audience.
They are powerful.
Gas, propane, and diesel powered.
Scag mower prices
Scag zero turn mower prices starts off at around $4 grand mark and starts going north from there. Their top of the range SCAG TURF TIGER II with all the bits and trimmings can have a price tag of around $19 grand.
There are other commercial mowers on the market that are more expensive and some are even cheaper but the Scag price range is a fair representation of industry standards.
They all have their advantages and disadvantages and it all depends on the mower for your own personal needs and what will be the best fit for you.
While you may not know what kind of mower is perfect for your situation, looking at Scag's zero-turn line provides several fantastic options.
That concludes our Scag mower review
Scag mowers are aesthetically pleasing, and they receive glowing reviews for their zero turn mowers for their performance in all grounds.
We recommend them highly to both commercial and residential users.