When looking for a lawn mower, you are usually keen on quality… being quite a hefty investment, you want one that will serve you well, whether residentially or for business, and Big Dog lawn mowers just happens to have that well-covered.
Below are some of big dog mower comparisons we have covered plus you can also see more in-depth reviews of each if applicable.
Big Dog lawn mowers have 11 models of lawn mowers; Rex, Alpha, Alpha MP, Alpha MPX, Blackjack, Stout, Stout MP, Diablo, Diablo MP, Hike, and Trooper.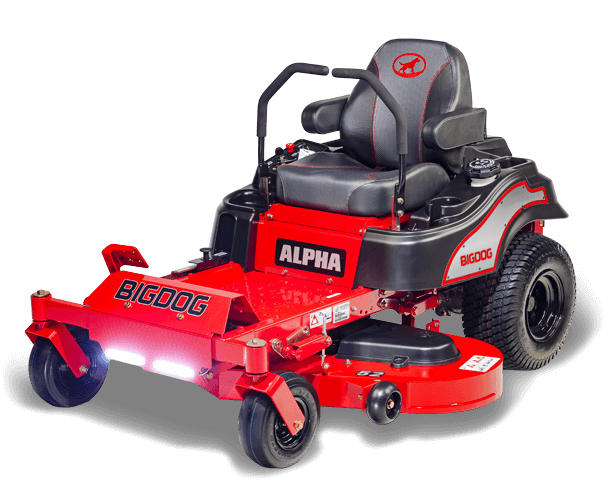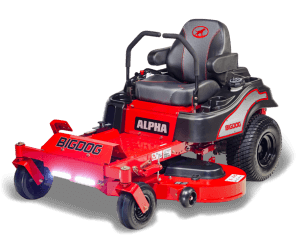 The company chooses to focus on one line that it has perfected – mowers with the capacity to handle smaller, residential jobs.They each perform differently as they have varying engine capacities. We discuss four of these mowers below.
Sometimes, nothing gets the job done better than a traditional push mower.
Trooper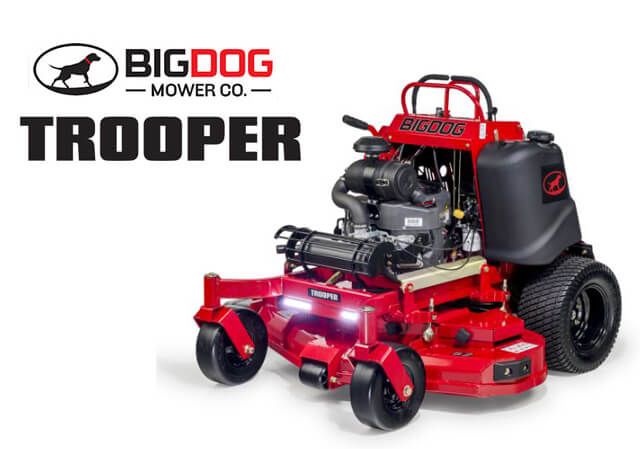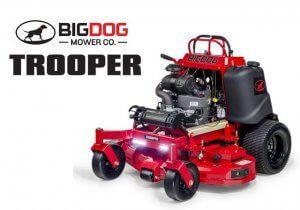 Trooper, with its 36' deck-size, is built for tough terrains. It has a FS541 (15 HP) horsepower and a 1.5″ – 5.5″ cutting size with a hand-operated deck lift.
Its blade measures 2 – 17.86″ x 2.5″ x .20″, and it can run up to 8 mph. This beast with a 6.5-gallon fuel capacity is ideal for residential use.
Hike
Hike, with 2 blades measuring 20.5″ & 13.75″, is ideal for flatter terrains. It has a 36' cutting width and 1.5″ to 4.5″ for cutting height, with a 4; depth.
The deck is hand-operated, while its fuel capacity is 3.4 gallons. This mower is hand-pushed, and so it has seat.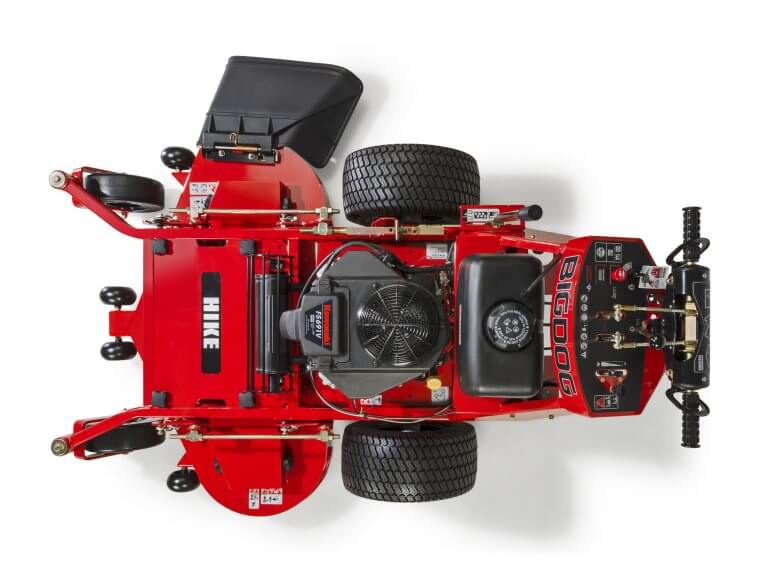 Big Dog Rex Mower
If you are looking for a zero-turn mower with deck sizes ranging from 34″ to 42″ deck and a comfortable seat, then the red dog rex mower is for you.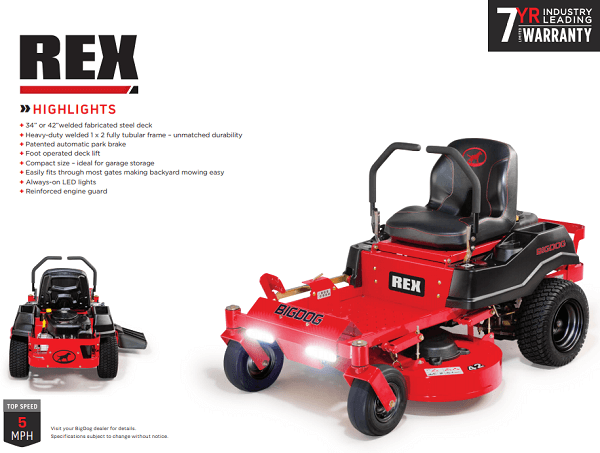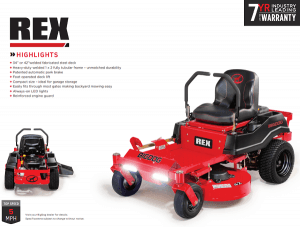 This mower is fitted with a 10.5HP engine manufactured by Briggs & Stratton, and has a 2.8 quarts fuel capacity.
It is compact enough to fit in most garages found in residential homes.
BlackJack Zero Turn Rider
This mower's 25HP engine is made by Kohler, and it has a forward speed of 0-7mph.
It reverses at 0-4mph, and just like the others from this brand, the engine is fully covered for 3 years.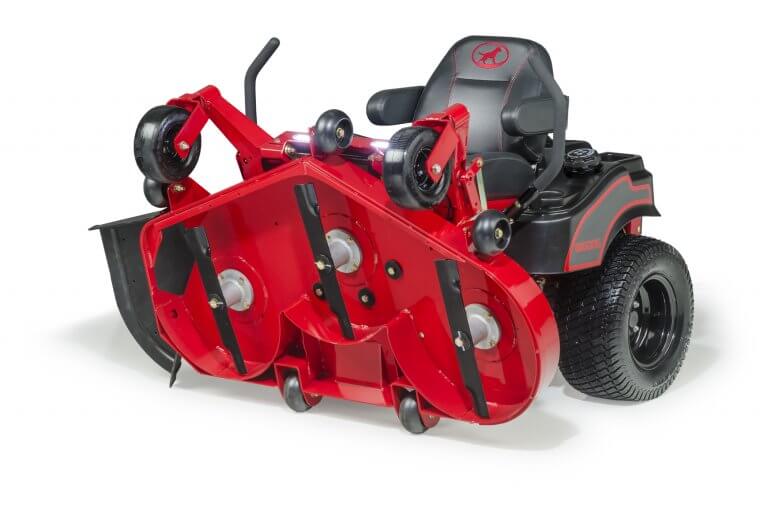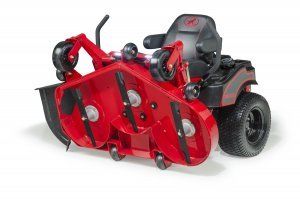 It has two blades of 48″ and 54″ that measure 16.50″ and 18.50 respectively. Blackjack has an automated braking system and a 3.5-gallon fuel capacity.
It has a comfortable adjustable seat, and a cup holder to make your mowing as breezy as possible. The other 9 models are made to serve the company's target audience in the same way as the ones we have discussed above.
Big Dog Zero Turn Alpha MPX
The Big Dog alpha mower MPX series of big dog zero turn mowers have deck sizes of 48, 54 and 60″ and powered by Kawasaki's ever-reliable engines. The 48 and 54-inch cutting decks use the 23 HP engine whereas the 60 runs the 24 horsepower air-cooled motor.
Forward speed gets up to 7 mph and reverses up to 4 mph.
This mower runs with 3 blade system and with a ton of add-on accessories available like the stripe kit and easy-on easy-off Alpha MPX catcher and if you want to mulch instead of bagging, there's the mulch kit available too.
What to Expect
With a Big Dog mower that comes with a reasonable fuel capacity, stellar engine, and a 30-year-plus warranty, you will get your money's worth. These mowers are limited in their engine capacity, and so they won't handle commercial jobs with the same fluidity as smaller lawns, and so they are best for residential use.
If you run a small lawn business that caters to home-owners, then these mowers will be a worthy investment. The warranties are limited, and so there are parts that you would have to pay for when your mower fails.
The company has a robust customer care team that handles inquiries ever so efficiently, and dispatch of spare parts is also dealt with expeditiously.
Run a Lawn Maintenance Business? Check out our favorite commercial mowers
Key Features of Big Dog Lawn Mowers
These mowers come in different dimensions, and they are also different to operate. Some have seats while others are operated while standing, but they all have two things in common: they are made of high-quality material, and their engines are made by well-known companies.
Each of these models is also quite small as it is designed for residential use.
Sturdy Build and Powerful Engines
The engines on Big Dog mowers are either Kawasaki, Briggs & Stratton or Kohler breed. Their frames are made of steel tubing for longevity, and their tires have a tread to prevent slippage.
Each mower has varying horsepower and each one handles its own terrain.
Reasonable Warranty Periods
A residential mower has a 4-7 year warranty covering the machine and partly, its parts. The company also caps the warranty at 500 hours, which is about the 4-7 years mentioned above.
The pump and motors get 3 years of unlimited warranty, or 500 hours, whichever lapses first. The same number of years – 3 – is allocated to deck spindles and spindle bearings.
All the Big Dog lawn mowers that are used for residential are allocated the same warranty period.
A Thorough Manual
When you purchase any Big Dog mower, you get a copy of a thoroughly explained manual that even the least mower-savvy person will understand.
This manual explains in detail how to care for your purchase, gives you a run-down of all the possible blunders you could make, and detailed explanations on how to diagnose possible mishaps.
It also contains tips on how to care for your lawn mower so it serves you longer and better. Worried about overlapping blades?
Don't know how your multi-blade mower's work? Click the link below to find out
The manual has a section on what could cause that and how to work on it.
Pros
The mowers have a sturdy build and powerful engines.
They come in different deck sizes for better grass cutting.
They have dual hydrostatic motor drive systems.
Steering lever extension kits to make the mower comfortable while working.
Easy-to-assemble bushel catchers.
Cons
Warranties are limited, and so not everything is covered.
They are mostly limited to residential work.
Big Dog Mower Prices
With the range of Red Dog mowers on offer, there is bound to be a mower to suit everyone's needs. The Big Dog Rex mower has a 34″ deck starts at around $2400ish and that price varies depending on trade-in, cash or finance facilities.
At the time of writing the Big Dog Trooper is their most expensive mower where the 36″ cutting deck with the Kawasaki 15 HP engine starts from around the $10,000 mark and head norths from there.
As you can see Big Dogs zero turn mower prices very a crapload, so to get the best and latest prices available, make sure to use this find your big dog mowers dealer closest to you and haggle the price best you can.
Big dog mower parts are available both online or from your local dealer, from blades to wheels, from seat spring sets to baggers
Our Big Dog Mowers Reviews Wrap-Up
So, who should invest in Big Dog lawn mowers? Residential users should, as they will get the full benefit of powerful engines at a reasonable price.
The company has a wide range of products to choose from, and so you want to go through each of their offerings to see what works best for you. They have powerful engines manufactured by some of the best companies in the world, and so you are assured of a high-quality product.
We note some of the mowers are stand-on, making them unattractive to those with back issues, but then again the company has seated options with cup holders. Overall, Big Dog mowers are a good investment for your residential needs.
If you want a comparison of Big Dog lawn mowers to check out these on our post: Best Zero Turn Mower Reviews