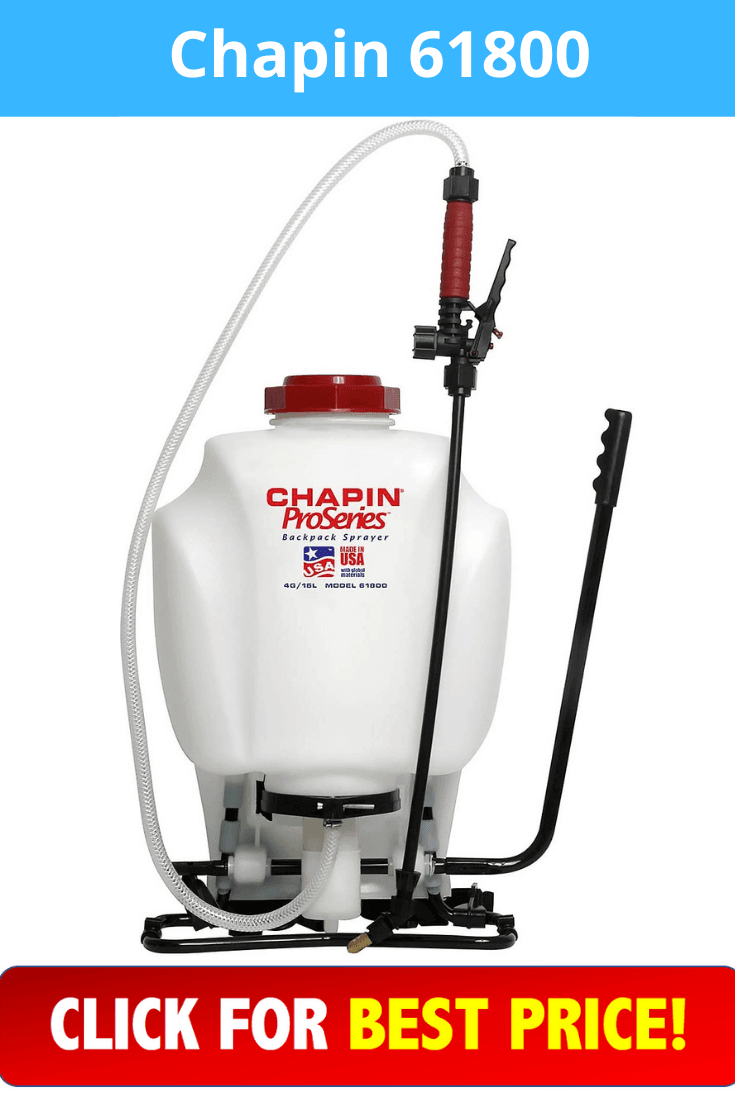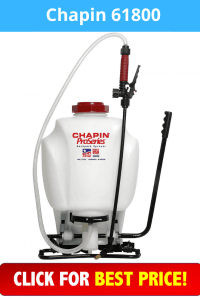 Growing vegetables and fruits in your garden can be quite a rewarding experience. Aromatic herbs and juicy vegetables will give you a mouth-watering look at the dinner table.
However, there's a constant threat of pests that may ruin your beloved garden. Hence, you need an applicator to spray on your plants.
But this process can be quite tedious and overworking. Instead, you can choose to work with a backpack sprayer that works efficiently and easily sprays down your plants.
One such efficient and noteworthy backpack sprayer is the Chapin 61800. The brand claims the model to be the best backpack sprayer at an affordable price.
The 61800 is a manual version of the 63924 and functions with a piston pump, which primers the pressure chamber. It also boasts half the price of the more expensive 63924 model. It's this quality that makes Chapin 61800 the preferred choice of home gardeners.
As a homeowner, it appears that you won't get much use out of the Chapin 63924 as it possesses higher electronic components. So the better option seems to go with the much user-friendly Chapin 61800.
Chapin International is a reputed global company that serves as a giant in the league of garden supplies. Whether you're trying to get rid of the pesky weeds or fertilize your believed flower beds, Chapin has a sprayer for all your garden needs.
Pros
Highly affordable.
Triple liquid filtration system.
Build-in pressure gauges.
Ergonomic grip.
Lumbar support for extended use.
Things to Consider Before Buying Chapin 61800 Backpack Sprayer
The question remains why do you need a backpack sprayer at all? A backpack sprayer efficiently sprays down your plants while working to eliminate operator fatigue.
You may find several high-end models in the market that function smoothly but leave you feeling overtired and physically stressed. The Chapin 61800 Backpack Sprayer strives to lessen and ultimately eradicate physical stress and fatigue.
The sprayer mounts on your back, and your job is to walk around and spray your vegetable and fruit garden. The process seems to work out smoothly and effortlessly.
Now isn't that worth investing?!
As a home gardener, you fall into a semi-professional category. You may or not be well equipped to handle high-end backpack sprayers. That's where the Chapin 61800 Backpack Sprayer comes in.
But if you're more skilled in the business and work as a professional, it's best to go with high-end models such as the Chapin 63985 or the Chapin 63924.
User comfort and supreme functionality is something to look out for when you're thinking of buying a backpack sprayer. But some other factors matter as well.
You must consider the service life of the product you're considering to buy. If you decide to spend hundreds of dollars on an excellent and efficient backpack sprayer, ensure to find out whether it's service life expectancy is worth the amount you're spending.
An ergonomic design is another crucial factor that you should consider. A backpack sprayer will only be able to generate an effective outcome if you're at comfort with using it.
And most of all, think about the operation and the time it consumes to generate outcomes. You don't want to invest in a backpack sprayer that exhibits attractive attributes but lags in quality performance.
These are some crucial factors that you must look into before you take out your wallet to make the purchase.
Features and Benefits
The Chapin 61800 Backpack Sprayer carries the potential to be a heavy-hitter in the league of the best backpack sprayers. The high efficiency at an affordable price makes it a favorite of the consumers.
The model exhibits several one-of-a-kind features that secure its place as a leading brand name for landscape and garden needs.
Here's a look at some of them:
Extra Lumbar Support
The Chapin 61800 Backpack Sprayer comes with a sturdy harness that functions to eliminate user fatigue. The backpack sprayer works to enhance lumbar support to provide a more comfortable user experience.
With more back support, gardeners can improve their performance and deliver successful results in partnership with this reliable backpack sprayer.
User-friendly Experience
The Chapin 61800 Backpack Sprayer excels when it comes to user-friendliness and comfort. With practical usage, you don't have to worry about the operation, functionality, and other features of this product.
The model appears to work seamlessly in the hands of the less ordained gardeners as well and promises effective performance.
Efficient Design
The model features a new and contemporary design that works to its advantage. It consists of a manual piston pump that is responsible for priming the pressure chamber of the backpack sprayer.
This attribute exhibits the potential to allow the users to take control of the pressure they want while spraying on their fruits and vegetables. Such a quality is unique to this brand and works in their favor by garnering customer growth.
Budget-friendly
Affordability and functionality is probably the motto of the Chapin 61800 Backpack Sprayer. The budget-friendly model seems to work wonders for the cost-conscious gardeners who only look for low-cost efficiency.
It works to the advantage of the product, as it seems to deliver supreme-quality results at half the price of the more expensive upper-end models. Now isn't this a quality that interests you?
High durability
The Chapin 61800 Backpack Sprayer exhibits a design that could result in years of reliable use for a variety of requirements. The product is manufactured from high-density polyethylene and claims to operate at maximum efficiency for years.
The long-lasting service life makes it a perfect choice for all your landscaping and gardening needs.
Multi-use Nozzle
You may also find the availability of interchangeable nozzles to be an appealing attribute for the Chapin 61800 Backpack Sprayer. These nozzles equip themselves to work with the pressure that you're using.
You can conveniently change the type of nozzle for the type of spraying you want to pursue and make use of the efficient functioning of this budget-friendly model.
Ergonomic Handle
The overall features of this unique and useful backpack sprayer consist of a near-flawless design. However, there's one physical feature that stands out from the rest, and it's the ergonomic design.
The Chapin 61800 Backpack Sprayer features an ergonomic handle and an overall design that allows for the convenient functioning of it. It results in reduced user fatigue and a more comfortable and convenient user experience.
Padded Carrying Straps
The model comes with padded shoulder straps that add to your lumbar support. It's an attractive quality as comfort is what many gardeners look for when searching for a backpack sprayer.
The shoulder straps add to your back support and seem to distribute the weight of the backpack sprayer to reduce physical strain and fatigue.
Tank Capacity
The Chapin 61800 Backpack Sprayer possesses a high tank capacity of 4 gallons. It makes for a decent working time and allows you to cover a large portion of your fields.
A high tank capacity could be a crucial determining factor for professional landscapers and gardeners when it comes to choosing a backpack sprayer of their choice.
3-Stage Filtration System
The Chapin 61800 Backpack Sprayer features an extensive filtration system that works to eliminate chemicals in three stages. So when you start spraying, your fields will receive clean and chemical-free sprays that may not cause harm to your produce.
The product also consists of an in-tank removable and cleanable filter that allows for convenience to the gardeners when they clean it.
4" Wide Opening
The wide-mouth opening leads to a safe and easy filling while allowing consistent cleaning. It's beneficial because it leads to less wastage of the spray and accommodates several types of nozzles quite conveniently.
The 4" wide opening leads to a hassle-free working experience with the Chapin 61800 Backpack Sprayer.
Powder-coated Frame
The Chapin 61800 Backpack Sprayer is manufactured from high-density polyethylene to reduce the risk of corrosion and prolong its life. The frame of the product is powder-coated, which acts as a corrosion-resistant film on top of it.
The ability to resist corrosion makes it a frontrunner in the list of the most long-lasting and durable backpack sprayers.
Alternatives
You've had a look at the Chapin 61800 Backpack Sprayer, but we're also going to let you in on a few alternatives to this model. The model seems to possess all the qualities of a reliable backpack sprayer, but it's always better to have a comparison with other products.
So here's a look at some top-notch alternatives.
Chapin 61502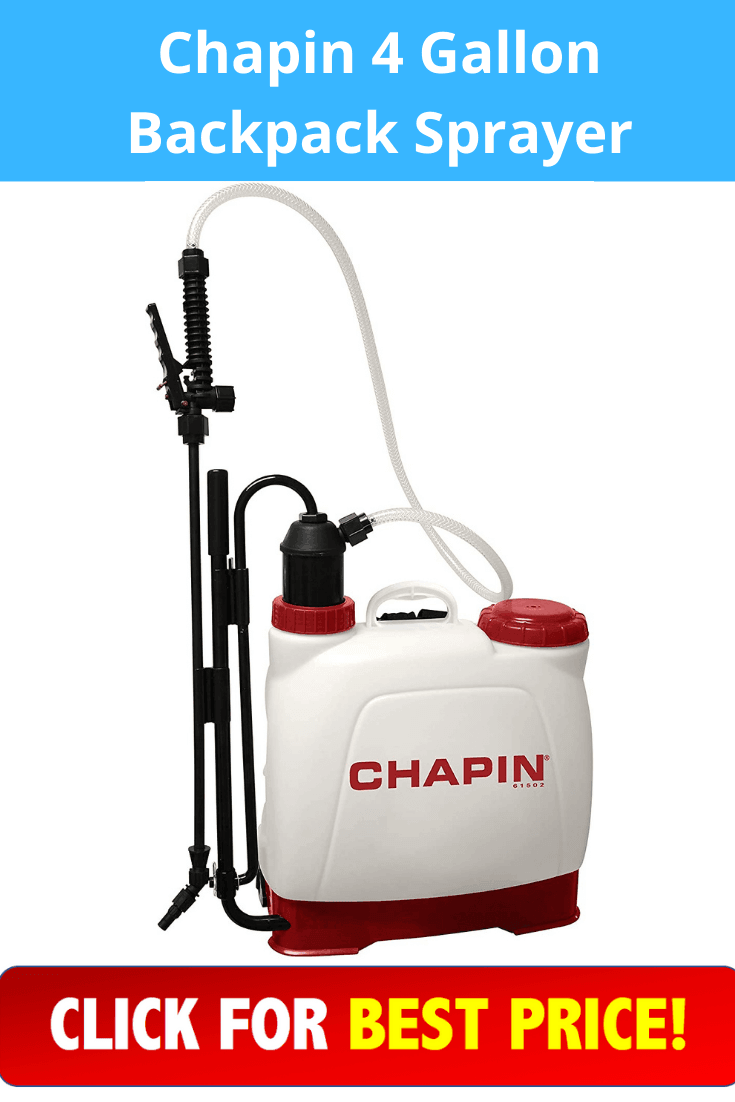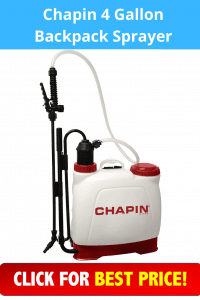 The Chapin 61502 exhibits a 4-gallon and 4" mouth opening and a translucent tank for convenient filling and cleaning. These features seem to be a standard for all reliable Chapin backpack sprayers.
The model possesses an efficiently functioning bonus foaming nozzle for exact and precise spraying.
The Chapin 61502 seems to be compatible with most types of weed killers, common fertilizers, and other pesticides to efficiently work for your advantage.
Unlike the Chapin 61800, the 61502 model possesses a 2-Stage Filtration System. One filter is at the top, and the other is at the shut-off.
The Chapin 61502 can work well for medium-sized landscapes and home gardens.
Comparison with Chapin 61800
Here are the features that differ between Chapin 61502 and Chapin 61800:
Manual power source.
Padded shoulder straps.
Poly shut-off.
2-Stage filtration system.
Bonus foaming nozzle.
4" mouth opening.
4-gallon capacity.
Field King Max 190328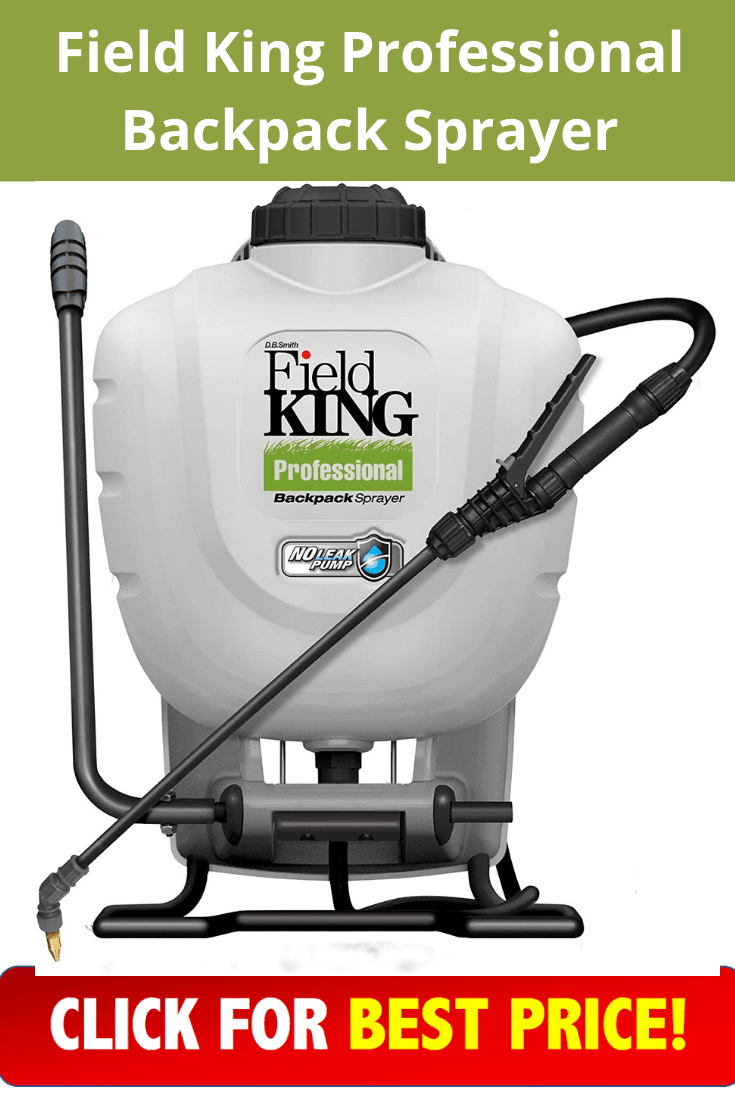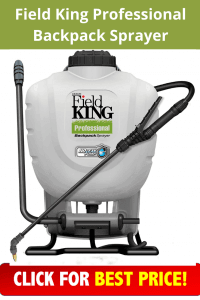 The Field King Max 190328 wins the title for the best overall backpack sprayer. The model seems to offer gardeners features that aren't available in the Chapin models.
The pump features a no-leak design that works efficiently for fast spraying of your vegetables and fruits. The no-leak feature could also protect your skin from the chemicals during the operation.
The pump also features an internal agitator, which prevents any type of settling in the holding tank.
The model features four interchangeable nozzles to enhance the functioning of the spray. The Field King Max 190328 is also compatible with the TeeJet sprayer nozzles.
The product seems to be the perfect choice for professional landscapers and gardeners who want exquisite results.
Comparison with Chapin 61800
Let's compare Field King Max 190328 with the Chapin 61800.
Lock-in mechanism.
No-leak pump design.
Pressure build-up up to 150-psi.
Long-lasting service life.
Internal agitator.
Compatible with TeeJet spray nozzles.
Solo 425 4-gallon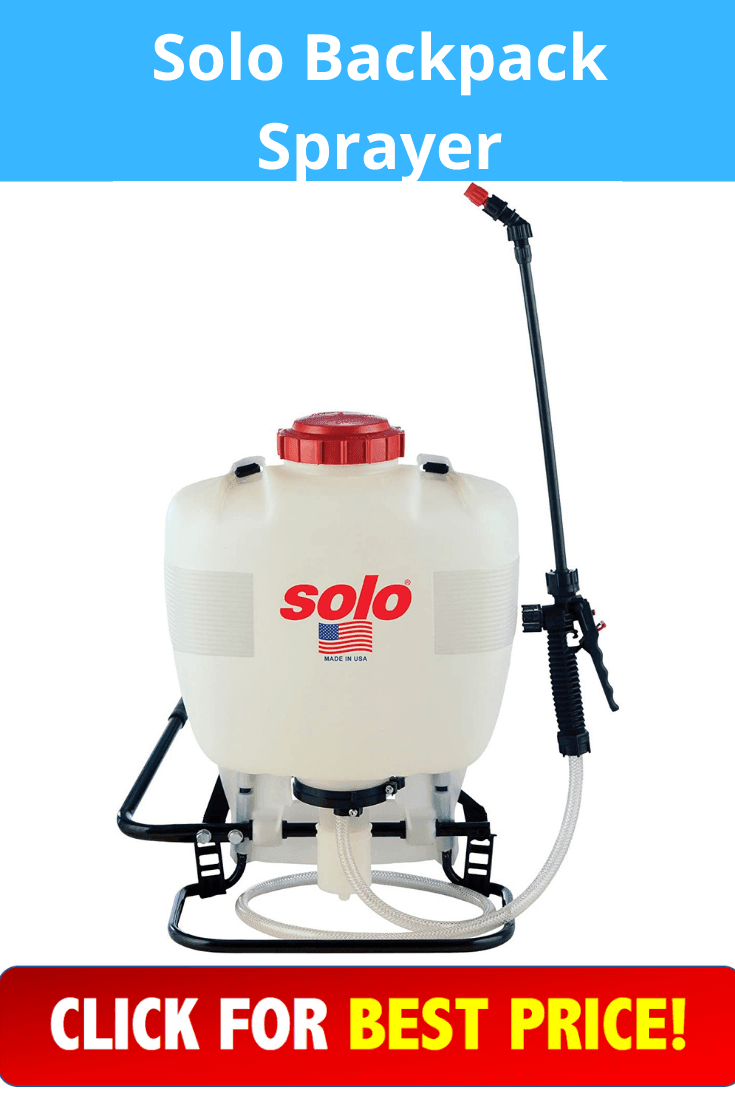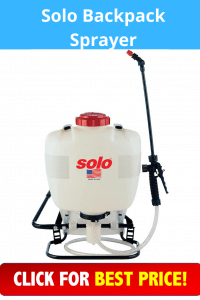 The Solo 425 4-gallon backpack seems to be one of the best-selling models in the market. The reason for its popularity is that it offers a blend of functionality and affordability.
The model exhibits a simple design with more enhancement on its performance and other features. The product seems to function efficiently and provide successful outcomes.
The piston pump of the model allows gardeners to prime the pressure chamber up to 60-psi. Though not so impressive, it seems to work well for gardeners with minimal needs.
The model is compatible to work with the TeeJet spraying nozzles and brings about more variety in the spraying patterns. Overall, it seems to be a useful gardening tool.
The model is useful for home-gardeners who're not looking for a highly professional outcome.
Comparison with Chapin 61800
Let's look at some different features of Solo 425 4-gallon and Chapin 61800.
Economical sprayer.
Pressure build-up of up to 60-psi.
Compatible with TeeJet spray nozzles.
Efficient shut-off mechanism.
48" spray hose for extended reach.
Four spray nozzles.
Conclusion
So, there you have it, a one-stop-shop solution to all your landscaping and gardening needs. Your vegetables and fruits deserve a chance to be nurtured and care for immensely.
You deserve the freshly cut herbs and the colorful fields that lead to an even more colorful dining table. Maintaining them is a must.
Enter Chapin 61800 Backpack Sprayer. A permanent answer to your gardening questions. There's no hassle and no nuisance, but only efficient performance.
The best backpack sprayer works effortlessly to enhance the growth of your vegetables and fruits by eliminating weeds and pests. With this model, you don't have to worry about ruining your produce.
The model functions to promote long-term service and work as your partner for healthier fruits and vegetables.
We highly recommend this product if you want to give a fighting chance to your fruits and vegetables and wake up to a delicious and savory spread on your breakfast table. Now, you can enjoy all-around tasty food.