For those who are new to Tenacity then I will give you a quick overview on it.
Tenacity is a weed killer weed preventer post-emergent pre-emergent weed killing herbicide that was once only available for commercial use.
It's one of the best and most powerful weed control chemical that's not only tough on weeds,and it won't kill your grass.
In saying that it's also a selective herbicide and is designed to only kill certain weeds and not all. Not like round-up where it will kill just about anything it touches.
So in this article I'm going to run through and explain how to apply tenacity herbicide, when and where to buy tenacity from.
How To Apply Tenacity Herbicide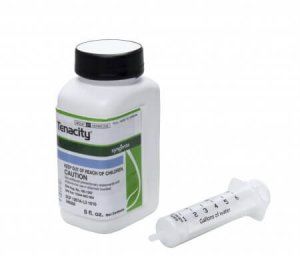 Ok first up I'm going to assume a few things here. That you've checked that tenacity is suited for your grass and you've checked that it will work on the weeds you've got.
Now you've got couple of choices when using tenacity. Are you going to pre-emergent spray or post spray.
Because tenacity is both and it only targets some weeds and not all. Some of them are dandelions, clover, crabgrass, foxtail and the list goes on. In fact tenacity herbicide will rid over 40 different weeds while not killing your lawn.
Tenacity pretty much works straight from the gecko however it can take up to 3 weeks to fully see the results of the death of your weeds.
You may find that some weeds need a follow-up spray and if you don't get any rain in 10 days of treating, you'll need to do manual irrigation.
You will want to chuck on around 0.15 inches of water to help the weeds kick on and absorb the chemical into its system.
When you order tenacity chemicals it comes with a syringe that is labeled with the exact measurements needed when mixing your control.
How much tenacity per gallon
If you are spot spraying you want to use this mix just to keep it simple and easy.
To make a 1-gallon mix, you'll need to:
Measure out 1/2 teaspoon of tenacity chemical using the free syringe that it comes with
Adding 1 & 1/2 teaspoons of surfactant
3-4 teaspoons of color
1 gallon of water
So I always mix straight into my sprayer but if you do make sure your sprayer can hold a gallon of water or more.
It is highly recommended when using tenacity to use a surfactant when carrying out your weed control program.
This helps to give you a better stick to the leaf surface giving you a better killing zone and a massive leaf absorption rate.
For a more depth specific make sure to check tenacity herbicide label or if you don't already have a bottle see the tenacity herbicide label here.
This stuff is super concentrated and a little bit goes a long way. The 8 oz bottle depending on the rate will treat around 2 acres.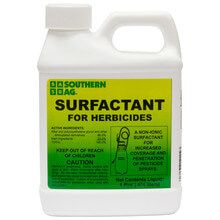 Now the only drawback from using a commercial herbicide like tenacity is you can't just open it up and expect to start spraying it.
It does contain a couple of extra steps, but I'm going to tell you exactly what you need to do.
It is highly recommended to use a coloring agent such as Turf Mark blue.
What this does because tenacity is clear and your mixing it with water it will stay clear. The coloring will show you where you've sprayed by leaving a blue color on the weeds.
Plus it helps you to save money by not wasting chems on overlapping.
While it potential won't hurt your grass it can temporarily burn or lose the coloring of your lawn in those spots. It will return back to normal in a few weeks if you do hit it to hard.
Another step that tenacity recommends is to use a surfactant. Surfactant helps make the herbicide to stick to the leaves if you are using it as a spot or post-emergent control.
And that is all. It's that easy. For more tips and ideas sign up to our newsletter and get your free bonus guide to lawn care for beginners.