DEWALT DCHT820B 20v Max Hedge Trimmer
Pros
Compact and lightweight at only 7.5 lb gives you longer run time with less fatigue and effort
Cuts up to 3/4″ thick branches
22″ blade making those hard to reach trims easier
Same battery used on multi Dewalt cordless power tools
Cons
Under-powered if you are used to using a gas hedge trimmer
If you're looking for a cordless hedge trimmer that is strong and gusty… if you already run Dewalt cordless tools and looking at the Dewalt 20v volt hedge trimmer… then this article is just for you.
This review will cover things like customer opinions, the main features you get with this hedge trimmer and take a look at the pros and cons
If you're in a hurry and you already know this is the best cordless hedge trimmer for you… then click on the button below for the latest deals and prices available on the net.
DEWALT DCHT820B 20v Max Hedge Trimmer Key Features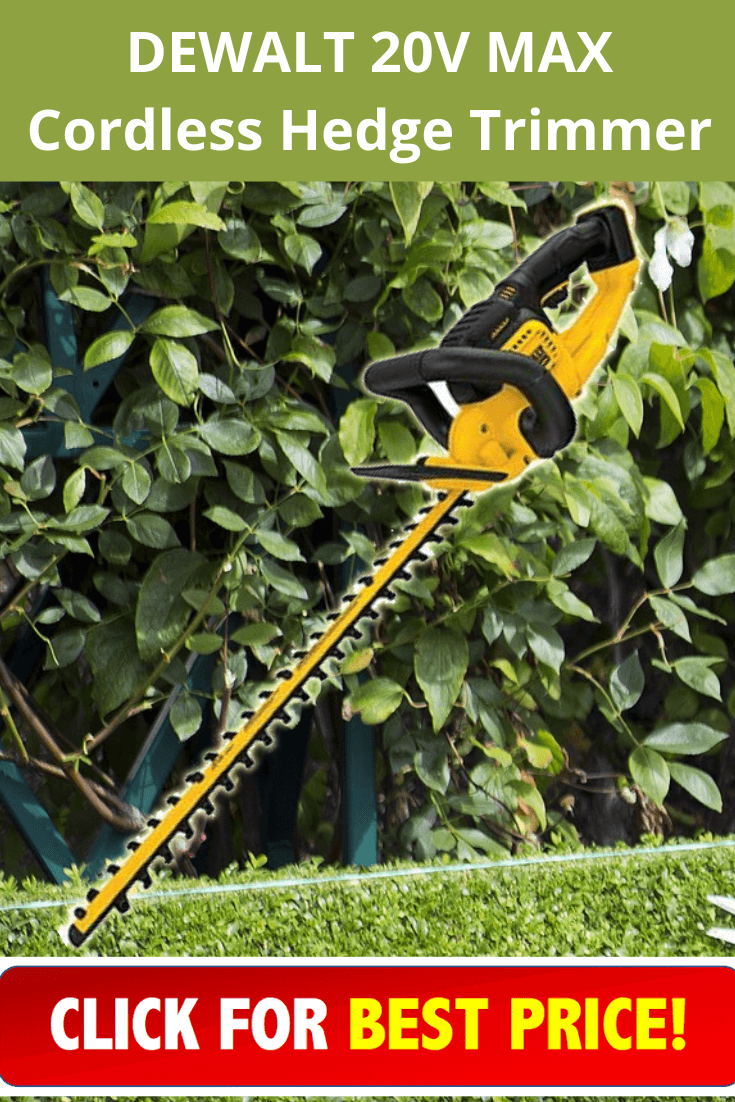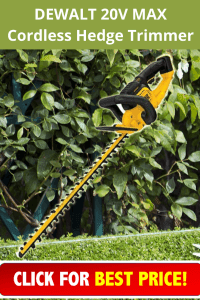 This model Dewalt cordless trimmer is one of their best-selling trimmers on the market today.
With thousands of positive reviews from customers who have purchased this unit you can see why its Dewalt's #1 rated cordless hedge trimmer
The trimmer has a 22-inch long blade and can cut branches up to around 3/4 of an inch thick.
The dual-action cutting action blades allow you to cut branches and hedges faster and with 40% fewer vibrations than many other older hedge trimmers.
Powering the Dewalt 20v hedge trimmer is the high capacity 5 amp-hour 20-volt Lithium-Ion rechargeable battery. Universal with other Dewalt tools this battery will provide you with all the grunt, power and runs times for most trimming jobs around the home.
Guaranteed tough, Dewalt stands by its brand and gives you a 3-year limited warranty on the product plus a 1-year free service and not to mention there 90 days no questions asked money-back guarantee.
When the time comes for a service, Dewalt has over 70 service agents across the country… you won't have to go too far to get your free service or repairs if needed.
If you already running Dewalt gear the batteries you have for them should fit this trimmer. That is one bonus with Dewalt as they try and run the same locking and style battery casing across all their range.
Even the flex volt battery will work with the Dewalt dcht 820p1 20 v max hedge trimmer with 5ah pack.
Gone are the days of running out power leads and the risk of cutting them or the worry about spark plugs, stale gas.
Nor you have to worry about cleaning air filters, carby gumming up or running out gas halfway through. With a Dewalt hedge trimmer just stick a battery in that's got some charge pull the trigger and away you go.
The days of running out an extension lead to do a bit of trimming. This battery-operated hedge trimmer will have the job done and finished by the time you roll out the lead.
This saves you time, less risk of getting zapped if you do cut the lead and you don't smell like an oily rag from the old 2-stroke gas trimmer
Here's what others are saying: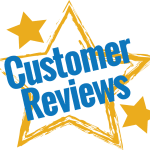 Everywhere you look you'll find mostly positive reviews on the Dewalt dcht820b 20v max hedge trimmer. What most love about it is how lightweight and balanced the tool is and time-saving with the 22″ cutting blade.
There are with everything some disgruntled consumers who've purchased and got a dud. It happens but with the Dewalt warranty period, I don't think you've got anything to worry about.
In fact
And you are 100% safe to try this out.
Try out the Dewalt 20 volt hedge trimmer for 90 days to see if it works for you. If it does, you'll be delighted – and I think that's exactly what's about to happen.
If for some reason you're not delighted with the way it handles, how lightweight and less tired you feel after giving it a test run, then simply send it back – and you get your money back.
Does it come with a charger for the battery
You can purchase the dewalt dcht820b 20v max hedge trimmer as a bare tool or with a battery and charger. You will tho have to buy a charger if you don't already have one.
You can get a brand new charger here...
Can this bad boy handle Pampas Grass?
Yep sure can. Remember that the cutting thickness is 3/4″ so it will give anything a go that can fit in teeth.
Does it come with a sheath?
Yes, it does come with a sheath, but at the time of writing this review there is a shortage of them and they are on backorder so don't be surprised that it won't turn up with your trimmer…but you will get it once they come back into stock.
How long does the battery last?
Depending on you the size battery you are running as in amp-hours and of course what you are trimming. With the 5 amp-hour battery that comes with the hedge trimmer, it should outlast most trimming jobs.
Is there a
Does Dewalt do a pole hedge trimmer?
For those who need a little extra length in their rod, you might find the Dewalt 20v pole hedge trimmer of use. Fully extended the trimmer has a max 12 ft extension and has a 1″ max cutting thickness.
The trimmer comes in skin alone or as a kit with a battery, charger and the tool. For more info on one of these click here
Alternaitves?
Black+decker lht2436 40v cordless hedge trimmer, 24″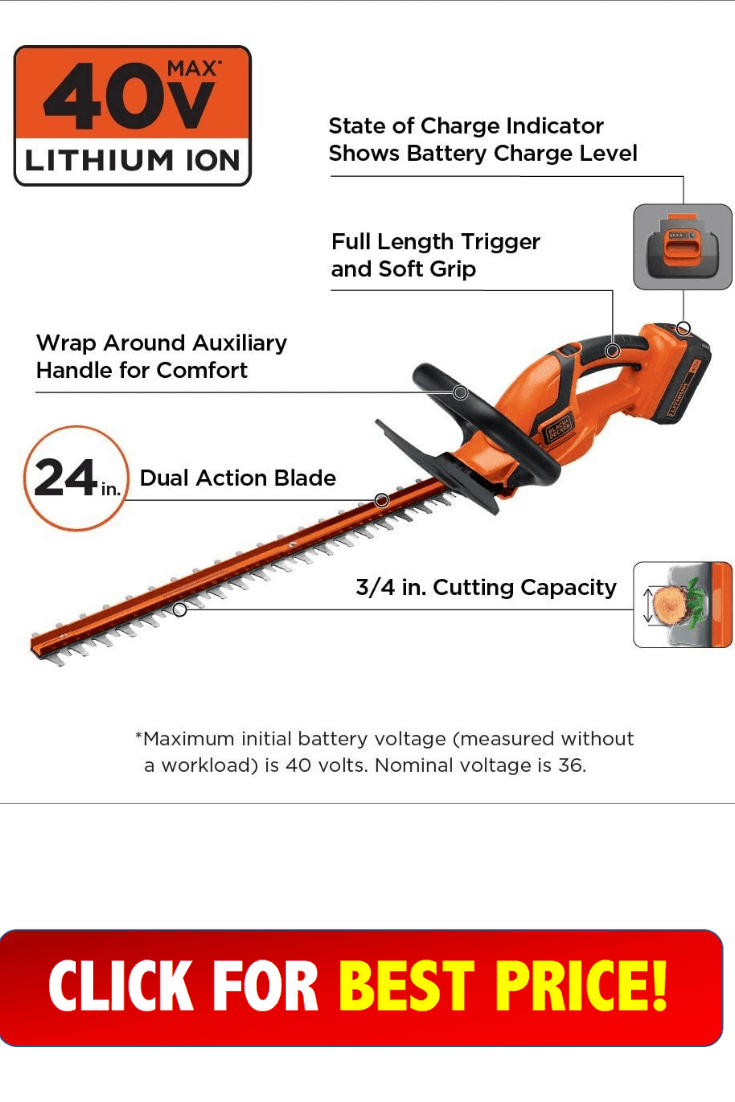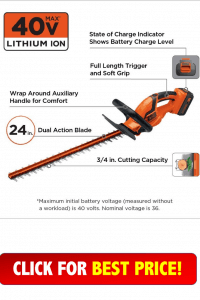 The black+decker lht2436 40v cordless hedge trimmer, 24″ is a perfect option if you're already running Black & Decker stuff.
Weighs in at around 6.5 pounds making it about a pound lighter over the Dewalt and has an extra couple inches on the trimmer.
Even tho it uses a 40v you still only need just the 1 battery, is compatible with the 36-volt battery, and you'll get up to 6000 sq ft of actual hedges trimmed per battery charge.
What I like over the Dewalt is the blade goes just about all the way to the tip whereas the dewalt stops back a bit.
It may not sound much but to cut low down to the ground you can't just use the tip and you have to bend down to ground level to trim that area.
Makita cordless hedge
trimmer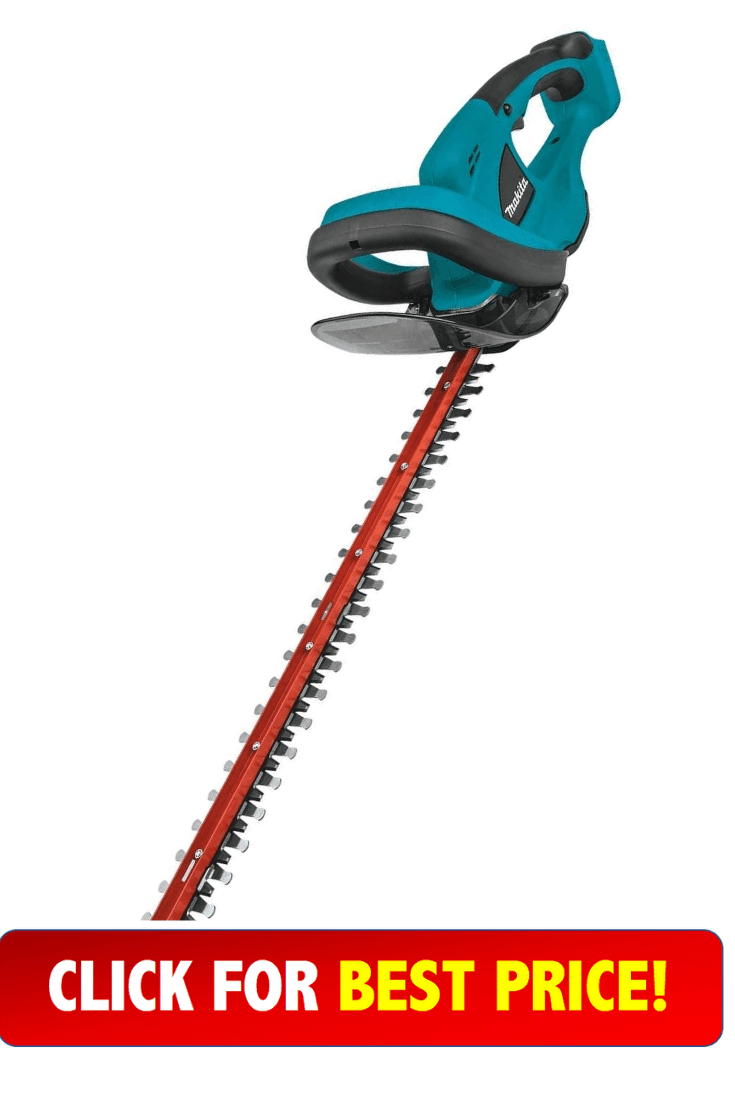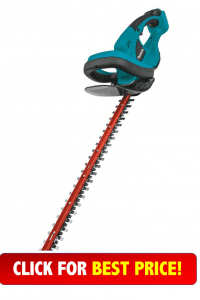 Makita are well known for quality hand tools across their entire ranged the Makita 18v hedge trimmer is no different.
Often compared to Dewalt, Makita are similar priced and available both as a tool only or kit.
Priced similar to the Dewalt and weighs in much the same, they are often compared to each other with very little separating them.
The Makita XHU02Z hedge trimmer comes in a 22″ trimmer that is double-sided for fast clean cuts and help to eliminate blade jams.
With a full array of hand tools available and using the same battery technology.
With thousands of reviews available online and the bulk of them are very positive choosing a Makita won't do you know harm at all if you already am using the brand.
WORX cordless hedge trimmer 20v WG261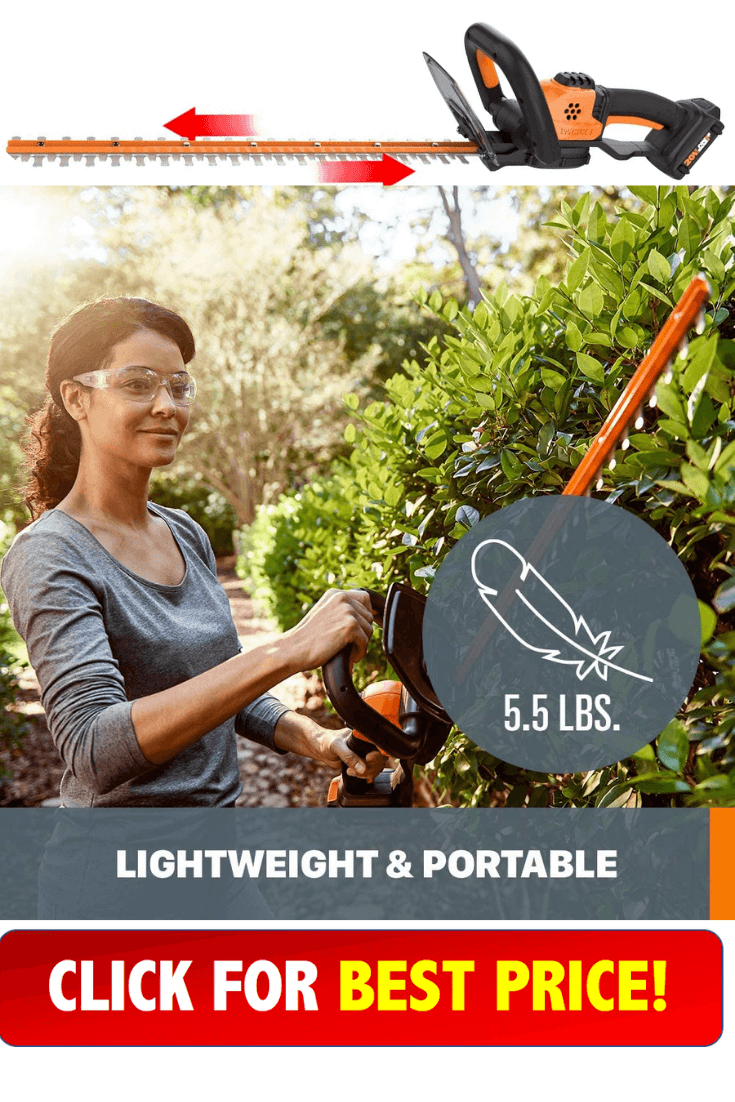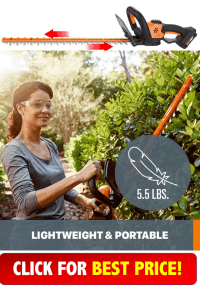 We've reviewed many different battery-powered hedge trimmers over the time and Worx cordless hedge trimmer is worth a mention for sure.
Running with the 20v lithium-ion battery, dual blade action system reducing vibrations and giving you a cleaner cut, the 22″ blade will have your trimming done in no time at all.
Weighing in at just 5.5 pounds, its lightweight portable and easily swung all day and not wear yourself out in the process.
This would make a good starter for those who are just new to the cordless tool world and not looking to spend a fortune on brand named tools designed more for the tradesman or professional.
Reviews just on Amazon.com alone rate this product highly and most say how easy it is to use and handle. Others love how quiet it is in the hand and the battery run time they're getting.
Verdict:
Well, that pretty much sums up my Dewalt 20v hedge trimmer review. If you're looking for a fantastic hedge trimmer to and wanting to go cordless then we recommend you take a serious look at the Dewalt dcht820b 20-volt max hedge trimmer.
It's light enough to be used by just about anyone, powerful enough to tackle everything around the home that needs trimming and strong enough to use by tradies in the landscaping business.
If you are sick and tired of running out leads to use on your current trimmer or worse, cutting the leads then going battery is the best solution for you.
When you add up all the benefits like not rolling leads out or up, it becomes a job now not a chore or the convenience of not needing power on a job site then this is the best choice.
Where to buy the
Dewalt dcht820p1 hedge trimmer
The best place to buy the Dewalt dcht820b 20v max 22" hedge trimmer from is through the links on this website which will take you straight through to Amazon.com…
We recommend purchasing from them as they offer fast shipping times and rates, best offers and deal available and you know you are getting the real deal and not some boxed up copy.
Head over to Amazon.com and check out all the reviews that are have been left on their by happy customers and to get the latest pricing so you can compare with others.