Self-propelled lawn mowers take the hard work out of any lawn mowing routine regardless if its a chore, your work, or lawn care is your holy grail of passion.
But now all self propelled lawn mowers are the same, so I put together this article to help you out with deciding on which is the best electric start self propelled lawn mower for you.
Overview Of 9 Self-propelled Electric Start Lawn Mowers for 2020
Best Electric Start Self Propelled Lawn Mower Reviews 2020
Our Top Choices:
We will now give you a rundown of our top choices so you can decide which one to go for and also find out the differences between each one!
Craftsman M275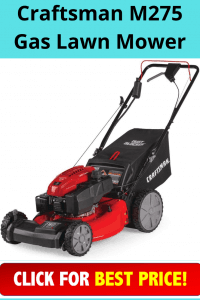 The Craftsman M275 gas-powered lawn mower is perfect if you want a mower that's electric start, self propelled and your lawn is fairly flat and not real hilly.
You see, this mower is front wheel drive and more ideally suited for lawns that are pretty level. If your lawn is that then this machine is ideal for you, that is if your looking for gas power.
Deck & Motor
The cutting deck is 21 inches give you more ground cover with each pass, giving you fewer passes and saving more time over the distance.
Driving the mower is a 159cc MTD engine, same who have Cub Cadet, Troy-bilt and many more so you can rest assured you're getting the highest quality and all manufactured right here in the US in Tupelo, MS.
The 159 cc engine will power through just about anything that you need to mow down.
3-in-1, Discharge, Mulch, Bag
We all have our thing, whether your bagging, side discharging or mulch it don't matter with this mower as it does all 3.
With the 159cc gas engine, you won't have any issues when mulching as it cuts and mulches together without any hiccups or worries.
6-Height Adjustment
What I like is you have the option to adjust the front and rear heights individually getting the perfect cut, height and less effort on the mower every time.
You see, the deck should be lower at the front than the back. If it's the same height or lower at the back you run the risk of cutting your lawn twice. Also it creates more drag causing the mower to bog down more. You'll really notice it more in thick areas or if your lawn is damp or wet.
Front Wheel Drive
This mower is front-wheel driven and is perfect for lawns on the flat and not highly recommended for hill or rough sloped lawns.
You will be just finding that you'll need to be doing bit more pushing on the hills is all when going up as gravity can take over transferring the weight to the rear causing the front to lift up. If your bagging this can be worse with more clippings collected as you go along.
Pros
Powerful engine with good size deck
Six height adjustments for the perfect cut
3-in-1 clipping management system
Cons
Heavy and can be hard to maneuver around
Requires minor assembly
Greenworks 21-Inch 40V Self-Propelled Cordless Lawn Mower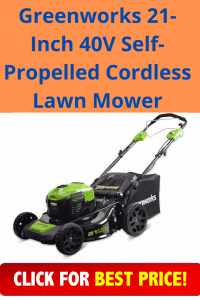 Greenworks 21-inch MO40L02 lawn mower is the best in our roundup reviews in the battery-operated self propelled lawnmower.
Deck
This mower runs with a 21-inch steel deck so adds a bit of weight to it, reducing any unintentional bouncing and to help keep the center of balance when bagging.
If you have a large lawn or don't want to use to much of your weekend time up mowing the 21″ deck gives you good coverage with each pass helping you to finish quicker saving time for more important things.
Motor
The motor runs on one 40v battery that should get your around 40 minutes of run time, give or take depending on if your bagging or mulching.
Mulching uses more power regardless of how its powered.
Greenworks uses the latest brushless motor technology that gives you more torque with less energy helping to increase the run time on a single battery charge.
Another thing this product has is the ability to carry 2 batteries, so you will never get stuck halfway round.
7-position height adjustment
Height ranges from 1-3/8 to 3-3/4 inches giving you a full range of cut heights to best suit your lawn. Adjusting the height is done with a single lever that's located on the back right rear wheel.
Discharge, Mulch or Bag
This mower has the 3-in-1 feature so regardless if you want to bag the clippings this week, mulch next and discharge the week after, you have those choices with this one.
Battery Powered
Even tho this mower runs on one 40v battery it's still got plenty of grunt. It states that battery lawnmowers are around 40% lighter than gas-powered making them perfect for if you just want to mow the long and not get a workout at the same time.
What I like is the fact that you can deck out your whole cordless toolbox using the same battery on each tool. Leaf blowers, hedge trimmers, line trimmers the lot.
The most common battery that comes with this mower is the 4 Ah and the 5 Ah battery. The bigger the battery the longer run time you'll get but dearer as well.
Storage
If you've got limited space or storage is tight, you can hang these mowers on the wall vertically on from a rafter, up to you. This is a great space saving idea.
Pros
Well build with metal deck
3-in-1 features
7 height adjustments
Well constructed
Rear-wheel driven
Cons
Not as good as gas when mulching, no battery mower is at this stage but still is good.
Kobalts 80-Volt Lawn Mower
The Kobalt 80v battery powered lawnmower has it all, self propelled, push-button start and with its 80v 6 Ah battery, it's estimated that you'll get around 80 minutes of run time.
Deck & Motor
This self propelled mower requires just the one battery
has a deck width of 21 inches