This post was updated on Wednesday, November 29th 2023
The best dandelion killer we found is for sure Tenacity Herbicide because it provides you a great value and the power you desire in keeping those dandelions at bay. To have a clean lawn and beautiful flowerbed free and clear of the pesky weeds is easy when you make use of any of these five great products.
Let's get right into it and discuss why these are the best dandelion killers available.
Top 15 Dandelion Killers Table
Last updated on November 28, 2023 6:50 pm
Best Overall: Tenacity Herbicide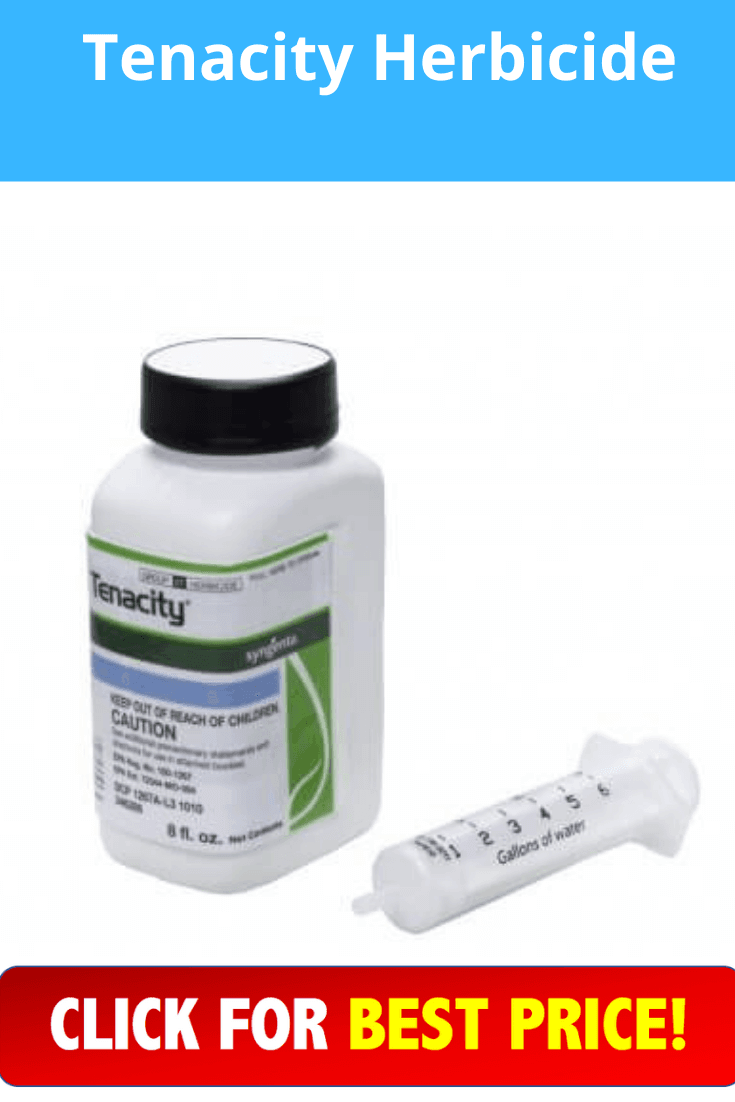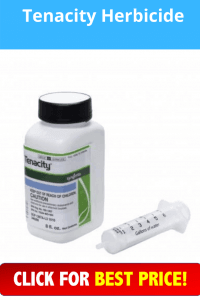 Manufactured by Syngenta, this is a systemic pre and post-emergence herbicide for residual control and selective contact of weeds growing in turf grasses. When you apply this as a pre-emergent, the weeds take in the Tenacity as they grow from the soil. This targets a wide variety of weeds, not just dandelions.
You will kill crabgrass both smooth and large, goosegrass, fox-tail, Hibbett, wild carrot, thistle, purslane, and barnyard grass/carpetweed. The active ingredient is Mesotrione. One bottle lasts 5-8 years from the date of manufacture, so long as you store it properly.
It essentially works by delaying the growth of the weeds and preventing them from undergoing photosynthesis, or the process of nourishing themselves and growing even larger. Just a single teaspoon of tenacity herbicide for two gallons is all you need. In two weeks, the weeds will stop growing, and in three weeks, they will die.
Don't get discouraged at first. Many of us are used to dandelion killers that kill immediately; however, it takes time to do its job. You are also going to need to use a surfactant. Dawn dish soap works well; simply squirt some into your mix, and it will do well. Measuring is very easy, thanks to the included syringe.
Pros
Professional grade product
Kills crabgrass like a dream
One small bottle will handle most lawns and last a while
Cons
Takes a while to work, but works well
Best Post Emergent: Drive XLR8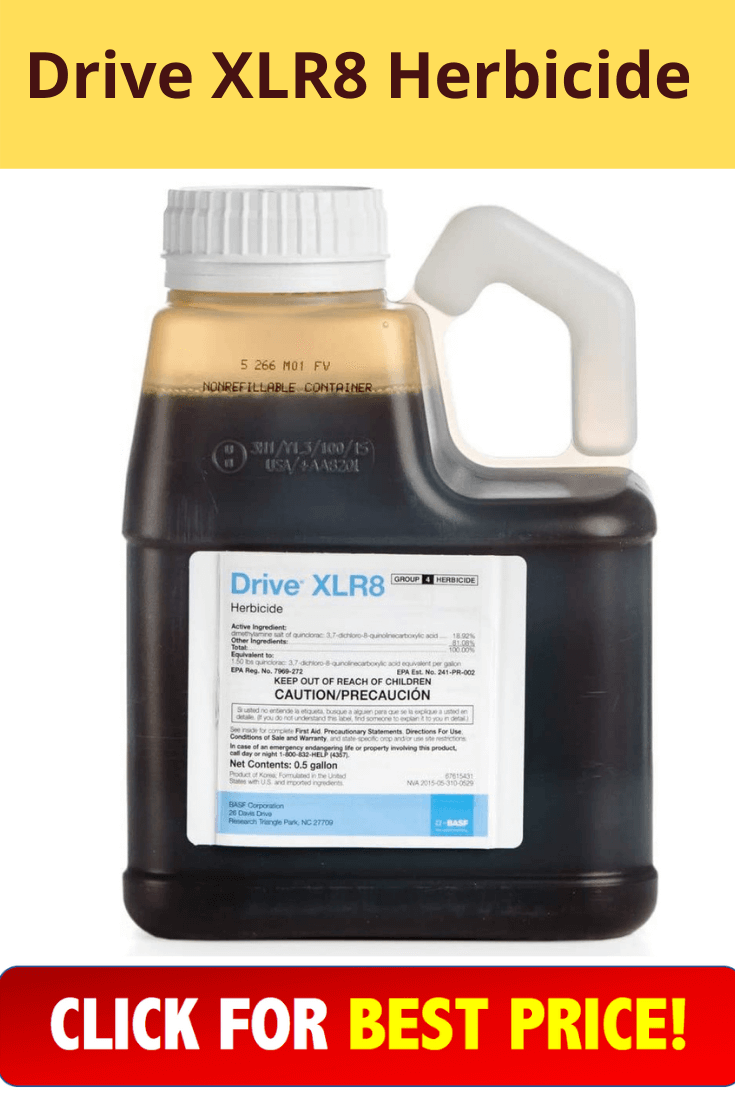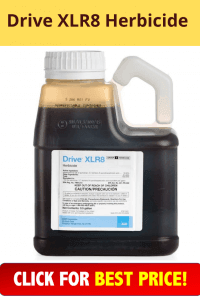 This is engineered to bring lawn care professionals and enthusiasts alike the latest and greatest in crabgrass care.
This is a water-based proprietary blend which controls Kikuyu grass, crabgrass, torpedo grass, speedwell, clover and more of those annoying weeds, making it one of the best dandelion killer around.
This blend succeeds the Drive 75 DF formula. The new blend of Drive XLR8 gives the user faster and more effective control of their weeds and is taken up more quickly by the plants.
For application, it is best to use a methylated seed oil. The active ingredient of this blend is quinclorac at an 18.92% concentration.
It is great for the killing of clover, dandelion, bindweed, barnyard grass, signal grass, and foxtail, among others. If you have St. Augustine, Bentgrass, bahiagrass, centipede, or Fine Fescue, do not use this herbicide.
It takes just .5 to 1.45 oz to cover 1000 square feet. It is safe for pets so long as you are careful and follow the label. By applying this as directed, you can look forward to the yellowing and eventual dying of pest grasses and weeds in just 48 hours or less.
Coverage of this product is very generous, and the combination of this dandelion killer plus surfactant- namely Southern Ag- work wonders on making your yard the beautiful golf-course grass you always wanted.
Pros
Results happen within a few days
Easy to mix, and one bottle provides generous coverage
Works amazing on crabgrass
Cons
Not for home use in CT and NY, not sold to HI
Best Pre Emergent: Meso4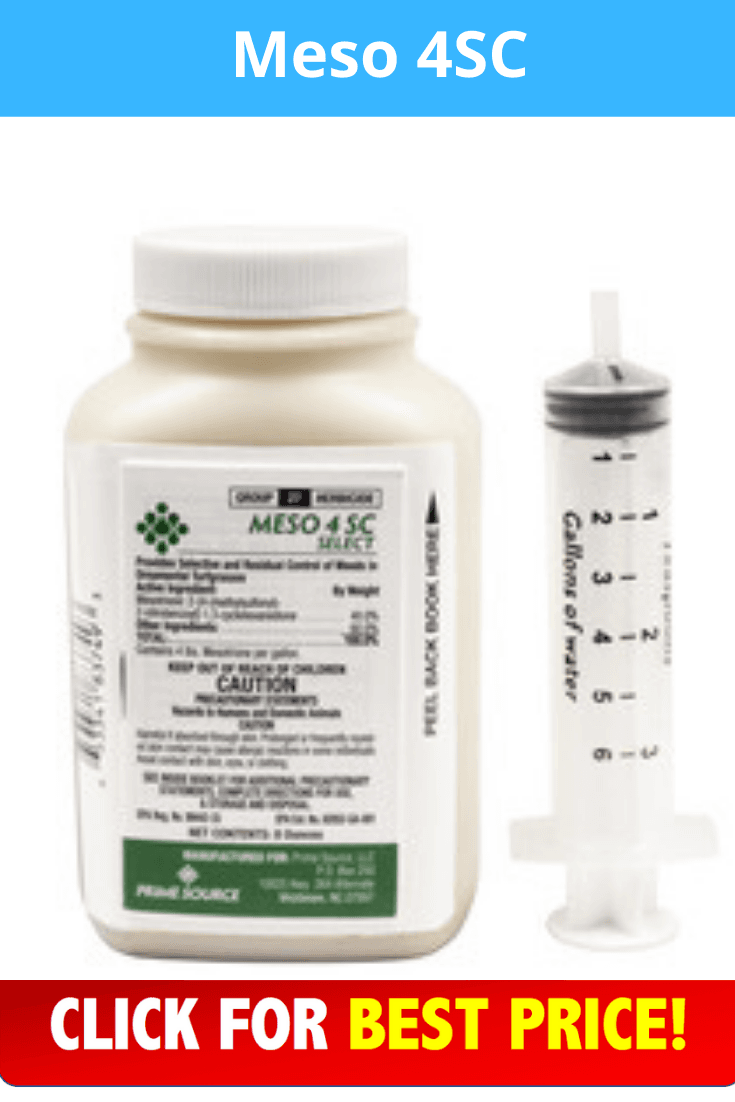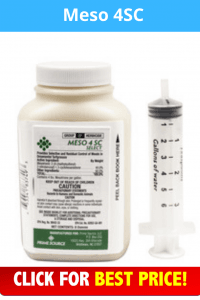 This particular dandelion killer contains the same active ingredient as Tenacity herbicide, and is formulated to provide protection against post and pre-emergence of weeds. It will control and keep at bay 45 different broadleaf weed types and grasses. The main ingredient works by suppressing photosynthesis in plants it is designed to kill.
The weeds absorb the Meso4 via the roots and leaves and eventually die. You can use this to successfully fight weeds and promote control of those out of hand weeds that happen during and prior to the seeding of various types of turfgrass.
You can use the formula anytime; whether you want to use it during seeding or overseeding of already planted turf grasses is up to you. You can also use it during bare ground seeding or when the renovation is taking place. The weeds will die out within just three weeks of the product being applied, and the weeds will turn white thanks to chlorophyll being sapped.
Pros
Same active ingredient as Tenacity
Great for use on commercial and residential lawns and golf courses (except Putting Green area)
Safe for pets if used as per label
Cons
Not sold to AK, WY, WA, NV, NM, AZ, HI
Best Concentrated: SpeedZone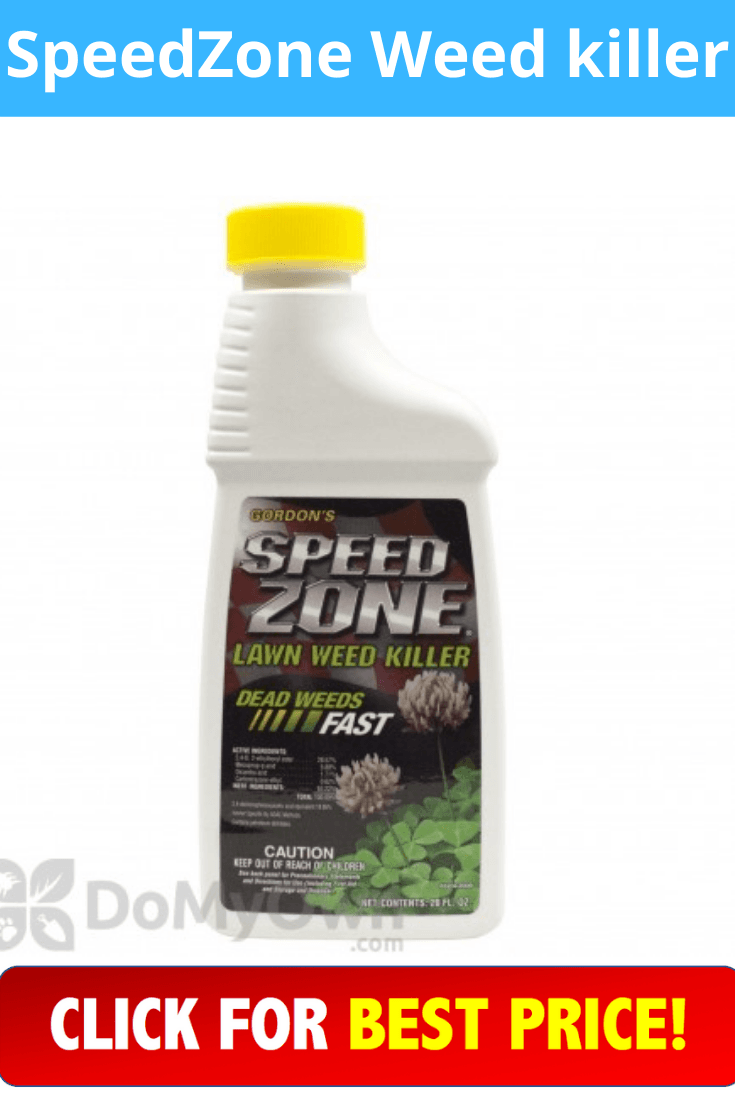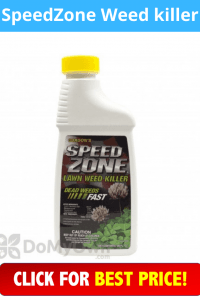 This offers the same amount of active ingredient as SpeedZone red brand (sold in a gallon size) and the even larger 2.5-gallon size. Active ingredients are Dicamba 1.71%, Mecoprop-P 5.88%, Carfentrazone-ethyl 0.62%, and 2,4-D, 2-ethylhexyl ester 28.57%. It is a great post-emergent weed killer and works wonders in cooler temps.
You can use it on warm and cool season grass for bothersome weeds in grasses like pennywort, dandelion, and spurge. In total, it will handle over 100 different broadleaf weeds. It takes just a few hours for you to see evidence that it is working and can be used on Kentucky Bluegrass, perennial ryegrass, fine leaf or red fescue, tall fescue, and many more grasses.
You may use this in ornamental, residential, and institutional settings. It also works on sod production as well. Be sure that your spray solution is above pH 5 and under pH 8. It takes just 1 oz per gallon of water to cover 1000 square feet. Safe for pets when used as directed.
Pros
Works great in cool weather
Works within hours- evidence of injury to weeds shows itself
Great for residential and commercial sites
Cons
Not sold to California, DC or Alaska
Best Ready to Use: Ortho Weed B Gon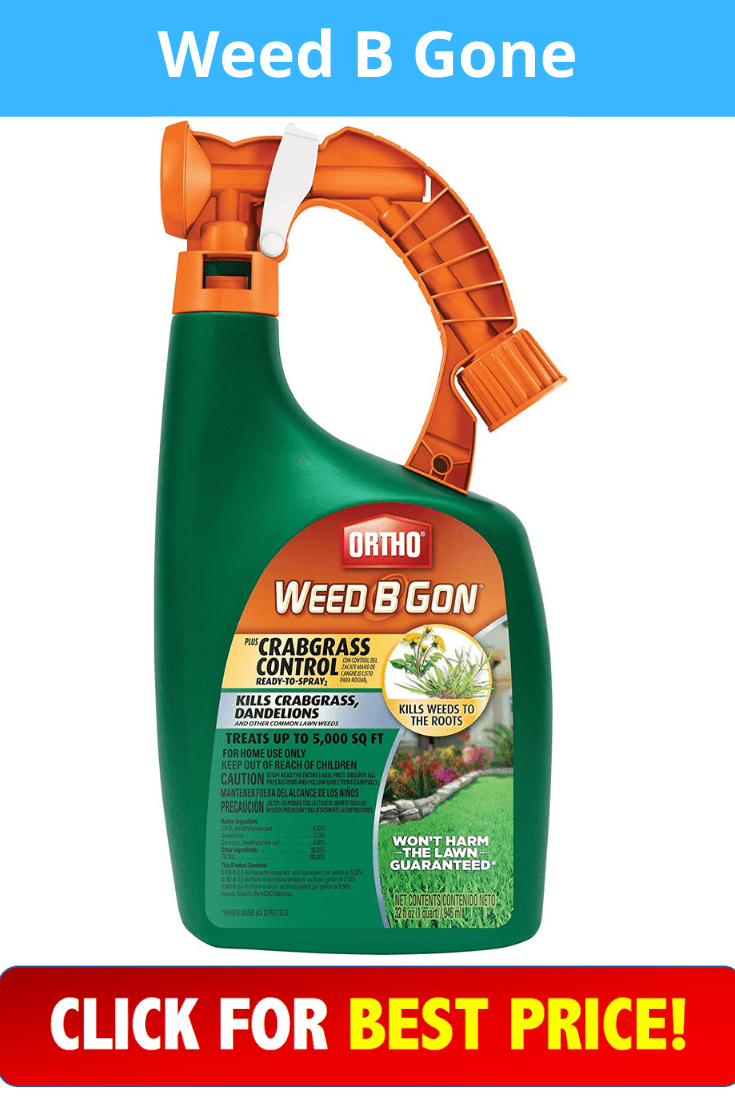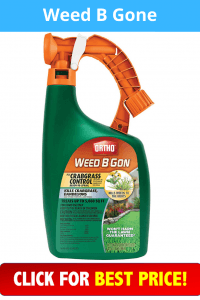 Have a small application that you just want to get looking clean and free of weeds? Try out this Ortho Weed B Gon. It kills common weeds such as dandelions and crabgrass and kills weeds where they start- at the roots. It is made to kill over 200 types of weeds. It won't harm your yard when used as instructed, and it is sold in a variety of sizes.
Whether you purchase the sprayer or the concentrate, you will love the results. The sprayer, for instance, makes it a cinch to cover the yard easily. Simply attach it to your hose and spray, and before you know it, the weeds will be under control. It is especially great for Creeping Charlie, which we all know sneaks around the yard and grows like mad.
You will notice it working right away, with full results culminating about one week after use. You may need to buy multiple bottles to cover front and back yards/larger yards.
Pros
Offered in concentrate, ready to spray, or a combo of the two
Simply spray it and watch it work immediately
Works wonders on crabgrass
Cons
Will not prevent germination of the crabgrass for the following month.
Buying Guide
How To Choose The Best Dandelion Killer
Your first step is going to be to read the label and make sure the herbicide or dandelion killer you have in mind can kill dandelions and any other weeds you'd like to eliminate. Make sure it will not kill the grass that makes up your yard.
For example, if your yard is comprised of St. Augustine grass, make sure the dandelion killer you have in mind won't harm that grass.
Next, make sure your dandelion killer does what you want it to do. Some of you are looking to kill weeds already growing. This is called Post-Emergence and if that's what you want to eliminate, look for a good post-emergence killer. If you want to kill weeds before they even start, pre-emergence herbicides are the way to go. It is also worth noting that pre-emergence herbicides work best on crabgrass.
What Are The Advantages/Benefits Of Dandelion Killers?
For starters, it makes your yard look beautiful. Some of us yearn for that manicured golf-course look; others just want a neat and clean yard; meanwhile, some of us want our flower beds to look their best. Even those of us with backyard vegetable gardens benefit from safe to use herbicides as it keeps weeds from overtaking our hard work and damaging our small crops.
Secondly, it makes lawn care that much easier. Using a pre-emergence solution keeps your lawn looking neat and clean for weeks to come. You can save money this way, too- you won't need to hire a lawn care professional to apply the dandelion killer for you.
Lastly, the use of dandelion killers and other herbicides is great for use when you cannot manually pull weeds out of the yard- for example, when there has been lots of rain, and the weeds tend to grow fast thanks to the water provided to them. You can also use herbicides in hard-to-reach places, so you don't have to strain yourself when pulling weeds and caring for your lawn.
What to Look for When Buying Dandelion Killer
Make sure the dandelion killer you are most interested in is available for sale in your state. Some states actually put restrictions on certain weed killers, so do be mindful of this and make sure you are respectful of your state's environment and laws. Next, make sure that the dandelion killer you are most interested in won't harm the grass that makes up your yard.
For instance, if your yard is made up of Kentucky bluegrass, be sure that it won't be harmed by the dandelion killer you're eyeing up. Lastly, see how you have to use it. Will you need to use a backpack sprayer? If so, make sure you have a backpack sprayer handy, and you know how to use it. Herbicide is only useful if you can actually use it!
What's the Best Way to Use Dandelion Killer?
Of course, you want to use it as directed on the bottle. Aside from this, here are four steps for making the most out of your dandelion killer:
Begin by digging up dandelions.
Next, take aim at the dandelion root using your herbicide. Any part of the taproot that is left over will germinate into a new weed, so it is imperative you kill whatever remains.
After you've used the herbicide, you want to fill in the hole using pre-emergent dandelion killer and soil.
Lastly, put a big focus on the overall health of your yard. Water it, cut a third of the grass length, and fertilize based on the type of grass you have.
Precautions for Use of Dandelion Killer
Have kids, pets, and toys removed before you spray.
Wear rubber gloves, protective eyewear, and long sleeves/pants, rubber boots, and a respirator.
Do not spray indoors.
Do not spray on windy or breezy days.
Clothing will absorb the mist of the sprays. After your spraying, remove and launder clothing separately.
Do not eat or drink or smoke during use, and wash hands thoroughly after use.
If used on veggies or fruits, wash and peel them before you consume them.
Talk to a doctor first if anyone in your family or you has asthma or allergies.
Conclusion
Thank you for taking the time to read our article on the best dandelion killer. The best of the best is no doubt Tenacity, it takes just a small dose of the stuff to create a beautiful yard, and it lasts for up to 8 years when it is stored correctly. It is easy to use and keeps all kinds of bad grasses and weeds at bay.
For this reason, we like this one the best, with Meso4 coming in at a close second because it contains the same active ingredient. Best of luck with your yard – may it always be lush and green!